Having an idea for a television at home is more than just having a device in the living room or in a room with which to watch TV. Having a Smart TV at home means having a complete multimedia center with which to control the connected home, access streaming video, listen to music, play games… and all thanks to the applications that we can download and install with a couple of clicks on the remote control.
That is why we are going to review a series of applications that we consider to be more than interesting for install on the tv once we take it out of the box and start the configuration. Applications of all kinds. Some may already come pre-installed and others we can easily download from the app store.
TV Management
We started with a series of applications aimed at improving and facilitating the management of everything we have on the television, be it files or even other applications. Apps that are tremendously useful and that range from a file explorer to programs that facilitate the exchange of content with the mobile.

Send Files to TV
A basic application in all the TVs that pass through my hands is Send files to TV. Allows you to transfer files from one device to another and it is present both for Android TV and for our Android phone in the Google Play Store, since we have to install it on the devices that we are going to use. A completely free app although it has ads for self-financing. If we want to remove them, it will be enough to make a donation through the app of 59 cents. You can download it at this link.
File Commander
File Commander is another one that is not missing, at least on my television. It is a very complete file explorer. Offers shortcuts to images, videos, music, file conversion and other functions, either in internal or external storage. Fits dark and light theme and allows synchronization with Google Drive. It is a free application that also has a premium version that allows you to remove advertising, file encryption and recycle bin, among others. You can download it at this link.
X-Plore File Manager
It is another compatible file explorer for Android mobile phones and tablets, although the application is also perfectly suited to televisions with Android TV, Chromecast, or Fire TV. This explorer can be your best ally when viewing and transferring files.

X-Plore File Manager stands out because it allows the screen to be divided into two halves to facilitate the use and exchange of files and because it has a disk map, in which we will see in a much more visual way the storage occupied by the files installed on our television . You can download it at this link.
Button Mapper is an interesting application, as it allows you to significantly expand the usability of your Android TV remote control. It is an application that what it does is give permissions so that you can remap the buttons.
This means that you can assign different functions to the buttons on the remote, choosing the method for them to work either with a single press, double press or long press. It's free and you can find it here. You can download it at this link.
google drive
Google Drive is the application that we have chosen to access the data stored in the cloud and in this way exchange files from your computer or mobile to television. It can be used to upload files from wherever you want and then watch all those files on TV. You can download it at this link.
Personalization
In this section we are going to review some applications with which we can give a different look to the television. We are not going to achieve the same thing that we can achieve on a mobile or on a computer, but we will make the screen look different. Simply change the screensaver or application launcher used.

Aerial Dream
If you have ever seen the apple tv wallpapers and you liked them, this is your application. Aerial Dream. This does exactly the same thing and allows you to have the screen savers used by Apple's set top box on the television. The application allows you to choose the quality of the background used, from 1080p to 4K, the funds that we want to use and parameters such as the waiting time or that show the time or location of the images. And it's also free. You can download it at this link.
FLauncher
The latest to arrive on Google Play is at the same time one of the most interesting. We are talking about FLauncher, a launcher that allows you to change the interface of your TV. A free, ad-free, highly customizable, open source app. It allows organize the applications installed on the device, set categories for apps, change the wallpaper and it works very smoothly. You can download it at this link.
Sideload Launcher
If you don't like the look of Android TV, this app allows you to cover two aspects. On the one hand modify the interface of the tv in a radical way and on the other access to applications that, like Chrome, you can install but are not compatible.

Sideload Launcher is an application with which change the look of your tv and also do it without going through the box, since it is free and without having to use complicated processes through ADB Shell. You can download it at this link.
streaming platforms
A Smart TV is not only used to watch TV in linear mode. Streaming has arrived and is a fundamental part of the day-to-day life of many users. Some of these applications are already installed, but in the event that this is not the case, simply go to the relevant application store to get hold of them and take advantage of our subscription.

Netflix
Perhaps the streaming platform for access movies and series more popular. With a recently renewed menu, it is available in the Google Play Store to take advantage of it you need to be subscribed to one of its plans. It offers content in SD, Full HD or 4K with options for HDR and 5.1 sound and Dolby Atmos.
Disney+
One of the last to arrive. It offers access to its own content but also from Marvel, National Geographic, Star Wars… New content but also classics and of course with subscription, you can find it in the Play Store. It allows you to view and play in 4K with HDR, being one of the ones that offers the best image quality. You can download it at this link.
hbo max
One of the applications available in the Google Play Store that, curiously, is not on the Fire TV. The app that can be downloaded from here and that requires a subscription, It presents a much more careful aspect than the HBO app that we already knewadmitting the reproduction of content with more image quality, since now the 4K resolution has a place.
Amazon Prime Video
Another one of the classics. Content to series, movies and documentaries that also goes by subscription, although this It is included in what we pay per year for Amazon Premium. You can download it from this link. With Full HD or 4K quality, it has a wide range in terms of content, although it is not as intuitive as it should be, at least when compared to the competition.
AppleTV+
Another of the big ones, the apple application allows you enjoy the entire catalog that is appearing on Apple TV +. Access to series or movies, both on demand and in the form of purchase or rental and of course, under subscription that you can download here. It does not have much of its own content, but what it does have is usually quality. The problem is that for Android TV they don't make it as easy as it would be desirable.
Spotify
The app of the most popular streaming audio platforms. Spotify for Android TV offers you access to your lists and songs. You have it on Google Play. In this way you can turn the TV into a stereo or even a kind of karaoke if you want to read the lyrics.
tide
The application similar to Spotify but with Hi-Res sound, in a way that allows you to get more out of quality speakers and with a huge catalog of artists behind them and with the possibility of also accessing music videos. You can download it from this link.
SmartTubeNext
We are before an open source YouTube client which you can download from this link on GitHub. With this app we can watch any existing video on the platform, and even log in with our Google account to access all the content seen or playlists created.
An application with two features that stand out, such as the fact that we can see additional information, such as the codec that is being used, bitrate… and that, in addition, allows you to watch any video without advertising in betweenalso including the blocking of promotional content found within some videos.
TiViFy
The Tivify app is available here. It is a platform to watch DTT without having to tune in to the channels. We can access via app and It has a free plan but also a paid service which expands the possibilities for the user. It allows making recordings of programs (only RTVE and regional in free mode), access the programming of the last 7 days (also limited to RTVE and regional and 60 hours available 30 days in free mode)
media players
Here it is about seeing those applications that allow to enhance the use of the television, turning it into a true multimedia centerboth for local playback, with a connected hard drive, and turning our computer into a kind of server with content to send to the television.

Plex
Quite similar to Kodi, with Plex you can access the content you have on your local servers from the TV; or on mobile, for example. You can download it at this link. Plex is an application with which you can turn your computer into a multimedia center using the digital content you have on it.
Kodi
You can no longer download Kodi from Google Play and the current versions are only available from this link. You can use Kodi for a thousand and one things and among them, turning your TV into a multimedia player to access all the streaming platforms you can imagine, watch DTT and many more uses. And best of all, it's free.
VLC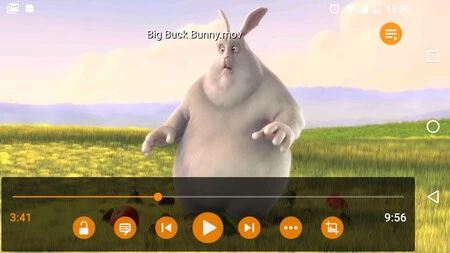 VLC Media Player is available at this link. It is one of those applications that has to be on any list that is made about applications essential for any platform and Android TV or Google TV were not going to be the exception.
Supports most of the multimedia formats that you can find, among which are MKV, MP4, AVI, MOV, Ogg, FLAC, TS, M2TS, Wv and AAC, and codecs are included without separate downloads. It is completely free, and allows you to play files saved on hard drives, devices or network transmission protocols.

Expand usage options
Having a television with Android TV means that we have a large number of options when it comes to installing applications, and many of them are designed to expand the possibilities offered by the television and that in principle they would not have to see. In this section they offer access to information related to time,

AccuWeather
If you want to have the weather on your television, AccuWeather is a very good option. A cross-platform weather app that you can download on Android TV and that is also free. AccuWeather is available here offers access to daily and even hourly forecasts, radar or satellite images, for which uses the geolocation of the TV to find our city.