Electricity is taking up more and more space among car manufacturers and it is not Fiat's latest announcement that will contradict it. After the launch of the electric Fiat 500 in 2020, it's the turn of the Abarth (sporty) range to go to the other side. A nice speed, full options, but a sound that loses all its charm.
Fiat 500e Abarth: the entire range goes electric
Almost three years after the presentation of the small city car in an electric version, Fiat is stepping up a gear by announcing the Fiat 500e Abarth. As its name suggests, it is neither more nor less than the sports model of the Fiat, but in an electric and silent (or almost) version.
Beyond its sporty design and the Abarth lettering on all sides, the 500th Abarth has numerous driving aids. Sign detection, automatic emergency brake, real-time analysis of the road with recognition of pedestrians and cyclists, blind spot display, automatic dipped beam, intelligent cruise control…
In terms of power, we are on a 154 horsepower electric motor for 235 Nm of torque. The 0 to 100 km / h is shot in 7 seconds, which is far from a Tesla, but Fiat confirms that this model is faster in acceleration than a thermal Abarth, especially on times. The car is faster than an Abarth 695 on 20 to 40 km/h, 40 to 60 km/h and 60 to 100 km/h.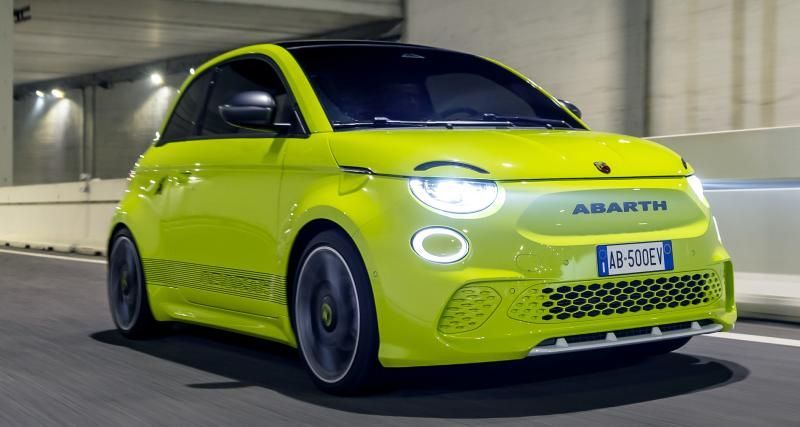 Fast charging at 85 kW is included, which should allow customers to go from 0 to 80% charge in just 40 minutes. Attention, this type of charger is not yet well deployed on our territory. The brand has not communicated on the autonomy of the vehicle, which is not necessarily a good sign. Regenerative braking is also included and will allow you to gain a few extra kilometers.
In terms of the interior, there is "high quality" leather and Alcantara everywhere. 7-inch "classic" screen behind the steering wheel and 10.25-inch "touch pad" in the center to manage the menus.
Price and release date
The release date has not been given, but the "500th" should be marketed next year, in 2023. Ditto for the price which remains secret and which should certainly hit quite high. As a reminder, a well-equipped electric Fiat 500 costs an average of €36,000. Possible that the 500th Abarth costs more than €45,000.