⏰ 45 mins ago
Medhi Naitmazi

React
We regularly feature wallpapers to install on your Apple devices, but some want more and like to make the ideas they have in mind come true. This is what the Acrylic application released yesterday offers with tools for creating gradients, artifacts and even 3D scenes. A whole program that is incredibly accessible thanks to a simple interface and a very reasonable price. For the price of a liter of gasoline – or soon the price of a loaf of bread – you can download Acrylic.
Personalization at Apple


Personalizing your iPhone, iPad or Mac has always been one of the first gestures of users, at least for those with an aesthetic streak. While with iOS 14, it is possible to create a complete theme without resorting to jailbreaking, the base is still the wallpaper. On iOS, you can have two different wallpapers, one for the locked screen, another for the home screen. And for those who tweak a little, a shortcut allows you to change it automatically. On the Mac, you only have one desktop, but it's very easy to dynamically change the background image through System Preferences. Anyway, you still have to find a shoe that fits, especially in the meager selection offered by Apple.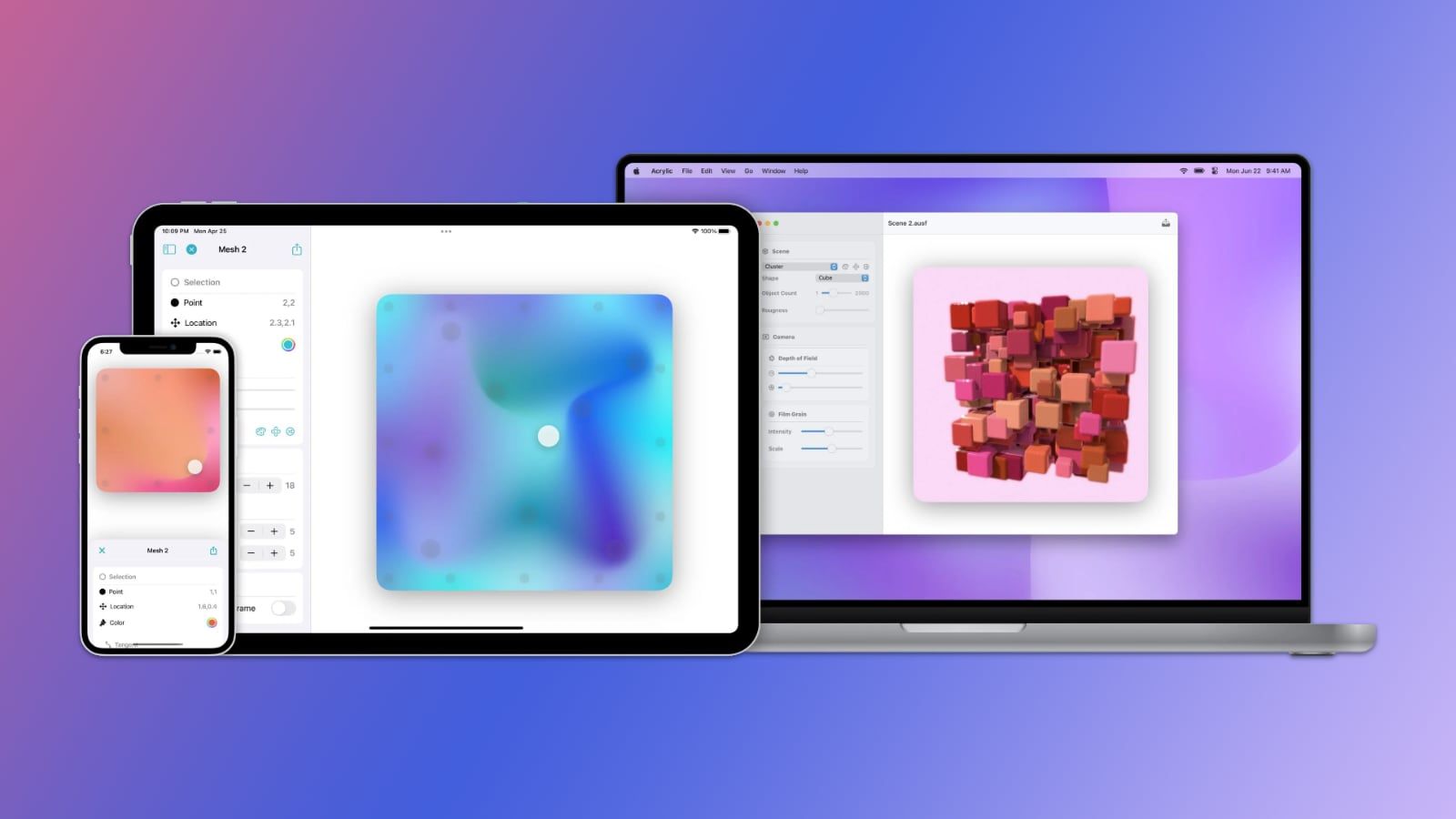 Acrylic to the rescue
If our wallpaper folders and web search aren't enough for you, the new "Acrylic" app might be for you. As explained at the start, it allows you to create your own wallpapers for iOS, iPadOS and macOS devices.
Acrylic focuses on two complementary styles: the color gradients and the 3D scenes. You can choose one or the other, or combine them to achieve results that could even come out of Apple's workshops. Better, for those who don't have the patience (or the talent), Acrylic offers to quickly generate new images for you. You can just give some color hints and the app does the rest.
Acrylic is a simple and easy to use wallpaper engine for iOS and macOS, however, it does more than basic wallpapers. Easily create beautiful mesh gradients and high resolution 3D scenes. Easy-to-use tools let you quickly produce high-quality renderings.
You have the freedom to modify all aspects of the creation, from the position of the artifacts (spots or defects to make the final rendering more realistic) to the colors through the position of the latter, everything is possible. A little time is needed at the start to do a few tests and understand the extent of the tools available. Besides, it's still more comfortable on iPad and Mac than on iPhone.
Besides gradients, Acrylic is also capable of generating 3D scenes with customizable presets through an engine that handles reflection and ambient occlusion for more detailed objects. Therefore, the possibilities for creating your next wallpaper are endless. Once you are done, the wallpaper can easily be exported to your photo library, shared and of course applied to your device. And that's not all since Acrylic supports Siri widgets and shortcuts to go even further, not to mention iCloud synchronization between your devices.
If you want to try young developer app Ethan Lipnik, Acrylic is available on the App Store for the modest sum of €1.99. Please note that during the launch month, 70% of the proceeds will be donated to Dian Fossey Gorilla Funda charity for the protection of endangered mountain gorillas.
To download Acrylic at €1.99