If you are looking for a robot vacuum cleaner to simplify your daily life, the iRobot Roomba i3+ with self-emptying system is an excellent choice, especially with a price that has dropped from 729 euros to only 349 euros on Amazon.
Renowned for their robot vacuums, the iRobot brand has a host of high-end models that can handle the chore of vacuuming up dirt for you. The Roomba i3+ is efficient enough to carry out your household chores, and if in normal times it is at a fairly high price, today its price is softened thanks to this discount of 380 euros on its initial price.
The advantages of the iRobot Roomba i3+
U

good suction power

Tracking sensors for smart navigation

U

automatic dump station
Instead of a price crossed out at 729 euros, the iRobot Roomba i3+ (i3552) with self-emptying system is now displayed at only 349 euros on Amazon.
---
If the offer mentioned in this article is no longer available, please take a look below to find other promotions for the iRobot Roomba i3+. The table updates automatically.
Where to buy

iRobot Roomba i3+ at the best price?
A robot vacuum cleaner that is very effective
Like the other references from iRobot, the Roomba i3+ does not lack power. This model is equipped with two rubber brushes that adapt to all surfaces, from tiles to carpets and parquet, to pick up pet hair, dust and other dirt that accumulates on your floors. And not to forget any place, side brushes take care of their side to suck the dust near the walls or in the recesses.
It won't leave behind debris, big or small, thanks to its advanced 10,000 RPM vacuum motor, which delivers 10 times more powerful suction than a 600-series iRobot. With its smarts and its sensors, the obstacles are not a problem, because it can identify them and circumvent them without stopping in its task. In addition, its Dirt Detect system, allows the sensors to find the dirtiest areas and tells the robot to clean them more thoroughly.
Effective cleaning
However, the Roomba i3+ is not able to map your home. For example, you will not be able to program specific cycles by targeting the rooms one by one, but the iRobot application will still allow you to choose between deep cleaning or faster cleaning, or even define a schedule for suction.
Its real asset lies in its self-draining system, called Clean Base. This allows the vacuum robot to empty the collected dirt autonomously for a period of up to 60 days. They will all be poured into an anti-allergen bag to capture pollen or mold. Hygiene will therefore be ensured at all times, especially since this bag closes very easily so as not to have to touch the dust sucked up by the robot.
As for autonomy, it has a comfortable autonomy which is about 120 minutes. Finally, the Roomba i3+ is compatible with the voice assistants Google Assistant and Alexa to be able to order it, by voice, to start its task. And when the robot breaks down, it will recharge and can resume its work where it left off.
If you want to know more, you can read our complete test on the iRobot Roomba i3+.
7 /10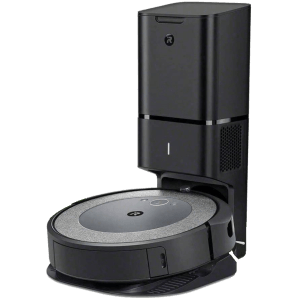 To keep your floors clean without lifting a finger
In order to find the model that corresponds to your budget, we invite you now to consult our guide to the best robot vacuum cleaners in 2022.
---
To follow us, we invite you to download our Android and iOS application. You can read our articles, files, and watch our latest YouTube videos.