Apple Music expands its world-class song lyrics experience with a new feature that makes it easy for fans to sing along to millions of songs. Yes, while we're still waiting for Apple Music Classical, Apple is releasing karaoke that works on TV, iPad and iPhone.
Discover Apple Music Sing
Remember our article on turning Apple TV into karaoke? Well, Apple today announced "Apple Music Sing," a new feature that lets users sing along to their favorite songs with adjustable voices and real-time lyrics.
"Apple Music Sing" offers multiple lyric views to help fans get song leads, duets, choruses and more, all integrated into Apple Music's existing lyric experience. of lyrics. Combined with an ever-expanding catalog of over 100 million songs, Apple Music Sing makes it easy for everyone to enjoy themselves, alone or with others.
Apple Music Sing will be available later this month for Apple Music subscribers worldwide, and can be enjoyed on iPhone, iPad and the new Apple TV 4K.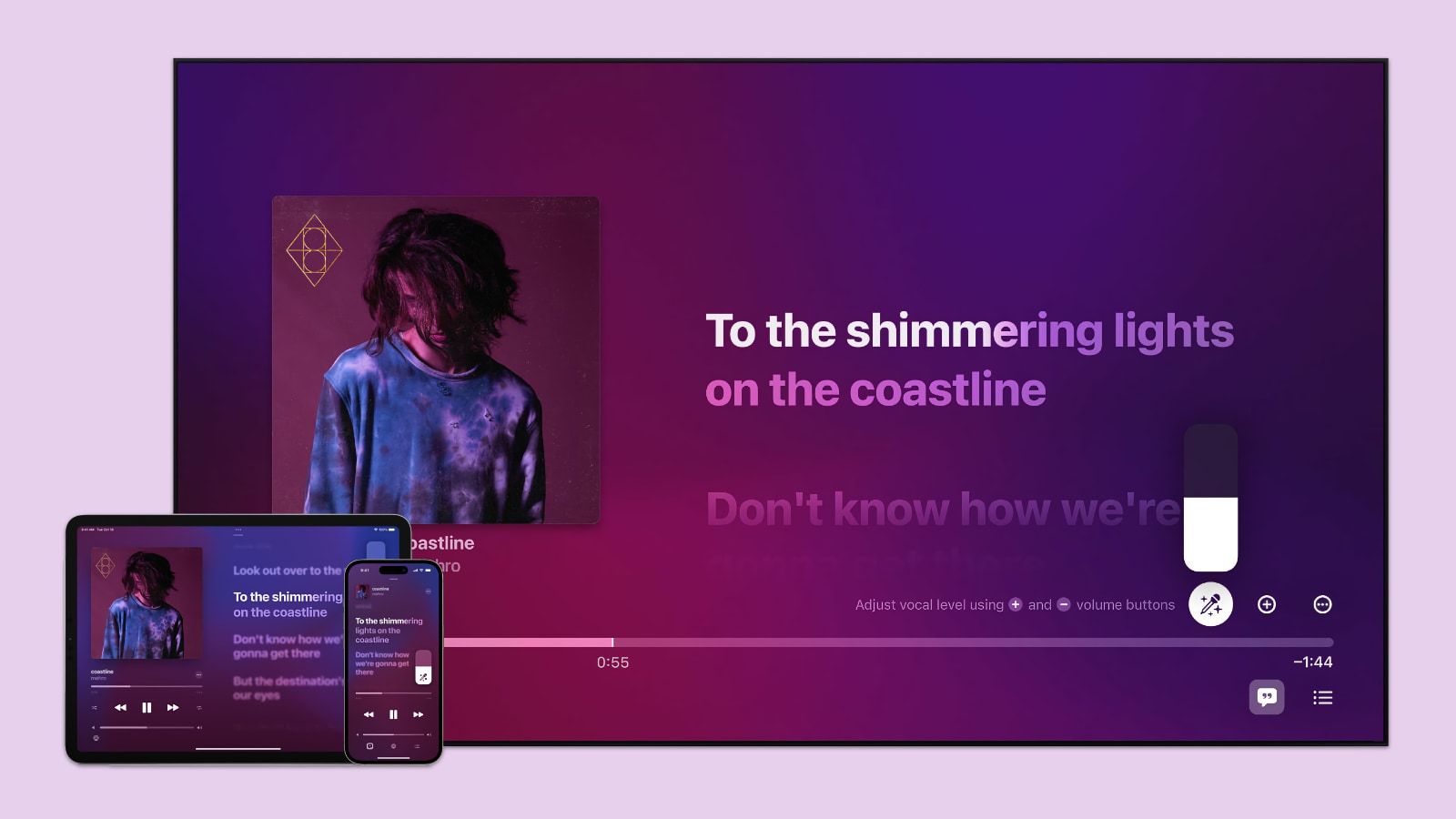 Oliver Schusser, Vice President of Apple Music and Beats, said:
The Apple Music Lyrics experience is consistently one of the most popular features of our service. We already know that our users around the world like to follow their favorite songs, so we wanted to evolve this offer to allow even more engagement around music through singing. It's really great fun, our customers will love it.
Apple Music Sing includes:
Adjustable vocals: Users can now control the level of a song's vocals. They can sing along with the artist's original voice, lead the song, or mix it to millions of songs in the Apple Music catalog.

Real-Time Lyrics: Users can sing along to their favorite songs with animated lyrics that dance to the beat of the voices.

Background vocals: Simultaneously sung vocal lines can animate independently of the main vocal for users to follow more easily.

Duet view: Several singers are displayed on either side of the screen to facilitate the accompaniment of duets or songs with several singers.
Apple Music will also launch a series of more than 50 dedicated playlists, featuring all the epic songs, duets, choruses and anthems that got people around the world singing along – fully optimized for the Apple Music Sing experience.
availability date
Apple Music Sing will be available later this month for Apple Music subscribers around the world, on all compatible iPhone and iPad models, as well as on the new 2022 Apple TV 4K. AppleTV.
Update of 16/12 : Apple Music Sing is available with iOS 16.2.