Apple TV+ released the first three episodes of its new thriller series Echo 3, starring Luke Evans and Michiel Huisman, on Wednesday, November 23, ahead of its usual Friday schedule. This is not surprising because the last Friday of November is the one reserved for Black Friday and above all, the Thursday before it is Thanksgiving, the most important day for Americans.
A thriller series on Apple TV+
The Echo 3 series focuses on rescuing Amber, a brilliant young scientist. With no one else intervening, military veterans Bambi (Luke Evans) and Prince (Michiel Huisman), her brother and husband respectively, embark on a perilous mission to locate and rescue her.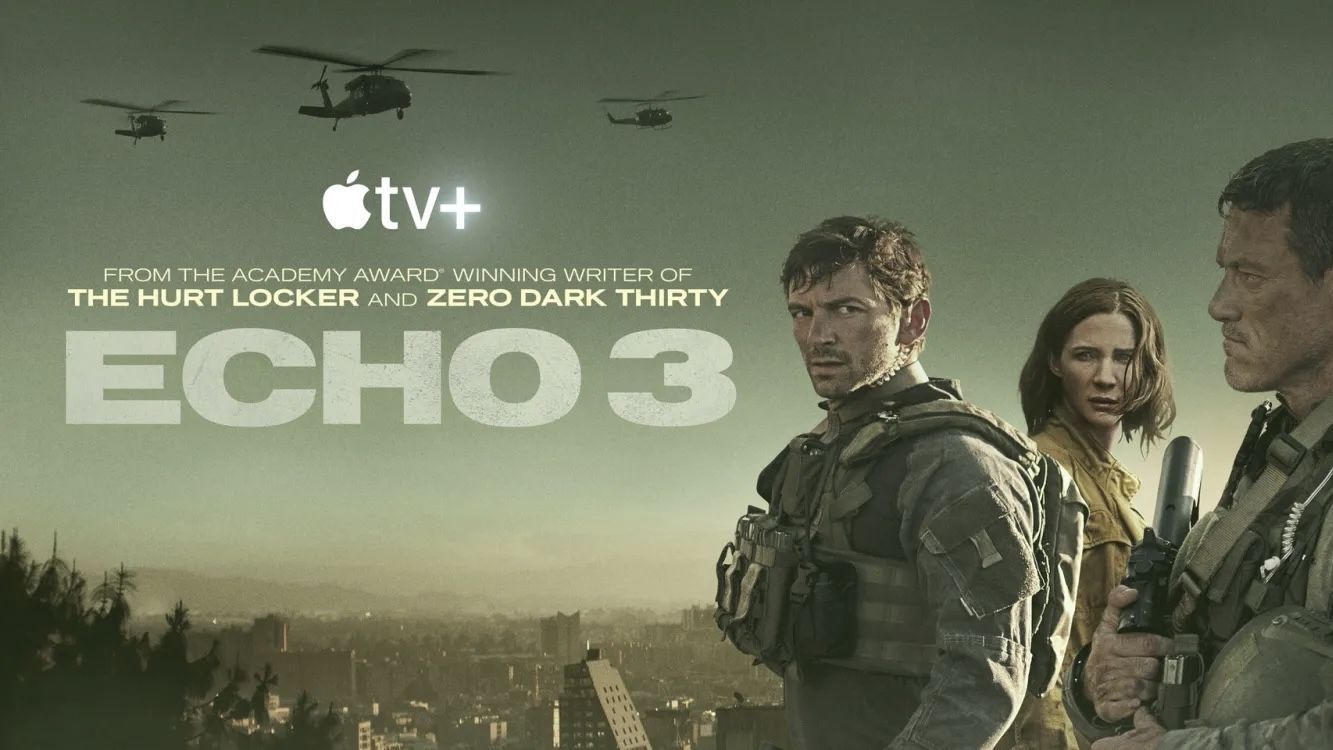 Amber Chesborough (Jessica Ann Collins) researches addiction, and travels to Colombia to study if hallucinogens can help treat addictive habits. However, she is captured by rebels somewhere along the Colombia-Venezuela border.
As no official wants to help him find her, it is naturally his relatives, from the special forces, who start looking for him. A very American scenario filled with action and suspense.
The series is signed by the screenwriter of The Hurt Locker, Mark Boal. It is based on the popular Israeli series "When Heroes Fly" and which builds on the novel by Amir Gutfreund.
How to watch Echo 3
The series is an Apple exclusive, meaning it's only available on Apple TV+.
Apple TV+ costs €6.99 per month and can be canceled at any time. TV+ is also included in Apple One bundle subscriptions, and usually offers a one-week free trial.
The Apple TV app is available on a wide variety of platforms, including Apple devices like the Apple TV 4K set-top box, Roku Stick, Amazon Fire Stick, Comcast Xfinity, many smart TVs and more. You can also watch in a web browser on a PC at tv.apple.com.
Echo 3 episode release dates
The first three episodes of Echo 3 are available today, November 23. The rest of the season will air every Friday until January 13.
Echo 3 episode 1: November 23, 2022

Echo 3 episode 2: November 23, 2022

Echo 3 episode 3: November 23, 2022

Echo 3 episode 4: December 2, 2022

Echo 3 episode 5: December 9, 2022

Echo 3 episode 6: December 16, 2022

Echo 3 episode 7: December 23, 2022

Echo 3 episode 8: December 30, 2022

Echo 3 episode 9: January 6, 2023

Echo 3 episode 10: January 13, 2023