Since the start of Apple TV+, the Cupertino company has chosen to focus on quality rather than quantity. This strategy has been beneficial for award ceremonies where original Apple creations regularly receive awards, but a little less for subscribers who feel that the catalog does not have enough content compared to the competition. However, the more time passes and the more the catalog fills up, we can also see this in Apple's market share in the United States, subscribers are more likely to keep their subscription.
Apple TV+ soon to overtake Hulu?
There was a time when Netflix was almost the only streaming service on the global market, but that time is long gone since now there are a lot of competitors who also offer original, diversified and 4K content!
When a market is saturated with the arrival of a multitude of players, the market share of each service takes a certain importance with investors and analysts, each streaming service is scrutinized to see if it can hold up against its competitors.
In the case of Apple TV+, the market share has always been shythis is explained by the fact that the Apple TV application is not available on as many media as Netflix, Prime Video and Disney +, but also by the fact that the amount of content is generally… disappointing !
Despite everything, Apple is continuing with this strategy and it seems to be paying off since we are seeing a small growth from Apple TV+ in the United States. JustWatch announced in September that the apple streaming service had reached 6% of the global streaming market. Today, JustWatch claims that Apple TV+ has moved to 7%the climb is slow and painful, but the Cupertino company is gradually getting there!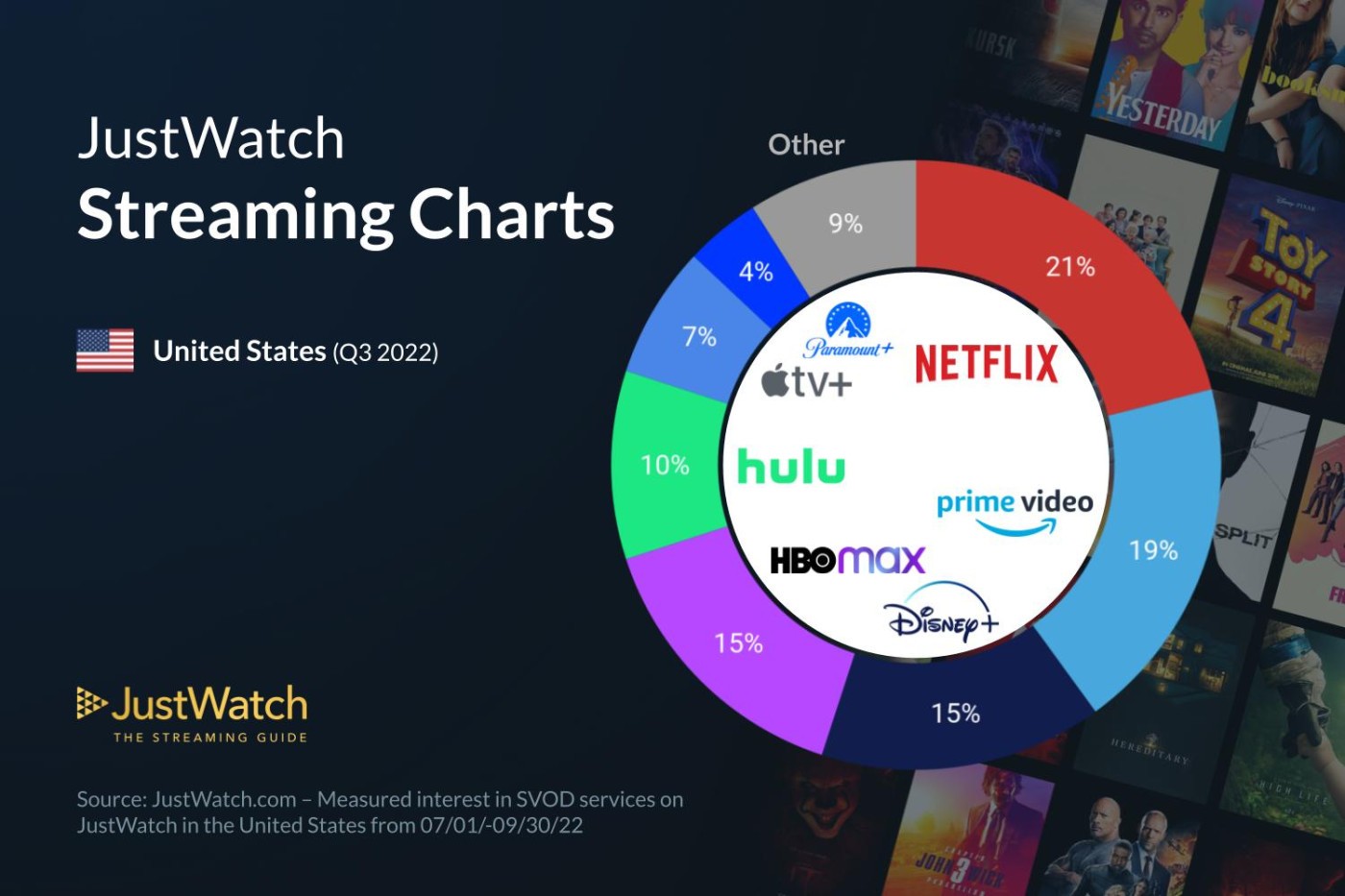 Compared to previous quarters, Netflix seems to have managed to stop losing speed, this time the market share stabilized at 21%. On the Prime Video side, there is a slight drop, the streaming service goes from 20 to 19%, a loss of subscribers which has probably been in favor of Disney + which increases it from 14 to 15%.
At the moment, the most important fight seems to be happening between Hulu, Apple TV+ and Paramount+, the three services are very close and the trend could be reversed in the coming quarters. It cannot be ruled out that if Apple TV+ continues to convince new subscribers, the streaming service could overtake Hulu, which belongs to the Disney group.
To continue its growth, Apple maintains the advantageous price of 4.99€/monthincreases the availability of the Apple TV app on new operating systems, and continues to invest heavily in original creations.