Every year in France, more than 120,000 car and motorcycle thefts are recorded, i.e. one theft every 4 minutes! If these figures are worrying, today there is a technological means to locate your car in real time, the GPS tracker. How it works ? What are the most effective models? How much does it cost ? To help you with your purchases, we have prepared a selection of the best GPS trackers for cars and motorcycles on the market.
Selection of the best GPS trackers
Vehicle theft unfortunately continues to increase. As far as cars are concerned, SUVs are particularly popular with thieves as well as city cars. But it is actually the owners of two wheels who are most in danger because their vehicle is much easier to move. Motorcycles and scooters are 20 times more likely to be stolen than a car.
First, it is important to remember thata GPS tracker is not a magic tool which prevents theft or which will allow you to find your vehicle in 100% of cases. On the other hand, it is additional equipment for optimize your security. A properly installed and concealed GPS tracker will notify you immediately if stolen and can then allow the police to follow the movements of your vehicle in real time and thus apprehend the thief in flagrante delicto as soon as possible.
In addition, a GPS plotter connected to your smartphone can have other uses such as allowing you to simply find where you parked your car in a large car park, locate you in the event of a road accident or quite simply, if you have lent your car to your teenager who has just obtained the driving licence, check that he has arrived at his destination.
The market for GPS trackers for cars and motorcycles is still relatively young. It can therefore be difficult to find a device that meets your exact needs. In this article, we have selected the most interesting models to help you make your choice.
Carlock GPS Tracker OBD
Carlock GPS Tracker OBD at the best price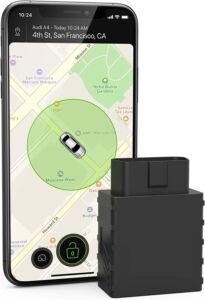 49.89€

Discover the offer

Fnac

76.45€

Discover the offer
The Carlock brand exists since 2014 and it specializes in car security systems. To start this selection, we chose a plotter complete and extremely easy to install. Indeed, it is a Plug & Play device that plugs directly into the OBD socket of your vehicle. This socket is generally used by car mechanics to connect their diagnostic case. It has been present on cars since the 90s and more recently on motorcycles.
Once plugged in, the plotter is powered directly by your vehicle's battery. You will only have to connect your smartphone via the dedicated application to access the features of this plotter. Among others, this Carlock plotter alerts you if the vehicle is started or moving. You can track the exact position of your vehicle at any time.
This equipment can also allow you to check whether the people to whom you lend your car are not behaving dangerously by offering a precise report of each trip and alerting on dangerous conduct. Finally, it can warn you if it detects that your battery is too low to avoid failure.
To work, this plotter requires you to subscribe to a subscription of 7.90 euros per month or 95 euros per year.
| The + | The – |
| --- | --- |
| Easy to install and use | Easy to locate and unplug in case of theft |
| Accurate GPS and driving reports | Paid subscription |
| Intuitive app | |
Carlock Basic
Still at Carlock, this model has the same characteristics than the previous model with one (important) exception. So he can warn when starting the vehicle or when moving. You will also have the driving reports and the alert in case of low battery.
It is at the level of the installation system that everything changes since this model does not connect to the ODB socket of your vehicle.
The Carlock Basic connects directly to the 12V battery of your vehicle. L'installation is therefore a little more complex but the system is on the other hand more hidden and less easily accessible by a possible thief.
| The + | The – |
| --- | --- |
| More easily concealed | Slightly more complex installation |
| Accurate GPS and driving reports | Paid subscription |
| Intuitive app | |
Tracking Smart Alarm
Tracking Smart Alarm at the best price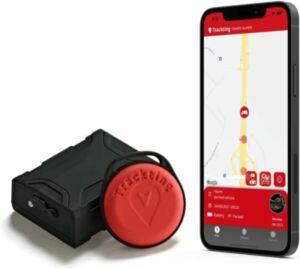 Amazon

229€

Discover the offer
If the Trackting plotter is much more expensive to buy than other models, with a price of 229 euros right nowit is potentially more interesting in the long term because it does not require no paid subscription to work.
Its installation and operation are very simple. This plotter works on a battery that has a lifespan of 4 months. You can therefore attach it anywhere on your vehicle with double-sided tape or cable ties so that it cannot be found in the event of an attempted theft.
Once fixed, you will need to attach the tag provided to your car key fob so that the system can identify you as the owner of the car. In this way, if someone moves the car without having the tag, the GPS tracker will call you directly on your phone to warn you that there is a problem. You will then be able to see the location of the vehicle in real time on the application.
| The + | The – |
| --- | --- |
| No paid subscription | High price |
| Ability to hide it anywhere | Only works in the country configured at startup |
| IP56 | Requires detaching every 4 months for charging |
Invoxia Tracker GPS
Invoxia GPS Tracker at the best price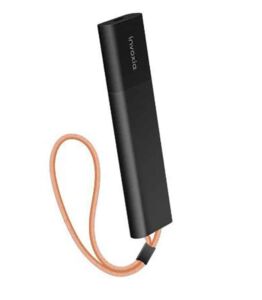 Baker

89€

Discover the offer

Cdiscount

89.99€

Discover the offer

Fnac

98.95€

Discover the offer

Shopping street

101.64€

Discover the offer
We continue with a flagship model which combines many advantages. This small GPS tracker hides its game well. less than 90 euroyou get a tracker with 3 years of free subscription and each additional year will only cost you 9.99 euros.
He set up in 2 minutes and has a battery that lasts 6 months. With its small size, you can take it anywhere. It is also not designed exclusively to follow a vehicle. You can put it in a valuable bag or give it to your child to check its location remotely. Placed in your car, it will alert in case of displacement and allow you a location tracking with a guarded history in memory.
| The + | The – |
| --- | --- |
| The best value for money | Uses low-speed LoRa network |
| Versatile GPS Tracker | |
| 6 months of autonomy | |
PAJ GPS Power Finder 4G
PAJ GPS Power Finder 4G at the best price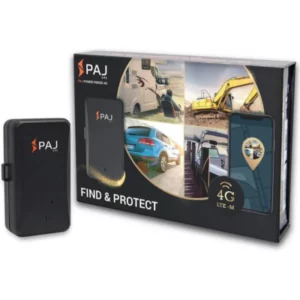 Fnac

149.99€

Discover the offer

Cdiscount

149.99€

Discover the offer

Amazon

230.9€

Discover the offer
This plotter german brand can be easily placed on a metal surface of your vehicle thanks to its strong magnet. It includes a map 4G LTE-SIM to ensure you get the best coverage possible. Of course, this plotter requires a subscription to operate (between 4 and 7 euros per month approximately depending on the duration of the commitment).
It allows real-time geolocation in 43 countries with a memorization of 100 days. Its 10000 mAh battery allows you to Standby for up to 3 months. You can configure your alerts from the application by defining security zones and geofences. This model also exists in a 2G version but we strongly recommend the 4G version because 2G antennas tend to disappear in France.
| The + | The – |
| --- | --- |
| Simplified installation with the magnet | High total cost (tracker + subscription) |
| Full app | |
| Versatile use | |
PAJ GPS Motorcycle Finder
Still at PAJ, this GPS plotter was specially designed for motorcycles. Indeed, it is smaller and lighter. It connects to the battery of your vehicle which avoids having to recharge the battery of the plotter regularly. It is also a plotter with 4G LTE chip which works with the same subscription as the previous model. He responds to the IP67 standard. It is therefore resistant to dust and water. It's perfect for a motorcycle. Just like the previous model, the dedicated application is very complete for configuring the various alerts.
| The + | The – |
| --- | --- |
| Specially designed for motorcycles | High cost |
| IP67 | |
| No need to recharge it | |
Can the Apple AirTag be used as a gps tracker for car or motorcycle in case of theft?
The GPS trackers are the most reliable solution to track your vehicle in real time in case of theft. However, there is another solution inexpensive and effective in some cases:Apple AirTag. For only 35 euros, you can hide an AirTag in your car or on your motorbike. The latter can be of great help to you in the event of theft. Indeed, if the AirTag does not contain a GPS beaconit can connect via Bluetooth to any nearby Apple device to be located on a map.
In large cities, monitoring is therefore very effective. It will therefore be quite easy for you to find your vehicle in this case. On the other hand, this system does not allow you to be alerted immediately if your vehicle moves. If the area it's in doesn't contain an Apple device, you won't get a location either. Finally, remember to replace the AirTag battery every year.
What should I do when I receive an alert from my GPS tracker?
Your GPS tracker will notify you immediately if someone attempts or succeeds in stealing your vehicle. It will then allow you to locate it in real time. However, for your safety, it is not advisable to go in pursuit after your thief. If you can, quickly verify that it is not a false alarm by checking whether your vehicle has moved or not. If the alert seems serious to you, contact the police immediately to inform them of the potential theft in progress by indicating that you can follow the position of the thief in real time thanks to your tracer. They can then intervene as soon as possible.
Also read: Mi Watch Lite: Xiaomi unveils its connected watch with GPS tracker and 9 days of autonomy