The Xiaomi Mi Watch is still a premium smartwatch, even though it is now part of the older generation. It is currently found with a nice discount on Cdiscount, since its price goes from 149 euros at launch to only 79 euros today.
This year, Xiaomi launched a new version of its premium connected watch: the Watch S1. The latter does not yet benefit from really interesting promotions, so if you want to get a good deal, you have to go for the old model. And precisely, today the Mi Watch, always so pleasant to use on a daily basis, is almost half price.

The highlights of the Xiaomi Mi Watch
Its AMOLED screen with Always-On
Its autonomy of up to 16 days
Its many features related to sport and health
Instead of 149 euros when it was released, the Xiaomi Mi Watch (in beige color) is now available on sale at only 79 euros on Cdiscount.
---

If the offer mentioned in this article is no longer available afterwards, please take a look below to find other promotions for the Xiaomi Mi Watch. The table updates automatically.
Where to buy The

Xiaomi Mi Watch at the best price?
Stop charging your watch every night
If the competition offers excellent wearables full of practical features, they often have a defect that can put off the purchase: autonomy. Indeed, a connected watch loses its charm if you have to recharge it every night before going to bed, especially if you want to analyze your sleep during the night. With the Mi Watch, you won't have this problem thanks to a 460 mAh battery. The accumulator does not offer a very large capacity, of course, but thanks to numerous optimizations the Xiaomi smartwatch can last 16 days with standard use, 22 days with the "ultra long autonomy" mode and for 50 hours with GPS activated, depending on the brand.
In fact, there was still 70% without configuring Always-On after a week of use during our test, then the watch was able to last another four additional days with this feature activated. It therefore seems that the 16 days announced by Xiaomi only concern use without an Always-On screen and that with this mode activated, the autonomy increases to around a week – which remains an excellent score compared to the competition. For recharging, Xiaomi provides a magnetic base that takes the watch from 0 to 100% in about 1h30.
All the health and sports features are there!
Who says connected watch, obviously says a whole bunch of sensors to monitor the wearer's activity. The Mi Watch can thus measure the heart rate, the level of oxygenation of the blood (SPO2), the quality of sleep, the level of stress or the level of energy. In addition to notifications and other messages, a lot of information about your health is visible directly on the 1.39-inch circular OLED screen, but you then have to go through the Mi Wear app (available on Android and iOS) for analyses. more advanced.
The more sporty among you will also be delighted to learn that Xiaomi's connected watch is an excellent coach. There are 17 basic activities, from outdoor walking to yoga, triathlon, climbing or swimming in open water – because it is waterproof up to 5 ATM – but it is possible to add 8 dances, 6 outdoor sports or 14 water sports to this list. Note also that it is possible to configure the watch so that it automatically detects when you start a workout. We also appreciate the accuracy of its integrated GPS which offers precise routes that normally only connected watches based on the GPS of the smartphone can provide.
To find out even more, do not hesitate to read our complete test on the Xiaomi Mi Watch.
8 /10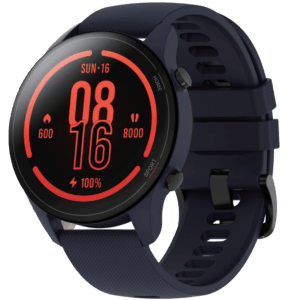 Black Friday 2022: don't miss the best deals!
Black Friday has not officially started, since the start date of the event is set for Friday, November 25, but most e-merchants have already started sharing their best offers under the sign Black Week, name given to the week preceding Black Friday. Here are the Black Friday offers already available at French e-tailers.
You can also find our selections by theme:
To make sure you don't miss out on any good plan for this event, here are some reflexes to adopt now so you don't miss any of the promotions that we recommend:
Follow us on our Twitter account @FrandroidPromos only dedicated to good deals (remember to activate the bell to receive notifications in real time).
Download our Frandroid application (available on iOS and Android) to activate notifications from the "Good Deals" category and thus receive new articles related to Black Friday in real time.
Subscribe to our Good Deals newsletter to be sure to receive the offers in preview (no more than one email per day, unsubscribe in one click, no distribution to third parties):
---
To follow us, we invite you to download our Android and iOS application. You can read our articles, files, and watch our latest YouTube videos.