That's it, the kick-off for the French Days is launched and Boulanger hastens to drop its best prices from the start of the event. There are a lot of promotions, but we have gathered in this article only those that are worth your money.
The French Days are off to a strong start this year. Indeed, the various e-merchants participating in the French commercial event for the start of the 2022 school year do not hesitate to balance their best offers from the start. This is obviously the case of Boulanger who never misses an opportunity to sell stocks by sacrificing prices. A little hint: it's time to change your TV, sound bar or equip yourself with an overpowered gaming laptop.
The best French Days offers at Boulanger
Lenovo Smart Clock Essential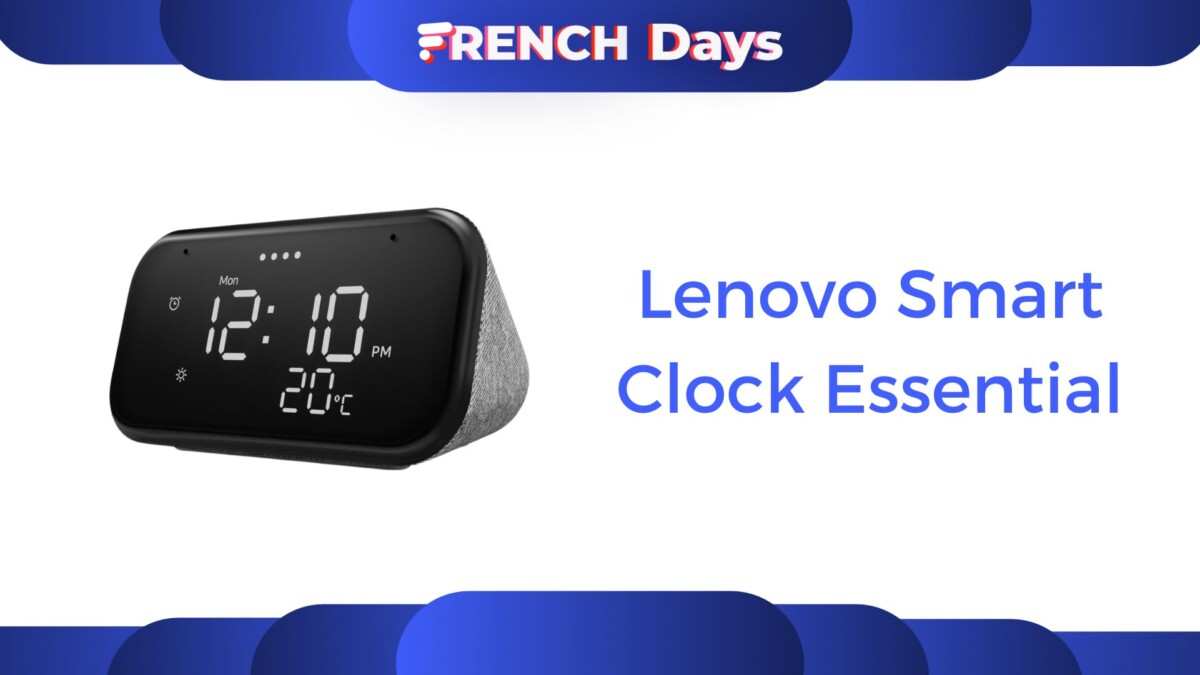 This small connected alarm clock is part of Lenovo's Smart Clock range, but offers only the essential, hence its name "Essential". Above all, this means that, unlike members of his family, he does not have a screen to watch content or manage his connected devices, but only an LED display with the time, day of the week, the outside temperature and the possibility of programming an alarm clock with the buttons, or by voice with Google Assistant. It is above all the cheapest of all, especially when it drops to less than 20 euros during the French Days.
Lenovo Smart Clock Essential takeaways
A connected alarm clock powered by the Google OS
A fabric design with the enclosure all around the screen
A useful accessory: the wireless charging pad
Instead of 49.99 euros usually, the Lenovo Smart Clock Essential is now available on sale at only 19.99 euros at Boulanger.
LG OLED77C1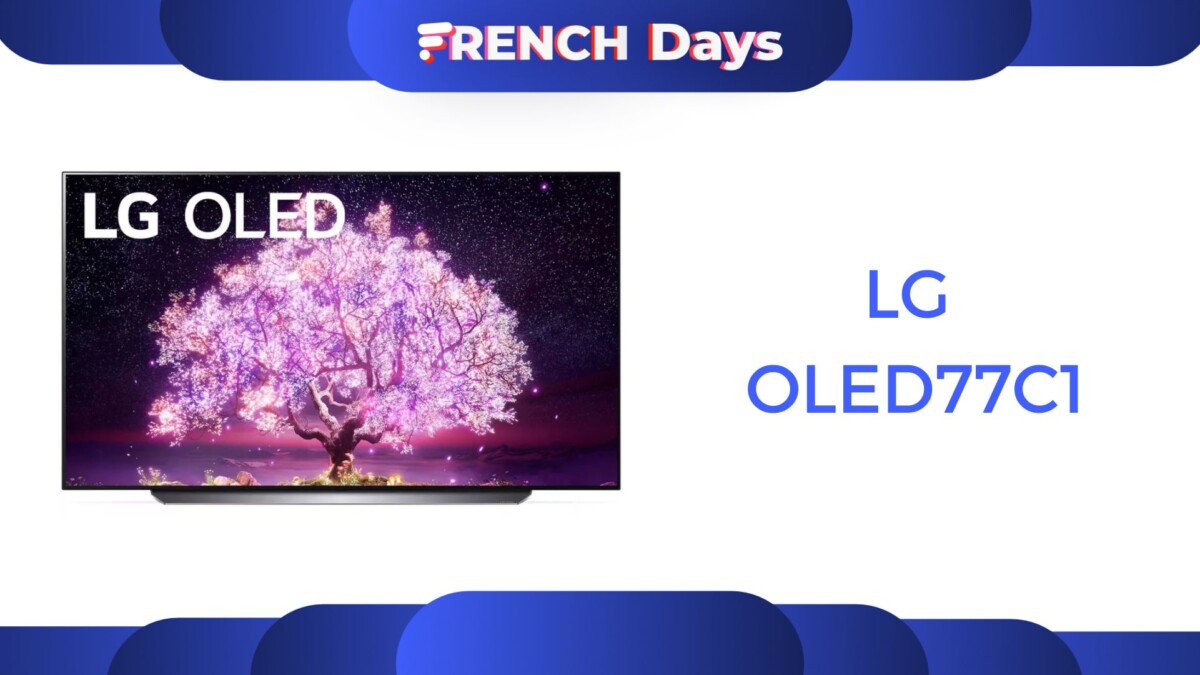 If you want to invest in a huge 4K OLED TV, now is the best time to do it. During the French Days, the LG reference of the C1 series in 77 inches currently costs more than 1,000 euros less than normal. The TVs in the range were the best of 2021, with impeccable image quality even today.
The basics of the LG OLED77C1
A large 77-inch OLED panel
4K, HDR10, Dolby Vision and Atmos ready
The presence of HDMI 2.1 ports for gaming in 4K@120Hz
Instead of 3,790 euros, the LG OLED77C1 TV is now available on sale at 2,490 euros at Boulanger, i.e. almost 35% immediate discount for this giant quality television.
Xiaomi Mi 360 Camera 1080p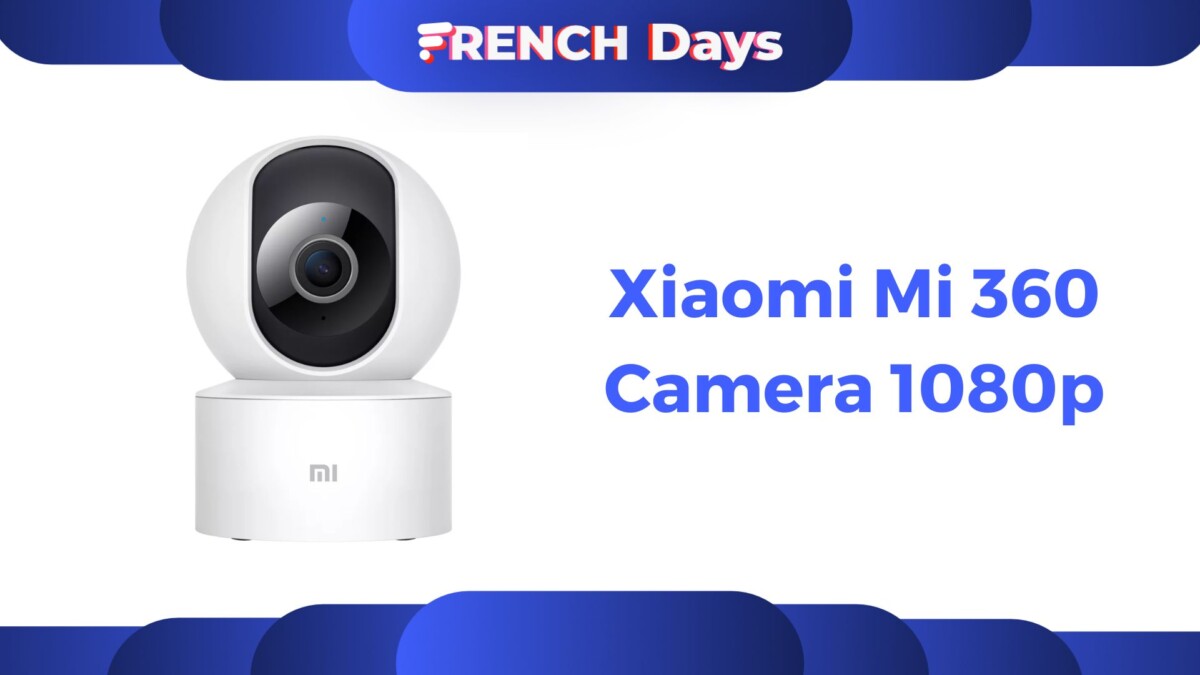 To know what is happening at home in his absence, it is interesting to opt for a connected surveillance camera. And if certain prices can slow down the purchase, there are accessible and effective solutions to accomplish this task. We think for example of Xiaomi, which offers its Mi 360 Camera 1080p. The latter is capable of filming in Full HD day and night to monitor your home, all without investing a monstrous sum, especially since it takes advantage of a reduction to become even more affordable during the French Days.
The key points of Xiaomi's surveillance camera
A small camera easy to install
Film in 1080p on microSD or in the cloud
With 360° vision and night vision
It can easily connect with other brand devices
Usually offered at 39.99 euros, but today reduced to 34.99 euros, the Xiaomi Mi 360 Camera 1080p goes to only 29.99 euros at Boulanger once the product is in the basket.
Jabra Elite 3 Active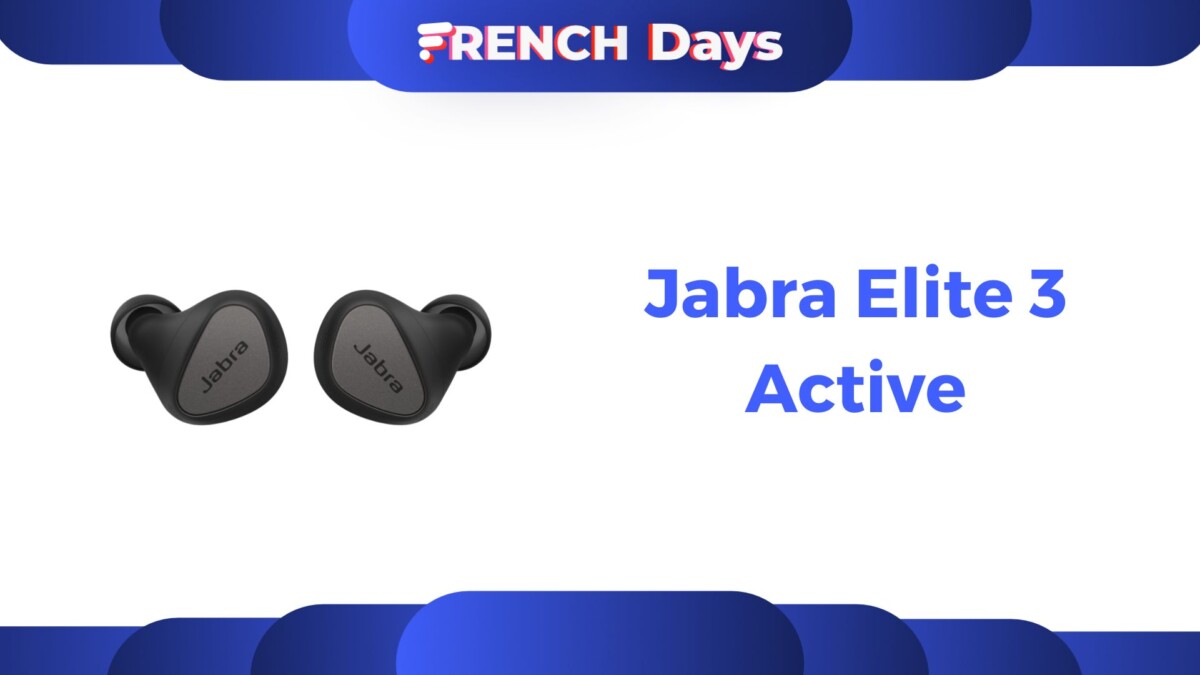 We know Jabra for its expertise in the audio sector with excellent references true-wireless, like the 85T. The brand also offers affordable headphones, designed for sports enthusiasts. This is the case, for example, with the Elite 3 Active, which are ideal for sportsmen and women who want to enjoy good sound during their training. At the moment, they are even more accessible since the price of this pair decreases by 40 euros.
The essentials to remember about the Jabra Elite 3 Active
Comfortable and lightweight in-ear headphones
Part noise reduction
Good autonomy
Displayed at 119.99 euros, the Jabra Elite 3 Active wireless headphones are currently on sale at 79.99 euros on the Boulanger site.
Bose QC 45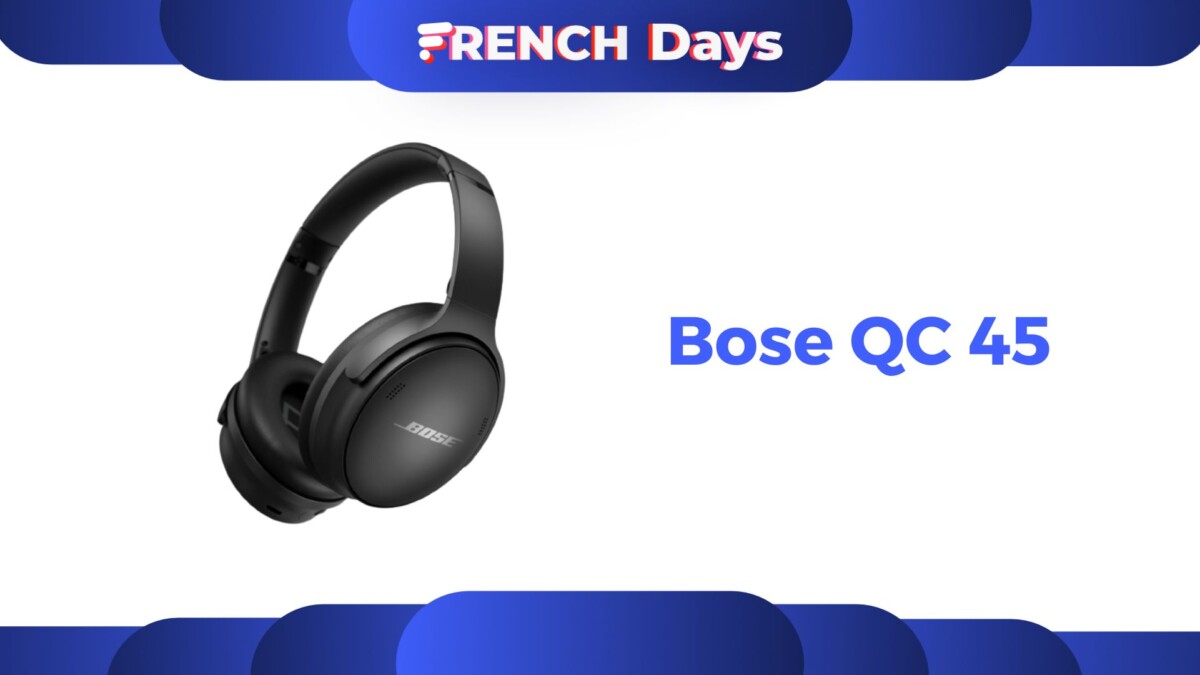 This French Days period is naturally conducive to good deals, and some highly coveted high-tech products do not escape promotions. This is for example the case of the Bose QuietComfort 45 wireless headphones, a worthy successor to the high-performance QC 35 II. If you finally want to get your hands on a model with excellent active noise reduction, now is the perfect time since it drops below 230 euros.
The essential points of the Bose QC 45
A comfortable helmet
Active noise reduction and transparent mode
Multipoint Bluetooth
Initially displayed at 349 euros, then reduced to 269 euros, the Bose QuietComfort 45 wireless headphones are now offered at 229 euros at Boulanger once the product has been placed in the basket.
Samsung HW-Q800B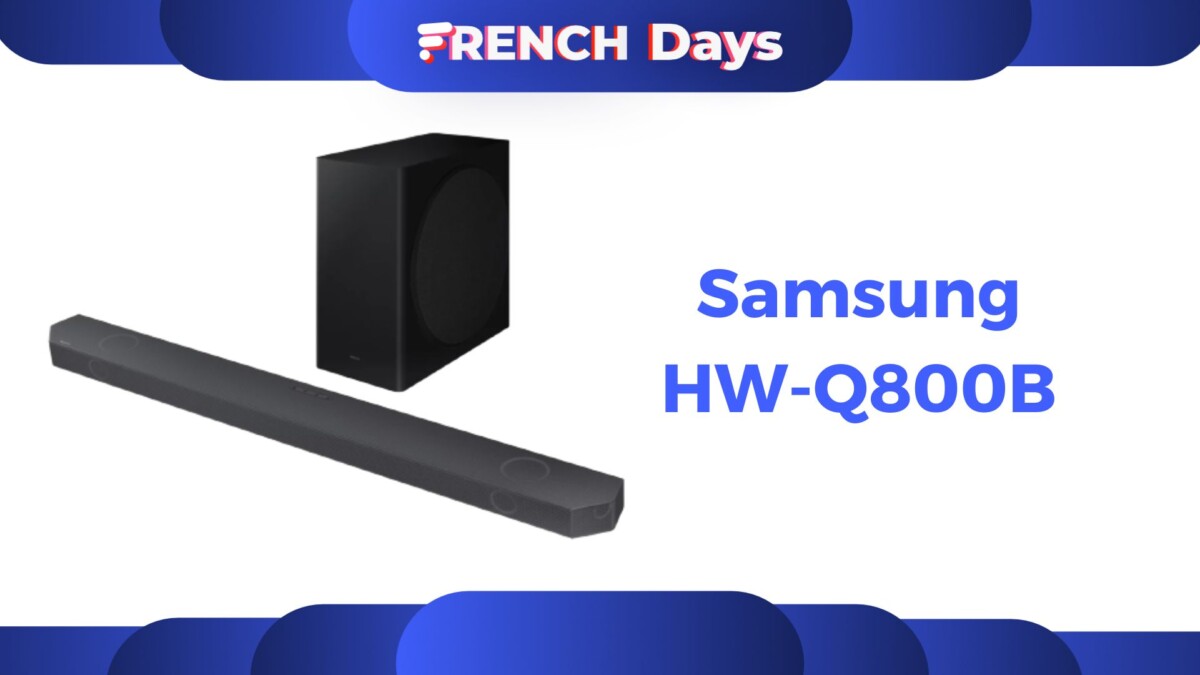 Sound quality is, even today, one of the main weak points of televisions, including recent models with solid technical data sheets at the image level, for example. But to remedy this, the solution is simple: bet on a sound bar, which will deliver a beautiful sound power, and will even sometimes offer a very immersive surround effect. This is what the Samsung HW-Q800B soundbar offers, the price of which drops by 400 euros during the French Days.
The Samsung HW-Q800B soundbar in a nutshell
Dolby Atmos and DTS:X compatible
Q-Symphony System
5.1 sound reproduction
Instead of 899 euros, the Samsung HW-Q800B soundbar can cost you 499 euros at Boulanger thanks to a reduction doubled by an ODR of 100 euros valid until September 26, 2022.
Samsung QLED QE55Q95T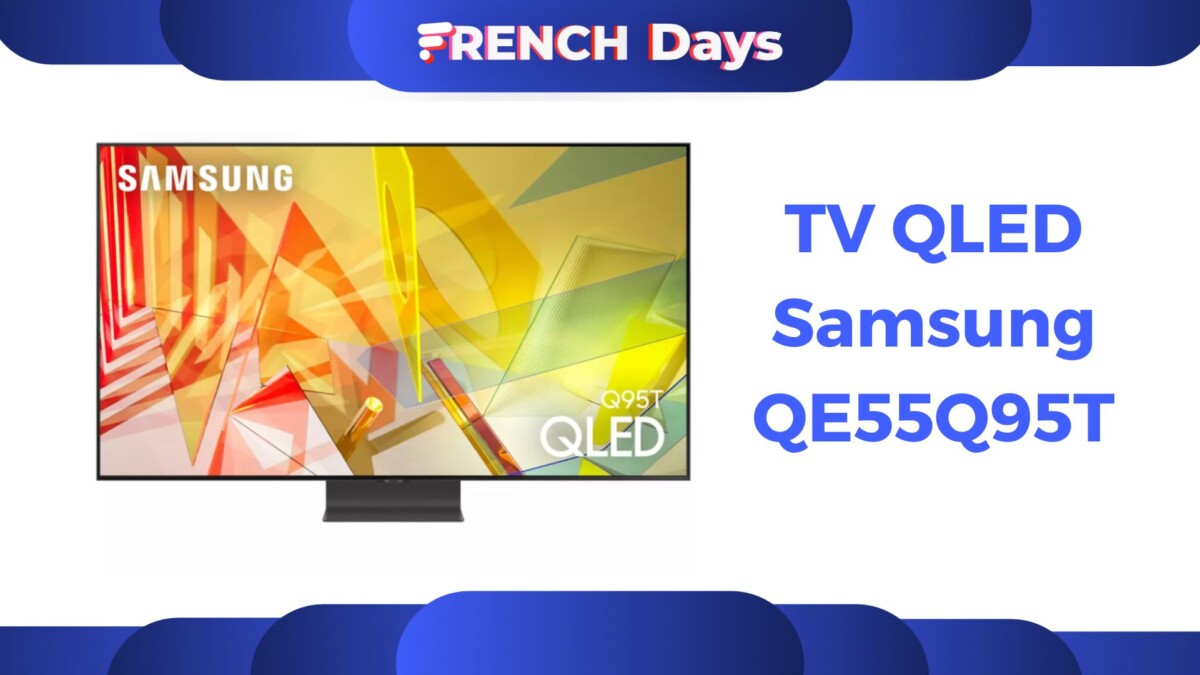 Samsung televisions equipped with QLED panels have quickly established themselves on the market. The South Korean manufacturer offers well-finished models with various technical data sheets. The Q95T model certainly dates from 2020, it embeds almost all the latest display technologies for an even more contained price, especially today thanks to this 40% reduction on its base price.
What to remember about the Samsung QE55Q95T
A 55-inch 4K QLED panel
4K 120Hz compatible on PS5, Xbox Series X and recent PCs (HDMI 2.1)
The Tizen OS, more customizable
Instead of a price crossed out at 1,490 euros, the 55-inch Samsung QLED TV (QE55Q95T) is now displayed at 899 euros at Boulanger.
The Samsung QE55Q82B TV, the 2022 reference, is also on sale and is priced at 899 euros at Boulanger.
Acer Nitro 5 AN517-54-90GF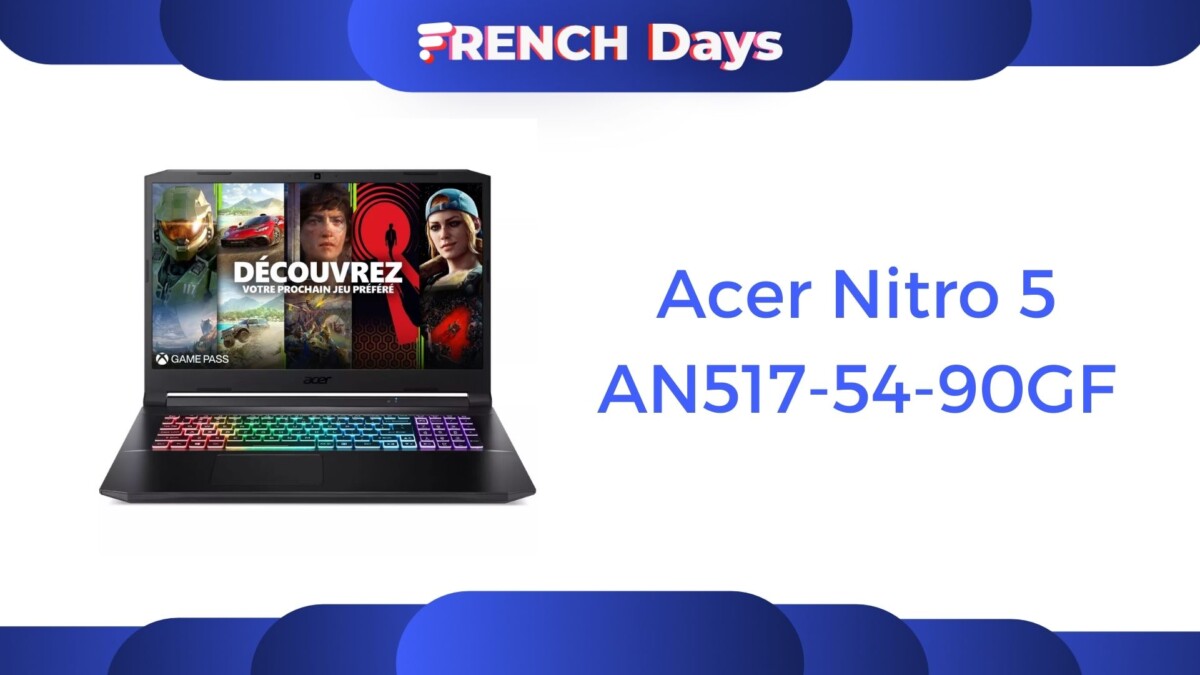 If you're looking for a laptop that's large enough, and above all, ultra-powerful, to comfortably play your best Steam, Epic Games and other games, we've found the perfect gaming laptop. This is the Acer Nitro 5 AN517-54-90GF, a machine with high-level performance that has seen its price drop by more than 500 euros thanks to the French Days promotions.
The technical sheet of this Acer Nitro 5
A 17″ FHD screen at 144 Hz
A super-fast 512GB NVMe SSD
The RTX 3070 + i9 11th gen 16GB RAM combo
Yesterday displayed at 2,199 euros, but now displayed at a crossed out price of 1,699 euros, the Acer Nitro 5 AN517-54-90GF is now available at the reduced price of 1,499 euros at Boulanger.
Don't miss any offers from the French Days 2022
The back-to-school edition for the French Days officially started on Friday September 23, 2022 in France and ends next Monday. As of now, several merchants have already drawn their best promotions. Here are the offers that we recommend at Frandroid.
To make sure you don't miss out on any good plan for this event, here are some reflexes to adopt now so as not to miss any of the offers we recommend:
Follow us on our twitter account @FrandroidPromos only dedicated to good deals (remember to activate the bell to receive notifications in real time)
Download our Frandroid application (available on iOS and Android) to activate notifications from the "Bons Plans" category and thus receive new articles related to the French Days in real time
Subscribe to our Good Deals newsletter to be sure to receive the offers in preview (no more than one email per day, unsubscribe in 1 click, no distribution to third parties):
---
To follow us, we invite you to download our Android and iOS application. You can read our articles, files, and watch our latest YouTube videos.