---
The crypto community has seen the price of BNB rise as the price of Binance's native token (BNB) spiked on May 5 in response to French financial regulators approving Binance and the cryptocurrency exchange committing $500 million to Elon Musk's takeover of Twitter. predicted it would continue.
Crypto community predicted BNB price for May 31, 2022!
With an 83% historical accuracy and 4,817 votes, the voter community at CoinMarketCap predicts that the largest crypto exchange's digital currency will trade at an average of $423.99 by the end of May 2022.
Specifically, the estimated price marks an increase of $14.55, or 3.55%, from the current value of the decentralized finance (DeFi) asset of $409.44.
BNB May price prediction. Source: CoinMarketCap
Meanwhile, votes from 2,187 community members for the end of June set a slightly higher growth target than in May. He predicts that the coin will trade at $425.45 on June 30, which is an increase of $16.01 or 3.91% over the current price.
Based on the performance of its previous predictions, the crypto community historically predicted BNB price with 83.06% accuracy.

BNB price prediction historical accuracy. Source: CoinMarketCap
He previously reported elsewhere that experts predicted that the price of BNB could continue to rise steadily over the next decade and even surpass $2,400 by 2030. At the end of 2022, it is around $527.
BNB price analysis
At press time, Binance Coin was trading at $409.56, which is up 4.64% on the day and 1.6% from seven days ago. However, later it was around $ 380.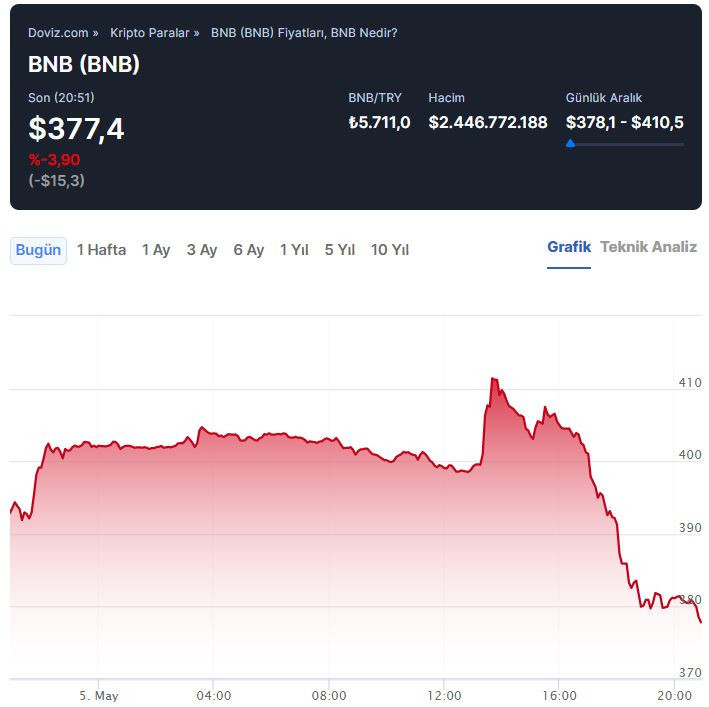 BNB daily price. Source: doviz.com
It will be interesting to observe how everything will develop for BNB and whether the expectations of the experts and the community regarding the future price increase will actually come true.
Legal warning: The content on this site should not be considered investment advice. Investment is speculative. When investing, your capital is at risk.