Grandpa has a mobile and wants to use it for more things than to send messages: he wants to have
WhatsApp
. If your grandfather or grandmother wants WhatsApp, we are going to recommend a series of
phones suitable for older people with something in common: they have WhatsApp
.
Traditionally, mobile phones for the elderly are very simple, with large buttons and speed dials, but modern times require new mobile phones that are somewhat more technologically ambitious. here you will have
eight different models
for all kinds of tastes and needs.
Funker E400I Comfort Pro
We start the list with this Funker model, a brand that has a lot of experience in mobile phones for the elderly. It is a mobile with a very personalized version of Android in clamshell mobile format. It has GPS, WhatsApp (with an exclusive button to open it) and an audio amplifier system for people with hearing problems.

This mobile is accompanied of a charging basewhich makes it faster to charge it while it remains visible (partly because it has a secondary screen) and it does not lack the emergency button, which calls and sends messages to the contacts that are configured.


Funker E400I Comfort Pro – Mobile Phone, WhatsApp 4G for the Elderly with Pro Audio System, Amplifier and Hearing Aid Compatible, Touch Screen with GPS and SOS Button, Easy to Use (Black)
Funker E500l Easy
Some grandparents will prefer a mobile that looks more like… uh, mobile. The Funker E500l Easy is basically that: the same concept of a mobile for older people but in a more current "packaging". The difference is that we have physical navigation buttonssomething that some older people will appreciate.

This Funker E500l Easy is halfway between a smartphone and a feature phone, but at least it has Android 10 and 16 GB of storagewhile maintaining the charging base, the SOS button on the back and the amplified sound, with Google Play available to install WhatsApp and any other compatible app that grandpa needs.


Funker E500I Easy – 4G Smartphone Mobile Phone with Whatsapp for the Elderly, SOS Button, Charging Base, XXL Icons, 5.5″ HD Screen, 16 GB Expandable Memory, Android 10 (Black)
SPC Jasper
The SPC Jasper is another mobile for the elderly in shell format, like in the old days. The difference with the two previous mobiles is that this time it has KaiOS inside, which may be even more appropriate than Android for this type of mobile.

As you would expect, it has large keys, very simple menus, 4G connectivity and a charging base to charge it without worrying about cables and stories. Of course, you have WhatsApp and other simple apps in your version of KaiOS.


SPC Jasper – Free 4G Flip Mobile Phone for Seniors with Whatsapp, Large Keys, SOS Button, Large Volume and Charging Base, Gray
TTfone TT240
What if grandpa doesn't like clamshell mobiles or those with a large screen? In this case, a good option may be this TTfone TT240, which is a adorable little mobile 123 x 23 x 12 mmwith its predictive keys and its 2.4-inch screen.

It is a mobile with KaiOS that brings WhatsApp, Facebook, with a very handy button to open the Voice Assistant. Of course, there is no SOS button or charging base (in fact, it is sold without the charger).


TTfone TT240 Simple Mobile Phone 3G KaiOS Whatsapp
Alcatel 3088X 4G
An option very similar to the previous model, but from Alcatel, is the Alcatel 3088X 4G. A compact, resistant and intelligent mobile, based on KaiOS and that brings WhatsApp, Facebook, YouTube and Google Mapsamong other.

There is nothing written about tastes, but this Alcatel model seems to have a somewhat more successful design and the keys are bigger. It fits in the grandfather's pocket and without making a hole in it, since it is worth less than 60 euros.


Alcatel 3088X – 2.4″ mobile phone (Wi-Fi, 4 GB RAM, 512 MB internal memory + micro SD slot, Bluetooth) gray color [Versión ES/PT]
Nokia 8000 4G
The Nokia 8000 4G is a lifelong Nokia mobile resurrected smarter than ever through KaiOS. Thus, you have WhatsApp, Google Maps and many more apps available in the system store.

It is not a mobile specially adapted for the elderly, so it will be more appropriate for people who do not have vision problems and also are handled well with classic Nokia buttons. That is, for nostalgic grandparents.


Nokia 8000, Mobilephone, LTE, Proprietary, Capacity: 32 GB, [Italia]
Alcatel 1B
If the grandfather prefers a normal mobile, a good option is the Alcatel 1B, a mobile with old-fashioned designAndroid Go and a 3,000 mAh battery that should give enough of itself (according to its creators, up to 16 hours in conversation).

The Alcatel 1B mounts the simple version of Android, with a handful of pre-installed applications and is compatible with WhatsApp. There are no specific functions for older people, although the mobile has a dedicated button to open Google Assistant which can be useful for doing some functions (such as calling someone on the phone) with your voice.


Alcatel 1B – 5.5" HD+ Smartphone, 18:9 Screen, Quadcore, 2GB Ram, 32GB Memory, Expandable MicroSD, 8MP Camera, 5MP Front, 3000 mAh Battery, Black [Versión ES/PT]
Samsung Galaxy A03s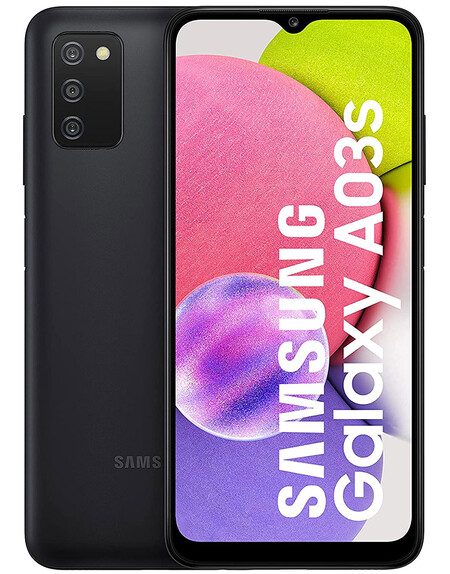 If all of the above fall short for the most technocratic grandpa, who wants Normal Android and not a reduced versionthe Samsung Galaxy A03s may be more appropriate than a cheap Xiaomi mobile, since MIUI may be somewhat more difficult to digest than One UI, Samsung's system.

Of course, the Samsung Galaxy A03s is compatible with WhatsApp and practically with any application that the grandfather needs, since it is a current mobile, with a lot of battery, modern design and up to three cameras. If necessary, its interface can be configured with the samsung easy mode.


Samsung Galaxy-A03s | Smartphone with 6.5″ TFT LCD HD+ screen | 3GB RAM and 32GB expandable internal memory | 5,000 mAh battery and 15W fast charge | Black Color [Versión española]