It's been a while since streaming platforms are offering content in high resolution. Both Netflix, HBO Max, Prime Video, Disney + and company, they bet heavily on 4K UHDas well as its ever-increasing foray into better HDR formats.
Netflix has a good catalog of movies compatible with Dolby Vision, being a good way to test the capabilities of your television. In this article we show you how to access movies in that format and a list with some of the best movies in Dolby Vision currently available on Netflix.
What do I need to watch movies in Dolby Vision?
The first thing we must bear in mind is that, to play content in Dolby Vision, we must have a TV compatible with this format. Today it is not very complicated for a television with 4K UHD resolution to have this type of HDR, unless you have a Samsung Smart TV, which opts for the HDR10+ format for content in high dynamic range, an option similar to Dolby's. In this way, first of all, make sure that your TV can play content in Dolby Vision.

Another point to note is that to play Dolby Vision compatible content on Netflix, we have to subscribe to the 'Premium' plan of the platform. This plan, in addition to offering simultaneous playback on up to 4 devices, also allows us to watch movies in 4K and compatible with HDR.

In addition to the above, it would not hurt to check our Internet connection speed, since according to the company, to play a movie in 4K from Netflix a minimum of 25 Mbps of bandwidth will be required. If you don't know what connection speed you have, you can always resort to the numerous Internet speed tests.
Once all the requirements are taken into account, let's go with some of the best Netflix movies compatible with Dolby Vision. Under these lines we leave you with the list.

X movies with Dolby Vision to enjoy at home
'Blade Runner 2049'
Directed by Denis Villeneuve, 'Blade Runner 2049' is the sequel to Ridley Scott's famous 1982 film. 30 years have passed since the events of the first film. Agent K (Ryan Gosling), a Replicant-hunter blade runner for the Los Angeles Police Department, uncovers a long-buried secret that has the potential to throw society into chaos. His investigation will lead him on a quest for the legendary Rick Deckard (Harrison Ford), an unaccounted-for former blade runner who has been missing for 30 years.
'The invisible agent'
Directed by Joe Russo and Anthony Russo ('Avengers: Endgame'), 'The Invisible Agent' tells the story of Court Gentry (Ryan Gosling, 'Drive'), a hit man, who was a CIA agent. In the agency he was known by the nickname of Gray Man. On the other hand, there is Lloyd Hansen (Chris Evans, 'Captain America: Civil War'): an old co-worker who chases the protagonist around the world to hunt him down. Film based on the homonymous novel by Mark Greaney.
'Annihilation'
To discover what exactly has happened to her husband, a biologist (Natalie Portman) will lead a new group of scientists from different areas of knowledge on a dangerous secret expedition to a mysterious area. The group will consist of a psychologist (Jennifer Jason Leigh), a surveyor (Tessa Thompson), and an anthropologist (Gina Rodriguez). Together they will investigate the region and their mission will be to discover what happened to the previous expeditions.

'The Irish'
Frank Sheeran (Robert De Niro), better known as The Irishman, is a hit man for the mob who is credited with more than 25 mob-related murders. Late in his life, Sheeran claimed to have been involved in the murder of Jimmy Hoffa (Al Pacino), the powerful head of the Teamsters union. Hoffa disappeared on July 30, 1975 and was not declared legally dead until July 30, 1982. His murder remains unknown and is one of the most famous unsolved mysteries in US history.

'The devil at all hours'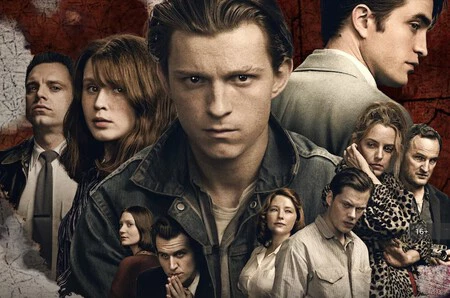 In a place called Knockemstiff, in Ohio, violence and redemption are brewing. Desperate to save his dying wife, Willard Russell turns to prayer as his son Arvin grows from a bullied schoolboy to a man who knows when to act. Swirling around them is an infamous cast of characters: an insane team of serial killers, a faith-testing preacher, and a corrupt local sheriff. All this in a story told over two decades.

'okay'
Mija is a young Korean woman who lives with a strange creature with a kind and warm character called Okja. The girl and the curious animal are exceptional friends and live their day to day in the mountains taking care of each other, but everything gets complicated when the powerful multinational company responsible for the existence of the animal wants to get it back. Then she will do everything possible to prevent her inseparable companion from being captured. Together they will live adventures, but they will also face complicated situations that they will have to overcome little by little.
'final ambush'
America, it's the 1930s, the era of the Great Depression. Frank Hamer and Manny Gault are two veteran Texas Rangers who come out of retirement to catch the notorious criminal couple Bonnie Parker and Clyde Barrow. Convinced by a consortium of banks to stop the violent gang, these two special investigators help put a stop to Bonnie & Clyde's wave of bloody robberies.

'The Ballad of Buster Scruggs'
Six stories of the West, sometimes absurd, sometimes profound, starring outlaws and settlers on the American frontier. A western anthology through six stories whose protagonists range from a singing gunslinger, to a bank robber, an itinerant comedian or a young woman who crosses the desert in a caravan of wagons in search of a husband.