We thought it would never come, but it did. it's possible use WhatsApp on two mobiles at the same timeor on a mobile and a tablet, without weird tricks and with an experience that is almost the same as the main mobile. Almost, not exactly the same.
WhatsApp on a secondary mobile looks and feels like WhatsApp on the primary mobile, but there are eight things you can't do on this secondary mobile. We tell you which ones.
All chat history
WhatsApp warned us: "Not all messages and chats are synced to the linked devices from your phone", and indeed it is. To see all the history of a chatyou need to go back to your main mobile.
Although the first time you link your WhatsApp to a secondary mobile you will see how the history is slowly being synchronized, there comes a time when it stops doing so. Synchronize many messages, about a year of historybut not all.
Create states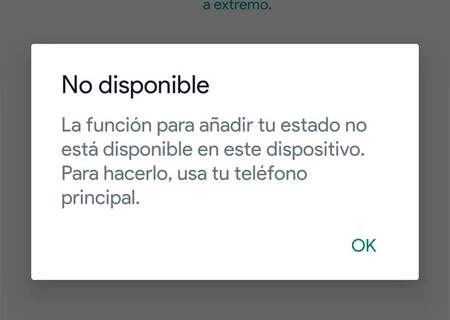 If you want to create states, you will need to use WhatsApp on your main mobile, because in secondary mobiles it does not let you. The button is there, but when you press it you will receive a notice that the function is not available.
This is curious to say the least, because you can continue using the WhatsApp camera without problems to send photos to your friends, but do not share them as states. At least for now.
Another limitation that is at least curious is that with WhatsApp on a secondary mobile you can't share your account with a QR code. The button simply does not appear in the app settings.
Change account details
It makes a lot more sense how different the Account menu is if you open it in WhatsApp on a primary or secondary mobile. The secondary includes the option Sign offbut other more important settings are lost in return.
From the secondary mobile we cannot enable two-step verification, change phone number or delete account. For this kind of thing, you have to use the main mobile.
Pair new devices
It also makes a lot of sense that you can't pair a new device. After opening the context menu in the tab chatthe section of linked devices.
It makes sense that you can't add more paired devices from a paired device, but it really wouldn't have hurt if it was possible. sign out of other secondary devices. For now, you can't.
create an avatar
For some reason, it is not possible to create avatars from WhatsApp either on a secondary mobile. If you want to configure your digital alter ego, you will have to resort to the main mobile where you use WhatsApp.
The avatars menu does not appear in the WhatsApp settings on a secondary mobile, although if you have set your avatar as your profile picture, it will remain. Yes indeed, you will not be able to use the sticker pack based on your avatarexcept for those individual stickers that you have marked as favourites.
The location in real time
In WhatsApp it is possible to share fixed locations (whether you are there or not) and in real time. In this case, the other chat participants can see where you are movinguntil you stop sharing your location.
Unfortunately, this is one of the things that you can not do if you use WhatsApp on a secondary mobile. As soon as you press the button, you will receive a message stating that "real-time location sharing is not available on this device".
broadcast messages
WhatsApp broadcast lists go quite unnoticed, but if you use them frequently, you're going to get the unpleasant surprise that it is not possible to create a new broadcast list with WhatsApp on a secondary mobile. The menu is not displayed in WhatsApp on a linked mobile, so to do so you will have to use the main mobile.