Here is an update that could be described as timely. If you want to play a licensed football video game while watching the World Cup in Qatar, EA has just the thing for you. With this new version, FIFA World Cup 2022 is entirely focused on the sporting event of the year. All thirty-two teams are here for you to win the cup, with updated commentary, players, kits and crests, and new passing mechanics. And that's probably the most important point
Place at the 2022 World Cup
The latest update to FIFA Mobile, 18.0.3, offers the possibility of playing the World Cup with 32 teams, including France. In addition to the occasional dressing with therefore the official jerseys and other stadiums modeled in their smallest details, what is certainly the most interesting here is the new advanced pass mechanism. A change that finally brings the mobile version of the game closer to PlayStation and Xbox.

Get ready to experience the realism of FIFA World Cup 2022™ with EA SPORTS™ FIFA Mobile. Build your dream team and embark on your FIFA World Cup 2022™ adventure today.

Immerse yourself in the heart of the biggest football competition in the world. FIFA Mobile is the only officially licensed FIFA World Cup 2022™ mobile game that allows you to play official fixtures with one of 32 qualified countries and a few virtual national teams.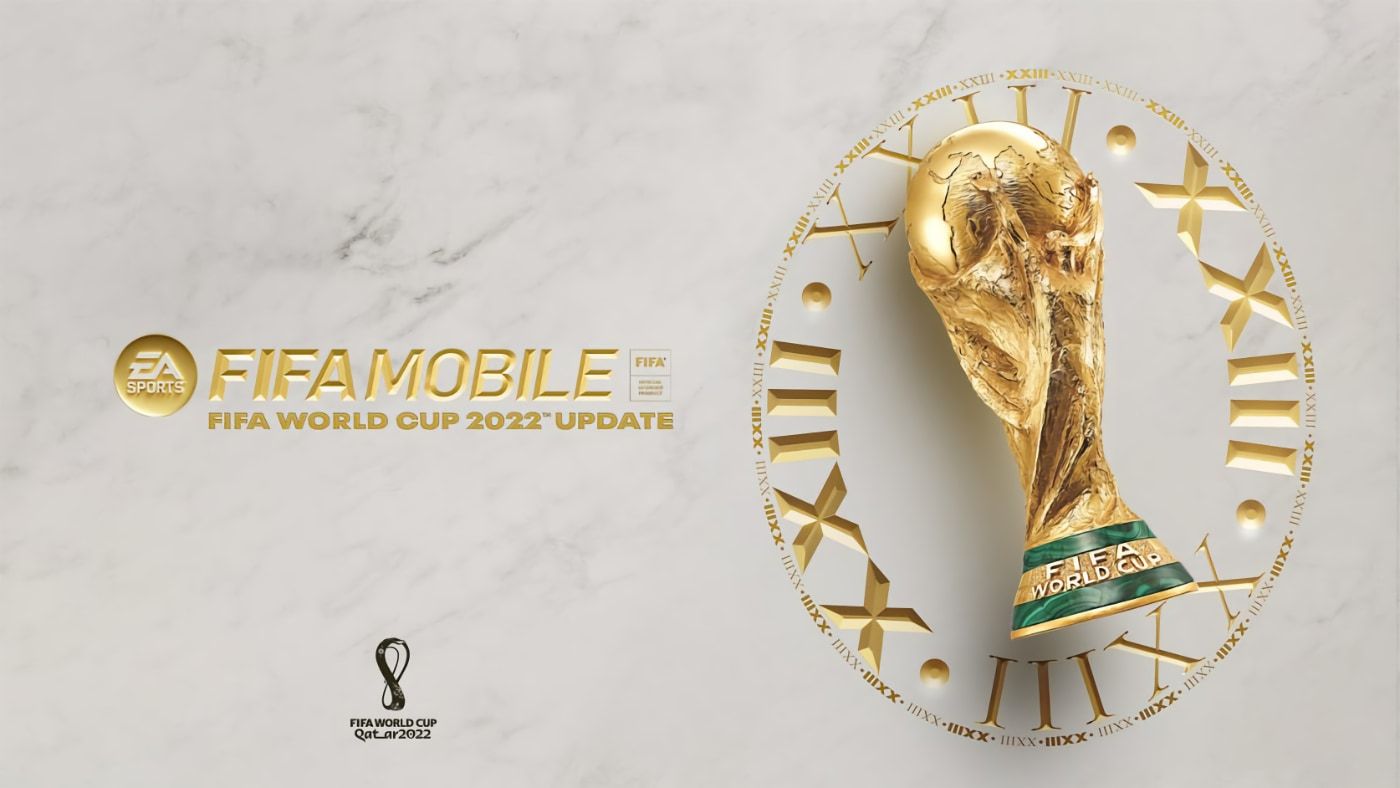 The new passes
5 new features for passes
The different ways to pass should allow you to open up spaces and create more attacking opportunities according to EA.
If you want to have better sensations, you absolutely must activate the advanced pass function by going to the game settings. The advanced pass includes 5 new controls:
Sneaked ground pass

Deep ground pass

Hard lob pass

Hard ground pass

Race trigger
Advanced passes are only available for button commands.
Low toe passes are slightly elevated passes used to avoid a defender's leg. These passes are great for working in tight spaces or if a defender gets in your way. They also work very well on offense when trying to avoid blocking a defender for close or mid-range passes.
A double tap on the pass button is enough.
Deep toe passes work like toe passes except that it is a pass through space.
A double tap on a through pass.
Hard lob passes are lob passes with more speed and power. Their trajectory is lower than that of ordinary lob passes. They are ideal for quickly changing the game from sideline to sideline.
Since these passes are faster than normal lob passes, the error on reception is higher.
Tap on Pass and swipe left on the button
The hard ground pass is a faster version of the normal ground pass. Hard ground passes are a great way to push the pace of the game, move upfield quickly, and squeeze into tight spaces. Much like lob passes, they add difficulty to the player receiving them based on the distance of the pass, speed, and ball control attribute of the player.
Tap on Pass and swipe right on the button
"Player Trigger" allows one of your players to perform a forward run while in possession of the ball, similar to consoles with the right stick. The direction of your touchpad determines which player will race. You will see yellow arrows appear next to the player when a run is triggered. You can trigger up to 4 X runs at a time during the same possession and in any part of the field.
Tap on the pass and drag the button up.
Here is the video revealing the new passes:

Pass elevation control
Electronic Arts also introduces a new Advanced Gesture Pass Control capability, which allows you to control the elevation of each pass. A simple tap triggers ground passes, such as ground passes or through passes, or even low passes. A double tap will therefore only trigger lob passes, such as lob passes, topspin through passes, and regular crossovers. This new gesture input mechanism can be enabled in Settings, under "Tap/Double Tap Gesture Passes". This should help players who use gestures better control their passes.
In addition, these new gesture passes will apply to set pieces. This means that corner kicks, free kicks and goal kicks will follow the tapping/double tapping rules. For example, if you hit a corner kick just once, you will make a ground pass into the box. It might take a bit of getting used to, but it will open up more possibilities in the game.
Finer pass control
For all gesture passes, there is now more control over the triggering of passes in space compared to ground passes on the feet. Tapping in front of the receiver will more easily land a straight pass, while tapping on or behind the receiver will land a ground pass directly to the receiver. This should make gesture passing more consistent in more situations.
Other Passing Improvements
Passing improvements with buttons

Lob passes are now fully assisted, allowing you to easily switch sides of play.

Fixed an issue that could occasionally cause a slow ground pass.

Improved the selection of near or far receiver when using more than 50% power for ground passes and through passes. High power will now consistently select the furthest teammate as the receiver.

Fixed an issue where crossovers from a standing position or front dribbling would result in weak/short crossovers. This often happened in VS Attack, especially when crossing from the wings.

Fixed some extreme trajectory errors for some lob and ground passes.

Improved sweet spot for near and far post crossover targets.

Fully Assisted Crossover is now available in Settings. A low power will cross to the near post and a high power to the far post, with an ideal trajectory.

Improvements to gesture passes
This World Cup 2022 update is therefore excellent news for players who have long been waiting for richer gameplay closer to the console versions.
Download free game FIFA World Cup™