As promised, Google took advantage of Google I/O 2023 to unveil its new upcoming devices, starting with the Pixel Fold. On many points, especially on the photo part, this first folding device seems very promising. Only, it has a big flaw: it will not be available in France…
As you may know, this Wednesday, May 10, 2023 was marked by a major event for the industry: the Google I/O 2023 conference. As usual, the Mountain View firm took advantage of this high mass to unveil its future devices, starting with the Pixel 7a, its next mid-range smartphone, its new Pixel Tablet and especially the Pixel Fold, its very first folding smartphone.
In this article, we are going to focus on this direct competitor to Samsung's Galaxy Z Fold 4. However, and before going into the technical details, let's remember a crucial point: the Pixel Fold will not be released in France to the chagrin of interested users.
120 Hz OLED screens and Tensor G2 chip
Let's start first by looking at the dual screens of the Pixel Fold. For this first folding device, Google has chosen OLED for the main and secondary slabs. The inner screen of 7.6″ (ratio 6:5) has a refresh rate of 120Hz. We will also find the same rate on the secondary screen of 5.8″.
It should also be noted that the exterior slab will be equipped witha protective glass Gorilla Glass Victus. In other words, it should theoretically survive a fall of more than two meters. Still concerning the protections, the Pixel Fold is IPX8 certified. In other words, it can withstand immersion up to two meters deep for up to 30 minutes. Finally, note that unlocking by facial recognition is part of it.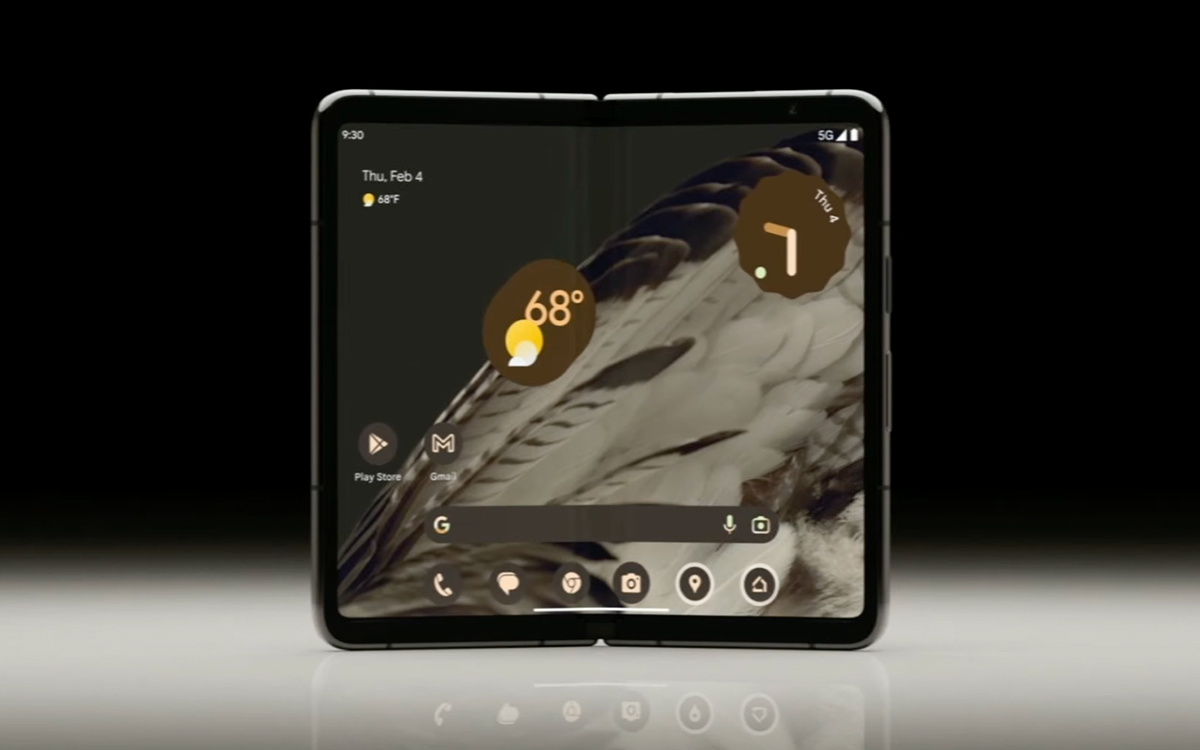 According to Google, this is the thinnest folding smartphone on the marketwith a thickness of 12mm once folded and 6mm totally unfolded. For comparison, the Galaxy Z Fold 4 displays a thickness of 6.3 mm and 14.2 mm when open and folded.
Under the hood, we obviously find Google's in-house chip: the Tensor G2 with Personal AI. This processor, which is already found on the Pixel 7 and 7 Pro, is distinguished above all by the integration of a new TPU (Tensor Processing Unit) which speeds up the processing carried out by the AI ​​by around 60%. Additionally, Tensor G2 works in concert with the Titan M2 chip generation to provide optimal protection for user data (it has its own flash memory to store sensitive data such as fingerprints for example). On the internal storage side, the user can count between 256 and 512 GB capacity.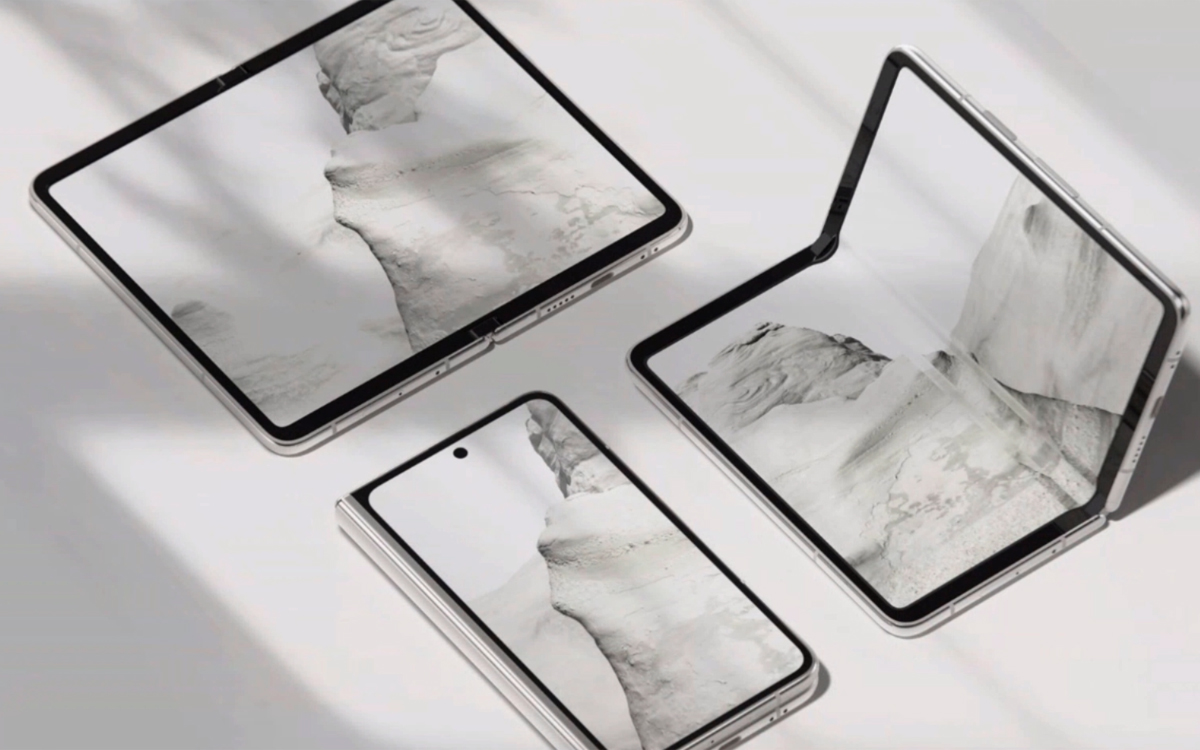 A calibrated software experience
Folding screen requires, Google claims to have worked with many developers so that a multitude of applications make the best use of this particular format. Unsurprisingly, multitasking will also be in the game, with the possibility of displaying two apps simultaneously on the internal screen.
In addition, you can take advantage of the dual screen to use the best sensors of the device for your selfies and have the image feedback on the external screen. But the most intriguing remains this feature called Dual Screen Interpreter Mode. To put it simply, the Pixel Fold turns into an instant translator: you speak, your words are displayed on one part of the screen before being translated on the other half of the screen.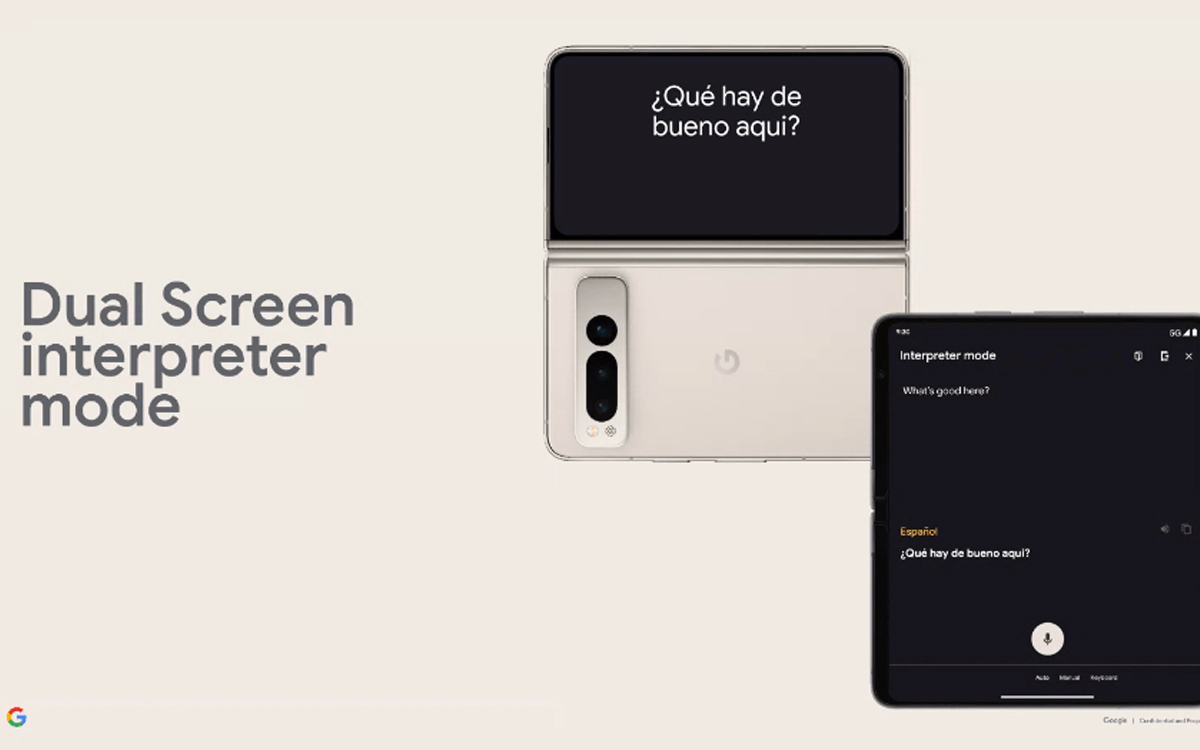 A robust AI-powered photo set
Let's come to the photo part. On this specific point, folding smartphones have never shone, with the exception of the Galaxy Z Fold 4 which has reinforced its proposal. In fact, it is not surprising to see Google put the package in this area. The Pixel Fold therefore has a triple photo sensor composed of:
a 48 MP main sensor with 82° field of view
10.8 MP ultra wide-angle lens with 108° field of view
a 10.8 MP telephoto lens (Dual Pixel, ƒ/3.05, 1.22 μm, 5X optical and up to x20 with the Super Res function)
On the selfie side, it will therefore be necessary to rely on two sensors (one for each screen) of respectively 9.5 MP for the external screen and 8 MP for the interior panel.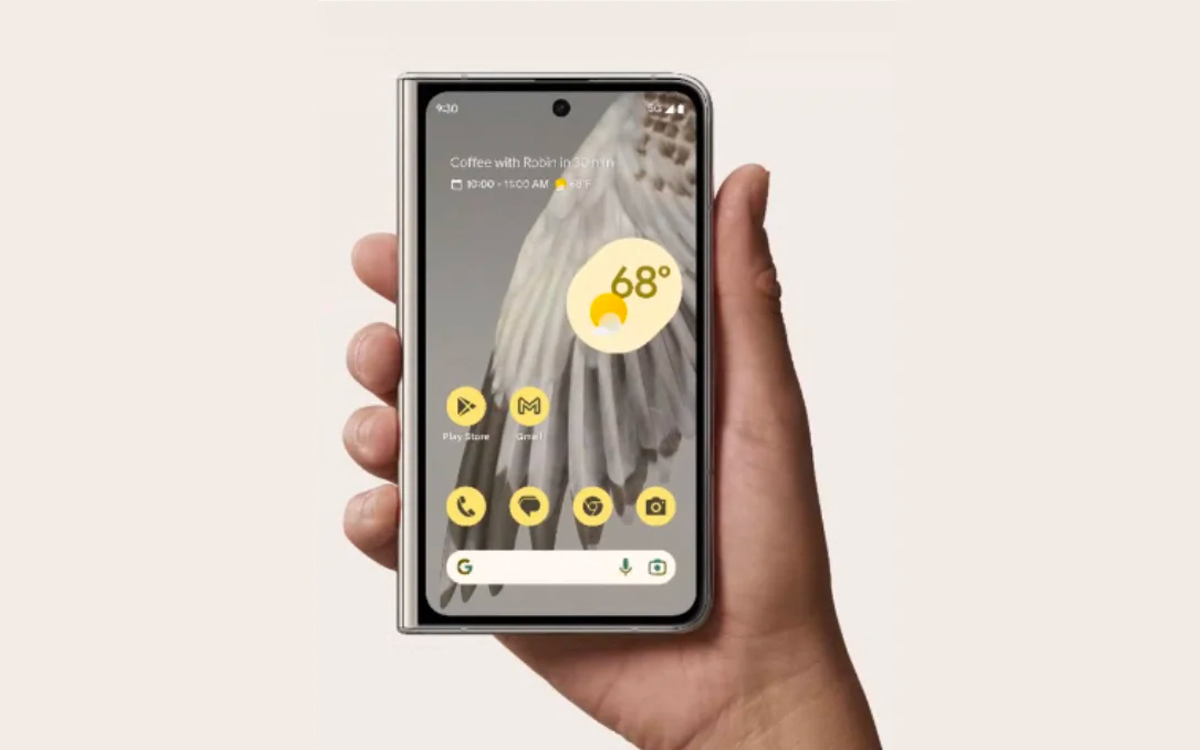 Generous battery and infuriating availability
What about autonomy and battery? The Pixel Fold will carry a battery with a capacity of 4821 mAh. Google thus promises more than 24 hours of autonomy on a single charge. Regarding fast charging, we do not yet know if the Pixel Fold benefits from it or not.
Finally, we come to availability and price. According to Google, the Pixel Fold will be offered from 1899 €, or 100 € more expensive than the Galaxy Z Fold 4. As for availability, those most interested will therefore be sad to know that the Pixel Fold will not land in France… for the moment in any case. It therefore remains to cross our fingers and hope that Google changes its mind on this point.