Over the past three decades, websites have turned to cookies as the primary method of tracking users online, whether to manage logins or — more frequently — to display ads. Has it ever happened to you that, after searching for a certain product on the Internet, ads for it have been appearing for weeks? Well, that's the cookies' fault.
But then, one day in 2020, Google announced the imminent beginning of the end of the cookie era. And it's getting closer. The question is… have we jumped from the frying pan into the fire?
'Sgroogled.com': when MICROSOFT launched ANTI-GOOGLE ads
Improved privacy… for whom?
Chrome, the most popular browser on the market, has been selectively activating some users for a month (since the launch of its version 115). a new feature called 'Enhaced Ad Privacy'. Although Google presents it as an attempt to improve the user experience, it is generating controversy due to the negative effect this could have on online privacy.
And this technology allows websites to direct specific ads to users based on your interests and online activities… which the browser deduces from your browsing history. This technology uses Google's 'Topics' API, which is part of the broader – and as ambitious as it is controversial – 'Privacy Sandbox' project.
Critics argue that allowing websites to access a user's browsing history is the opposite of protecting privacy… especially given that It is enabled by default and must be disabled manually by entering the browser settings (see below), something that many users will never do.
This default activation has led some critics to call it a "dark pattern": that is, a tactic based on the application's design that tricks users into thinking they are improving their privacy when, in reality, are agreeing to data collection for targeted ads.
But all this is compounded by the warning from some experts who point out that this feature could also be used to identify individual browsers, which raises another extra concern regarding Chrome's new feature.
Google defends itself. Mozilla and Apple are not convinced
Google has defended its new feature, stating that the Topics API does not allow companies to identify users whose interests they inform its advertising API. The company also argues that this technology is a necessary response to the phasing out of third-party cookies, which requires enable new advertising tracking and analytics techniques.
In this sense, it is reminiscent of the recent launch in Spain of Utiq, the 'operators' super cookie'.
However, these assurances have not allayed all concerns. Both Apple and Mozilla have announced that they will not adopt the Topics API due to privacy concerns.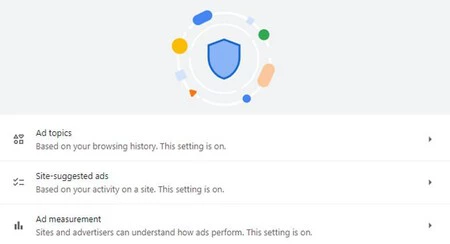 This is how you can configure it if it has already been activated
You can find the 'Enhaced Ad Privacy' settings section in Chrome by going to Menu > Settings > Privacy and security > Ads privacy.
This tool consists of three parts:
Ad Topics: When you activate this option, Google will observe your browsing and record topics relevant to you: you can block topics that you do not want to be used to display ads.
Ads suggested by sites: By activating this feature, you allow websites – you can assign individual permissions – to monitor your browsing behavior and store information about your interests in your Chrome browser for 30 days.
Ad measurement: Advertisers use ad measurement tools to evaluate the effectiveness of their ads. Activating this function does not benefit consumers, but rather website administrators.
In Genbeta | It doesn't matter if you reject cookies, you are still being tracked: what is browser fingerprinting and how to have more privacy