The Anker group offers a multitude of accessories that work with Apple devices, such as the recent MagSafe battery for iPhone. But what interests us today is its subsidiary Eufy, which specializes in home automation and in particular surveillance cameras, connected doorbells and other intercoms. Precisely, for Black Friday, the Eufycam 2C Pro camera sees its price melt by 30%, going from 299 € to 209 €! A golden affair, especially since the 2C Pro is not lacking of arguments.
A 2K camera with night vision and without subscription
The Eufycam 2C Pro cameras therefore have a strong case with 2K recording, six-month battery life with the built-in (rechargeable) battery, color night vision, person detection and compatibility with HomeKit and HomeKit Secure Video. This is also an undeniable asset of the 2C Pro which integrates perfectly with the Home application and which is capable of triggering automated routines for the most demanding. Not to mention that its detection capabilities allow it to identify a human so as not to alert you for no reason because of a stray cat.
If someone were to approach your house, the Anker group camera would send you a notification and even offer to chat with the person, thanks to its microphone and speaker.
But that's not all, because the 2C Pro also offers local storage thanks to its base connected to WiFi (or Ethernet cable), which avoids the subscriptions offered by most competitors. You only pay for the cameras.
To complete its range, the Eufycam 2C Pro has IP67 sealing which allows it to be positioned outdoors in any location. It is obviously also capable of monitoring your interior space.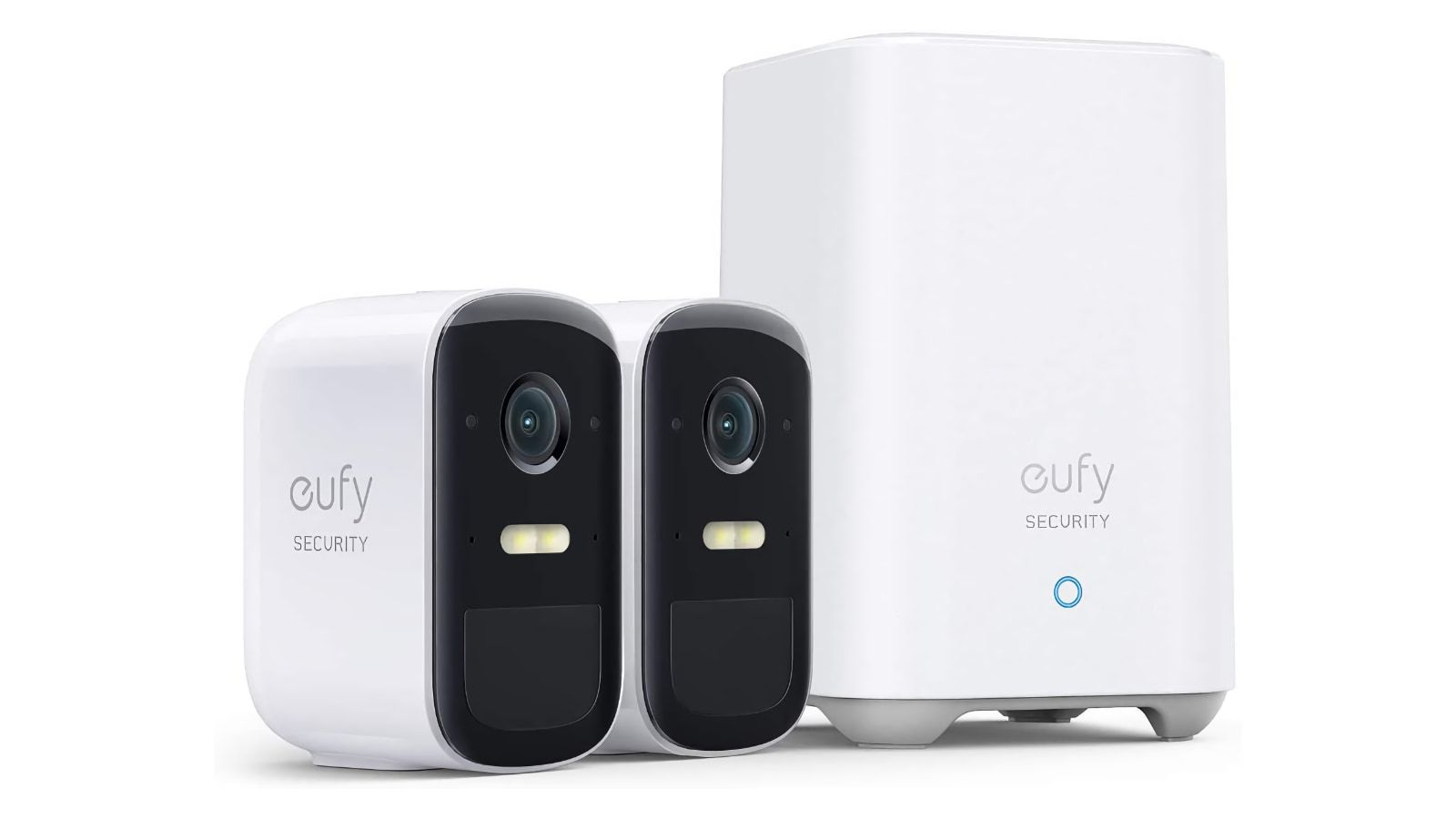 The +:
Video quality day and night

140 degree wide-angle lens

Wifi module power

Recording of noises

Free local storage of all videos

Full app

Instant Notifications

Pre-recorded modes (present, absent, system disarmed, …)

Custom mode

Latency of only 2 seconds
The – :
Poor zoom performance on some devices

Low alarm volume

Sorting out questionable videos
Why buy the Eufycam 2C Pro camera at the best price
To conclude, the 2C Pro is really an excellent product, especially thanks to its color night vision and the 2K resolution of its videos, not to mention the local storage which provides data security and free use. The only downside is that its alert tone isn't very loud, but that's not its primary purpose.
The promotion of the day concerns the pack of 2 cameras, which is often very useful knowing that each one can be set differently: camera active or not, night mode black and white or with the projector (color), watermark or not, video quality, motion detection sensitivity, selected area, notification or not…
If you are interested, the EufyCam 2C Pro are on sale at 209€ per pair instead of 299 euros!
Note: iPhoneSoft uses affiliate links whenever possible. When you click on a link and make a purchase, we may receive a small commission, which helps us maintain this site at no additional cost to you.