More than two years after their release, the Jabra Elite 85T remain excellent wireless headphones with active noise reduction. They are also much more accessible at the moment since they are sold at 129.99 euros instead of 249.99 euros at Darty.
When it comes to devices with active noise reduction, Sony, Bose and Apple dominate the market. But other brands also manage to differentiate themselves with this audio technology. Jabra produces, for example, models that are clearly worth the detour, like its Elite 85T, which also received an excellent score of 9/10 during our test. These true wireless also have a clear advantage over its competitors: their price, which has just been halved.
Why we recommend the Jabra Elite 85T
For their pleasant comfort
For their effective active noise reduction
For their compatibility with multipoint Bluetooth
Initially displayed at 249.99 euros, the Jabra Elite 85T are now sold at only 129.99 euros on Darty.
---
If the offer mentioned in this article is no longer available in the future, please take a look below to find other promotions for the Jabra Elite 85T. The table updates automatically.
Where to buy the

Jabra Elite 85T at the best price?
Ultra-effective active noise reduction
One of the main assets of the Jabra Elite 85T is obviously its mastery of active noise reduction, a technology capable of deploying its full potential thanks in particular to the passive isolation provided by the in-ear format of these true wireless. These headphones therefore manage to filter out surrounding noise to allow the user to fully concentrate on their music or podcast. The Jabra Elite 85T offer a total of five levels of noise reduction, as well as five levels of transparency. Whether you choose to completely isolate yourself from everything that is going on around you or you still want to hear the surrounding sounds in situations that require it (like on a pedestrian crossing, for example), the headphones will perform very well. their task.
Guaranteed comfort
As mentioned above, the Jabra Elite 85T are in-ear headphones, which therefore fit deeper into the ear canal than standard headphones. A design that does not prevent them from being very comfortable once inserted in the ears, and this comfort is maintained even during an extended listening session. Three silicone tips, of different sizes, will be provided to best suit users. However, these headphones will not be quite suitable for running sessions, as they can sometimes become dislodged after sudden movements.
Warm sound and durable headphones
The Elite 85T also have the advantage of delivering a particularly warm sound, with an emphasis on the midrange. An equalizer will also be available on the brand's application, available on iOS and Android, to be able to modulate and adapt the sound signature of the headphones to your liking. Note, however, that the AptX and LDAC codecs will not be supported by the Jabra Elite 85T. Another good point: compatibility with multipoint Bluetooth, which allows you to save up to eight paired devices and connect to two sources simultaneously. You will be able to switch from one to the other without disconnecting.
Finally, on the autonomy side, the Jabra Elite 85T can last, according to our test, 6 hours and 12 minutes before the headphones turn off. And this, having activated the noise reduction to the maximum and pushed the volume to 90%. Recharging will be a bit long: 1h12 was necessary for us to go from 0% on one of the headphones to 100% on both. The box, which accompanies the true wireless and which can extend listening by 19.5 hours, can be recharged by USB-C socket or by induction with a charger compatible with the Qi protocol.
To find out even more, do not hesitate to read our complete test of the Jabra Elite 85T.
9 /10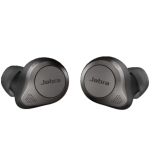 If you want to discover new references, we invite you now to consult our guide to the best Bluetooth headphones to choose from in 2023.
---
Want to join a community of enthusiasts? Our Discord welcomes you, it's a place of mutual aid and passion around tech.