Getting started in the search for a good web developer training is a challenge. How can we be sure that we are not going to buy a simple pack of 50 hours of video? Created by former web developers, O'clock aims to offer real educational support through telepresential courses.
Whether you are looking for a professional retraining or looking for a post-baccalaureate project, web development is undoubtedly one of the most promising sectors. In particular because it is not so much the diploma that counts for recruiters, but rather the technical capacities evaluated during tests.
To support you in your project, many training courses exist. But those of O'clock have a completely different approach. These are not simple videos that we consume passively in front of our screen. Instead, the organization offers real telepresential courses and supports its students very closely, from the search for funding to employment.
An organization founded by developers for (future) developers
Behind O'clock is actually a team of training web developers, both in the management of the company and in the trainers. The latter are all employed in CDI by O'clock and all have been active as developers. These are therefore teachers who also know the professional world.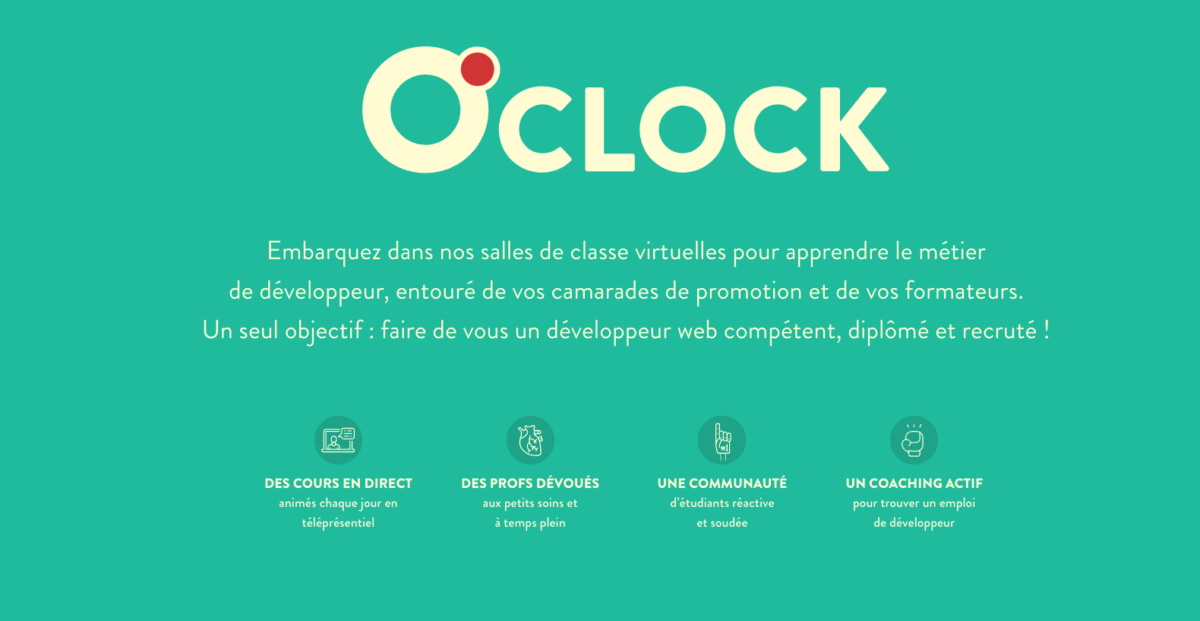 Above all, O'clock stands out for the format of its training. This is telepresential. This means that you must arrive on time in front of your computer so as not to miss the start of classes at 9 am. Even if you attend the course from home, this format has the advantage of having trainers and students all together and live. This is by far the best solution to discuss with colleagues, to ask the teacher for clarification and to compel oneself to follow the training.
A tailor-made platform for delivering courses
No Zoom and even less Google Meet: O'clock has developed its own platform to deliver its courses. It is designed in particular to avoid the phenomenon of "zoom fatigue", by not requiring the use of its camera. The solution is thus thought out so that the many hours of lessons take place in the best possible way. And if you need to catch up on a streak, replay are available.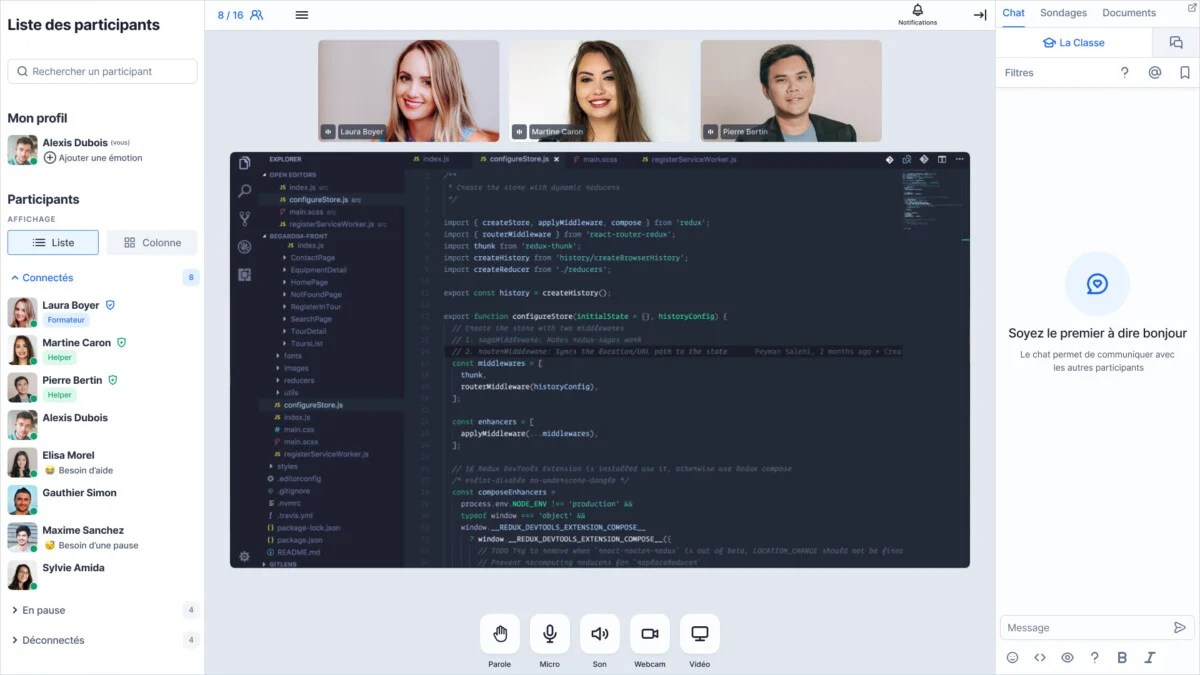 This platform also fully plays the card of interactivity. There is a chat, the possibility of doing surveys and even accessibility tools for people with disabilities. Real-time subtitles accompany the talks and some classes even have a sign language interpreter.
Finally, O'clock gives access to a virtual office to work with a powerful machine from the cloud. Good news for people with an aging computer. And if necessary, the trainer can even take control of your virtual PC to help you perform certain operations. As if you were in a traditional classroom.
The languages ​​of the moment to be employable
One of O'clock's main goals is to make its students ready for the job market. It is for this reason that the training is oriented towards the most used programming languages ​​and platforms of the moment: HTML and CSS, PHP, JavaScript, React, WordPress and many others.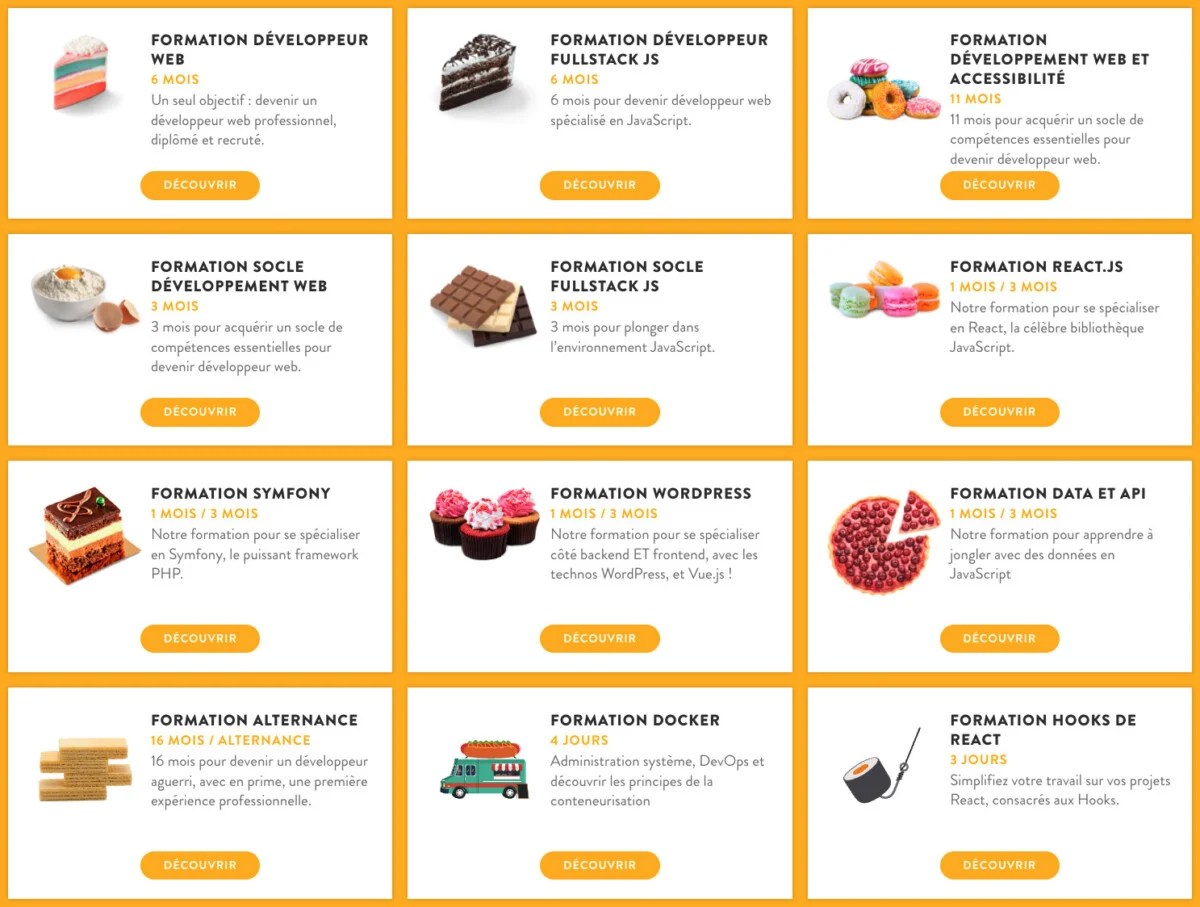 Training for the most essential languages ​​takes 6 months, while those for more specialized languages ​​generally last 3 months. They are thus intended for beginners who do not start with any knowledge, but also for developers who wish to acquire new skills. O'clock even offers work-study training over a period of 16 months.
Finally, O'clock does not let you go in the wild once the training is over. Throughout the course, and even afterwards, the organization seeks to introduce you to the professional world. A dedicated team supervises the students to put them in contact with companies or to prepare their future interviews. Sending trained and competent students to companies seeking qualified developers is still its best advertisement.
Training that may cost you nothing
At the end of the training, O'clock allows you to pass a level 5 professional title, the equivalent of a baccalaureate +2. A feature that allows O'clock students to benefit from several financial aid from organizations such as the CPF, Agefiph, AIF…

A dedicated O'clock team also assists students with administrative procedures in order to find the maximum amount of funding possible for training. The society claims that 75% of students receive full or partial aid.
O'clock gives access to an ideal turnkey offer for people looking for a new professional project. From training to funding through job search, novices and more experienced will find something to grow in skills. Especially since the organization strives to provide its courses on the most interactive platform possible, far from the clichés of online training.
To learn more about O'clock, you can consult their YouTube channel which includes many lives. This Thursday, May 5, the organization held a live in order to present in detail their new training "Web developer and accessibility".