If we talk about streaming video platforms, one of the ones that usually comes up among the first that we name is YouTube. Along with Netflix, HBO Max or Disney + happens to be one of the best known and also one of the ones that offers the most options.
And no, we're not just talking about the breadth of the catalog, but also about the number of options, from allowing downloads to watch later, creating playlists, adjusting the resolution or the automatic translation of subtitles. A function that we are now going to see how to use.
Subtitles for all languages
And it is that the automatic translation of the subtitles is a function that facilitates access to videos that are in a different language. Those people who do not know a certain language can watch videos in that language using this function.

An option now possible thanks not to people who translate and add subtitles manually, but to the artificial intelligence that is responsible for translating them into the desired language thus passing from the automatic subtitles in the original language in which the video was recorded.

and although the method is not perfect, because what the algorithm does is translate what the voiceover says, so errors can appear with expressions, with pronunciations that sometimes mean that the subtitles do not correspond. And with all this, the result is quite acceptable. Especially because they allow access to content that we could not otherwise understand.

To be able to use these subtitles, all you have to do is access any video in a language other than yours from your device. Then you should look at the playback bar and look for a white box with black lines and click on it to activate this functionality.

Then you must click on the icon with the toothed wheel that gives access to the "Settings" and look for the section until "Subtitle" and press where it says automatically generated in and then in "Translate automatically".

From the list of languages ​​that appear to you, just click on the one you want to use so that the subtitles change the language so that you can understand what they say in the video.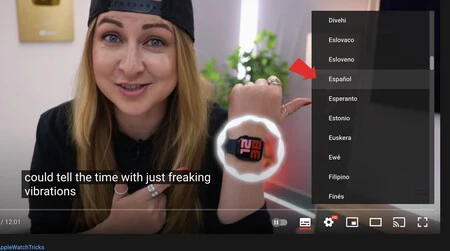 This system works on YouTube if you use it through the browser, but for now it is not enabled within the YouTube app for TVs. A function, that although it is not free of faults, because there are interpretations, expressions or jokes that escape to the artificial intelligence system, usually offers a quite satisfactory result.