After the distribution of LaLiga Santander rights between
Movistar
+ and DAZN,
Orange
has been forced to negotiate with both parties to reach agreements that would allow it
continue to offer all football
. In the case of DAZN, this agreement, which was signed at the end of June, also includes all the sports content on the streaming platform.
The small print of that agreement, however, states that, to watch DAZN LaLiga away from home, the DAZN app will be necessary and, therefore, Orange customers, like Movistar customers, will need
an account to access the OTT
. But don't worry, there will be no additional cost. Next, we tell you who can get that free account and how they should activate it.
What Orange rates include DAZN
This week the new Orange rates have come into force, rates in which football is still packaged, but they more clearly reflect how much it costs to watch it. Furthermore, with them, the operator finally welcomes DAZN to its offer of TV.

The Orange rates that include DAZN and, therefore, have a free OTT account, are as follows:

Rates Love Fútbol Total 4 and Love Fútbol Total 2: they allow you to enjoy DAZN Total with DAZN LaLiga and the rest of sports and competitions (F1, Moto GP, etc.)

Love Fútbol and Love Fútbol 2 rates with Netflix or Amazon/Disney+: They allow you to enjoy DAZN LaLiga (in addition to Movistar matches, obviously.

Rates Love Total Plus 4, Love Total Base and Love Total Base Unlimited: These three plans from the old portfolio also include all football from the 2022-2023 season and therefore offer DAZN LaLiga.
How to activate the DAZN account on your mobile
Once you have contracted your Love rate with DAZN included and have your services active (landline and mobile), you will receive an SMS notifying you that you can now activate DAZN. To do this, the simplest method is the following:

Access the app 'My Orange' and enter your 'Entertaiment center'.

Select the DAZN modality included in your rate (DAZN LaLiga or DAZN Total), which will appear Pending activation.

Accept the general conditions and press 'Complete activation'.
complete your dataenter an email (which will be your username) and select a password.

Press 'Continue' and it will appear "Orange Promotion" as payment method. Tap on 'Start Subscription' and that's it. You just have to download the DAZN app on your mobile, identify yourself with your username and password, and you can access the DAZN content (La Liga or Total) that you have included in your Orange rate.
How to activate your DAZN account on the desco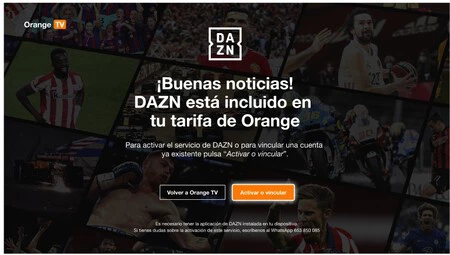 Although you will also need to have the mobile to mno, you can start the account activation process from the decoder, directly on your tv. To do this, follow these steps:

Scan with your phone the QR code to access the 'Mi Orange' app.

Activate the service on your mobile with the 'Mi Orange' app and complete the process in the DAZN app on the TV by entering the username (your email) and the password.
What if you already have a DAZN subscription?
Regardless of the method used, if you already have a previous DAZN subscription, remember to unsubscribe to avoid being charged. If you paid with a bank card or Paypal, you can use the same email to activate Orange and the change will be made automatically. But if you are paying with a method other than Paypal or bank card, you must create a new account with a different email.

Another important thing: if your Orange rate includes DAZN Total, your migration will not result in loss of content. But if your Orange rate only includes DAZN LaLiga and you currently have a subscription to DAZN Esencial or DAZN Total, migration will result in loss of multisport content that you were enjoying on DAZN. In this case, it is better to hire a rate that includes all DAZN Total content (Love Fútbol Total 2 or Love Fútbol Total 4).