Huawei continues to impose itself with its laptops designed for mobility. Are you intrigued by the excellent value for money offered by the brand and want the best Huawei PC? Here is our selection of the most interesting Huawei computers according to use.
The TOP 3 of the best Huawei laptops
Since the American embargo, which shortened the development of its smartphone branch internationally, the Huawei brand has refocused on other product families, in particular connected watches and laptops. It is clear that in a very short time, Huawei has managed to break into the already saturated market of laptops. As it did in the past with its Android phones, the firm manages to offer products with an attractive price/quality ratio.
Huawei's line of laptops is very simple. It all starts with a unique name, the PCs of the brand being all named "MateBook" – like Apple and its MacBooks. The Chinese firm also borrows largely from the design of the Apple brand for its own laptops.
What is thehuawei computer you need ? We have gathered here the models that seem to us the most relevant according to the different use cases.
If you want a broader look at what's out there, check out our guide to the best laptops. To choose a gaming laptop, it's here. Does your budget need to stay below 1,000 euros? Check out our selection of laptops at this price.
To see what the competition is doing, also discover our other specialized guides:
Gorgeous design and finishes
Stunning thin-bezel display
Solid performance
Battery life a bit low at 90 Hz
Available at €1,999 on Huawei
Huawei's new Pro model is the most powerful of the MateBook range, and has all the advantages of premium. This 14.2-inch laptop unfortunately does not have an OLED screen, here you will have to settle for LCD, fortunately with a good definition and a very satisfactory color panel.
The design of the MateBook is successful, the magnesium chassis is of excellent quality, everything is well finished, without any flexibility on the keyboard, with a glass touchpad. You will also benefit from a whole range of very practical gestures directly on the trackpad, for example to adjust the brightness or the sound. The keyboard is particularly quiet, a not so widespread asset.
Great success on the side of the screen, with very thin borders that please the eye. We will also give a good point to Huawei, which finally seems to have understood that the webcam placed under a key on the keyboard was not a good idea. It is now found above the screen. Note also excellent speakers for an ultraportable. In terms of connectivity, we remain on very classic for a laptop, with 4 USB-C ports (including two Thunderbolt 4 compatible). Note, however, that Huawei at least has the good taste to provide an adapter to USB-A in the box. We regret the absence of microSD card reader.
Unlike every other laptop on the market, the Matebook X Pro comes in one and only configuration. It's simple and effective, and it feels good to find your way around more easily… the other side of the coin is the impossibility of beefing up your configuration. The brand's top-of-the-range model therefore houses an Intel Core i7-1260P processor, 16 GB of LDDR5 RAM and a 1 TB SSD. A proven combination. If the performances are there, in particular thanks to a particularly efficient cooling, it will however be necessary to be satisfied with an Intel Iris Xe chipset: no dedicated GPU here.
In terms of autonomy, if all goes well with the screen at 60 Hz, things go wrong if you switch it to 90 Hz. You will then only benefit from 7 hours of autonomy, maximum. A point that fishes a little for a computer at this price.
To know everything about the MateBook X Pro 2022, we invite you to read our detailed test.
Where to buy the

Huawei MateBook X Pro (2022) at the best price?
8 /10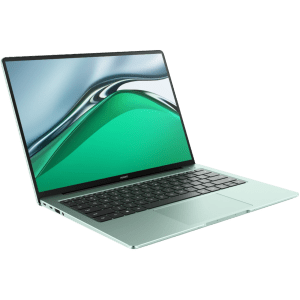 Good performance / price ratio
Very good IPS screen
Satisfactory autonomy
Available at €1,199 on Huawei
The Matebook 14s and 16s are excellent choices in Huawei's PC lineup. They represent the heart of the brand's mid-range, brilliantly. We will focus here more particularly on the 14s, which seems more relevant to us to choose, the 16s being a good product, but a little redundant with other devices in the Huawei range.
The MateBook 14s takes up the usual MateBook design, with a gray aluminum chassis. With 1.43 kg on the scale, it is lighter than a MacBook Pro 14. As on the other MateBooks, the keyboard is pleasant with large keys and a not too short stroke.
The screen is one of the real strengths of the model. With its 14.2 inches and 16:10 aspect ratio, it is perfect for productivity. Tactile, in 2.5 K definition and able to go up to 90 Hz, it is very pleasant on a daily basis. The maximum brightness is good and the contrasts are excellent. The webcam is also placed above the screen here and this laptop is therefore compatible with Windows Hello.
The 14 s dates from 2021 and therefore incorporates the Intel processors of last year, namely the Core i7-11370H or the i5-11300H. They will do perfectly on all office work, and even more, thanks to the Intel Iris Xe chipset.
A good point for autonomy, with 12 hours on the clock – if we stay at 60 Hz.
For more details, head to our MateBook 14s review.
Where to buy the

Huawei MateBook 14s 2021 at the best price?
For his part, the MateBook 16s is also very good. It is more powerful, because it can integrate up to a Core i9-12900H processor, but its price suffers. With its 10 hours of autonomy, it is strong for a 16 inch. But we regret a little excessive weight, as well as a screen not really level. As a choice, for those who want a 16 inch, we will rather recommend the MateBook D16 from 2022, which is cheaper, lighter, and has the same processor.
If you want to read the MateBook 16s review, it's here.
Where to buy the

Huawei MateBook 16S (2022) at the best price?
8 /10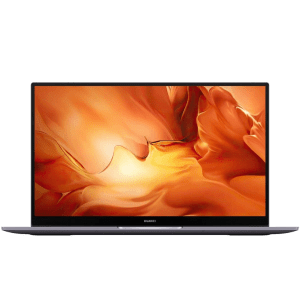 Light, robust, reliable
Well supplied with connectors
Discreet ventilation
Available at €799 on Huawei
The MateBook D16 is one of the more affordable PCs in Huawei's lineup. Yet it sacrifices little on the altar of price. A new version, 2022, which we haven't tested, was released this summer. In particular, it improves performance thanks to the use of the latest generation Intel processors. The slab is also revised, switching to the 16:10 format. We were able to test the 2021 model, with an AMD chip, which was already very good: the 2022 model seems even better. It is also one of our recommendations for laptops for students.
We recommend both models, with a preference for the latest version which corrects certain points.
Regarding the 2021 model, which we were able to get our hands on, we will note good finishes for a plastic chassis. It is among other things on the materials that Huawei saves compared to its more high-end models. We regret a bit the quality of the touchpad, which, if it is wide enough, lacks a little precision. Ditto on the keyboard that we find a little "soft", although it is apparently of better quality on the new version.
But it is on its performance that the MateBook D16, 2021 like 2022, stand out in this price range. The 12th generation Intel processor, whether i5 or i7, delivers excellent results.
It is a very versatile machine, and the connections follow: there are two classic 3.2 Gen 1 USB ports, a 3.5 mm jack input, two USB-C ports and an HDMI output that can go up to at 4 K at 60 Hz.
On the autonomy side, the laptop will last about 7 hours in mixed use.
You can find the Huawei MateBook D16 2021 review here.
Where to buy the

Huawei Matebook D16 (2021) at the best price?
Where to buy the

Huawei MateBook D16 (2022) at the best price?
7 /10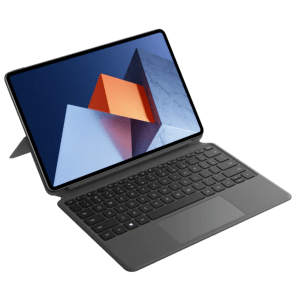 A beautiful 2K OLED screen
Thin and light
Good speakers
Weak autonomy
Connectivity a little light
Available at €649 on Huawei
The MateBook E is a convertible 2-in-1 device, which can be used as a classic laptop or as a tablet. It is thus placed in the same segment as Microsoft's Surface, with one difference: the price. The hybrid device offered by Huawei is a good option if your budget is tight. The entry-level configuration is sold for only 569 euros (with the keyboard), a feat for such a well-finished product with an OLED screen and 2K definition.
What's behind this convertible laptop? There is therefore a 12.6-inch touch screen, very pleasant to use with the stylus sold at 20 euros. The aluminum finishes are good, the device is particularly thin and very light (709 grams without the keyboard, 1.142 kg with), which makes it an excellent ultraportable. The front camera is capable of filming in Full HD, a good point when you know that most laptops are still content with 720p. On the connection side, we regret the poverty of the offer: in addition to the headphone port, there is a single USB-C port (fortunately Thunderbolt 4). A dongle will be almost essential.
In terms of performance, nothing spectacular, but classic office and video game use will be done without a hitch. We still advise you to turn to a slightly more muscular configuration than the basic one with an i3 and to prefer an Intel Core i5, 16 GB of RAM and 512 GB of SSD.
So far, everything was fine, but the MateBook E is doing less well on a crucial point: autonomy, too tight for a hybrid PC. We thus generally reach 6h30 of use, which is very light.
Keyboard included, the i3 version is therefore sold at 569 euros. The preferable i5 version is offered at 899 euros. The stylus is optional at 20 euros.
To find out more, go to our review of the Huawei MateBook E.
Where to buy the

Huawei Matebook E (2022) at the best price?
Choosing the right Huawei laptop
Who is Huawei?
Huawei is a Chinese telecommunications giant and now one of the biggest companies in the country, with sales of $100 billion in 2021. It is best known to the general public for its smartphones, tablets and PCs, but it also manufactures 4G and 5G telecommunications antennas.
If Huawei was well placed internationally with its smartphones, things changed in 2019 with the implementation of the American embargo under the Trump administration. As a result, the brand can no longer use Android on its terminals. It therefore decided to refocus on other tech products, namely tablets, connected watches, and laptops. Fortunately for her, American brands such as Microsoft and Intel have obtained waivers from the American government to continue to trade with the Chinese giant. Huawei PCs therefore integrate Intel chips and run on Windows, you will have no questions to ask yourself on this side.
How is the range of Huawei computers organized?
Huawei's range of laptops is one of the simplest we've seen. All laptops are called "MateBook". We then distinguish:
MateBook X: the top of the range;
MateBook: 14 and 16 inch PC dedicated to creativity;
MateBook E: Hybrid PCs;
MateBook D: Affordable PCs for entertainment and office.
---
To follow us, we invite you to download our Android and iOS application. You can read our articles, files, and watch our latest YouTube videos.