WhatsApp
is a chat app in which you normally have to reply to all the messages, but technology can help you so you don't have to repeat yourself endlessly. For example,
answering WhatsApp messages for you automatically
something that can be useful on various occasions, such as when you are on vacation.
One of the additional options of WhatsApp Business is to add an absence message, which is automatically sent to whoever writes outside business hours, but
in normal WhatsApp there is nothing similar
. we tell you
how to schedule whatsapp replies
with the help of a specialized application.
Automatic responses on WhatsApp
WhatsApp messages remain pending until you you answer them manuallyalthough it doesn't have to be that way. Android tries to help you out by suggesting responses in notifications and even on the keyboard, but when push comes to shove you still need to tap on the appropriate suggestion, and sometimes these suggestions leave something to be desired.

WhatsApp Business includes absence messages, which are automatically sent to those who write after hours, but in normal WhatsApp you depend on third-party applications. One of the best is Autoresponder for WhatsAppwhich you can download from Google Play and use for free with limited features, enough to test whether the subscription is worth it.

AutoResponder for WhatsApp
AutoResponder for WhatsApp does its job through mobile notifications, so after opening the application the first thing you will need is to click permission to access your notifications. It is mandatory, otherwise it will not work.

It is necessary to remember that the app can be used for free, without paying, despite the fact that it tries to confuse you from time to time by showing the subscription window (39.99 euros per year). If you press the X at the top, you can use the free version, with limited functions and sporadic advertising who from time to time adds his name in the messages he sends as reply messages.

After having granted the necessary permissions, it is time to create your first schedule, using the floating button. The application gives you a large number of options to configure (many more than in WhatsApp Business), but the most important is Message receivedwhich is the received message to which this automatic response corresponds.

For example, you can write "Hello" and thus you will configure the automatic response to this phrase. To make it a reply to all messages, you must use a wildcard or press the all buttonwhich adds it automatically.

The second most important setting is Reply message, which is what to reply to for the message. Continuing with the previous example, a possible response for "hello" could be "good morning".

The app gives you a lot of additional options, some of them available in the free version and others not, such as add a timeout before responding, to avoid making it so obvious that it is an automatic response. You can create as many rules as you want, for different messages.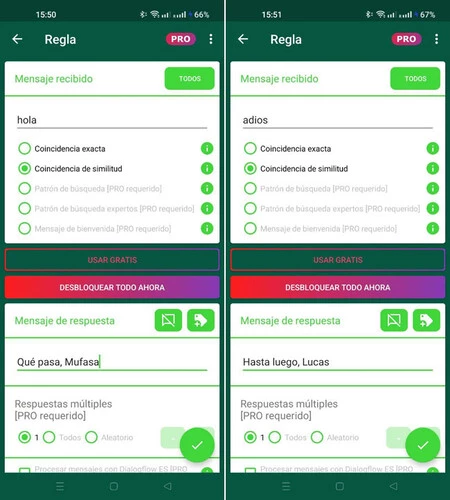 When you've created all the autoreply rules you need, you can check that everything is working correctly from the app itself, by opening the ☰ menu and tapping on test your rules.

In this menu you see a simulated chat where you can check that the schedules work correctly without having to wait for someone to write to you and without external factors that could influence.

When you have everything ready, you only have to wait. Remember that Autoresponder for WhatsApp works from your mobile notifications, so you will need the app to be active on your mobile, that the system does not close it to save battery life, and that WhatsApp notifications arrive.

In our tests, automatic responses They have worked very well, as expectedrespecting the settings we have made in the application, including the waiting time before sending a response.

On your mobile you can see the messages sent by Autoresponder for WA from mobile notifications, where an entire record is displayed. The other person will be able to know if you have responded manually or automatically if you do not have the Pro version, since a link to the application's website is added in some messages.