If we think first of the VPN on computer, their use also extends to other devices and in particular to Android smartphones or tablets. We say concretely what it can be useful for you and what are the best services on this platform.
A VPN is not only used to encrypt your connection, but also to relocate your IP address by connecting to a server. By installing a VPN on your Android smartphone, the idea is to improve your privacy: no hacker or state entity can know what you are doing or downloading by looking at your Internet connection. By its technical principle, a VPN can seem impressive to install and use. This is really not the case, even on an Android smartphone as we will see.
What you need to know before installing a VPN on your smartphone
We're not going to lie to each other, installing a VPN is by far the easiest part. However, you should already know how to sort through the hundreds of VPN-stamped applications available on Google Play. Above all, avoid free VPN applications, which can be malware nests in addition to being very poor quality VPNs.
Preference is therefore given to VPNs certified by the Play Store. Also feel free to look at user reviews to give you a better idea. Once your application is chosen, no additional configuration to perform from your smartphone, apart from downloading the application, there is nothing else to do.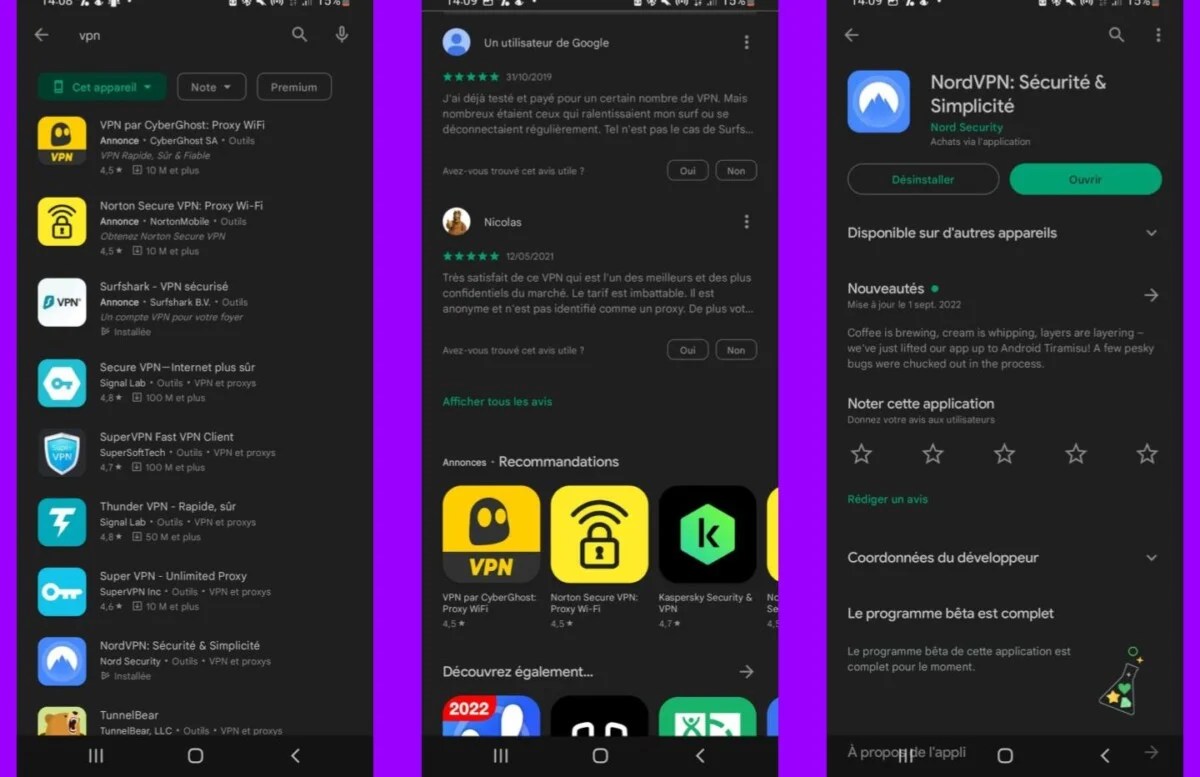 How to use a VPN on Android?
Once the application is launched, you will probably be asked to create an account in order to use the service (for paid VPNs mainly). The operation of a VPN on Android differs very little from that on a PC or Mac. Even better, the use is further simplified. For example, if you want to quickly connect to a VPN server without going into technical details, just click on the button Connect. This allows you to connect to the fastest server or that of the nearest country.
Remember to check the location of your connection under VPN, it may happen that the default location is not that of the country where you are, often due to a lack of servers. As on a computer, in one click and without further manipulation, you are then connected to a VPN server. Your connection becomes encrypted and your IP address is delocalized, all symbolized by a key-shaped icon located in the bar at the top right of the screen.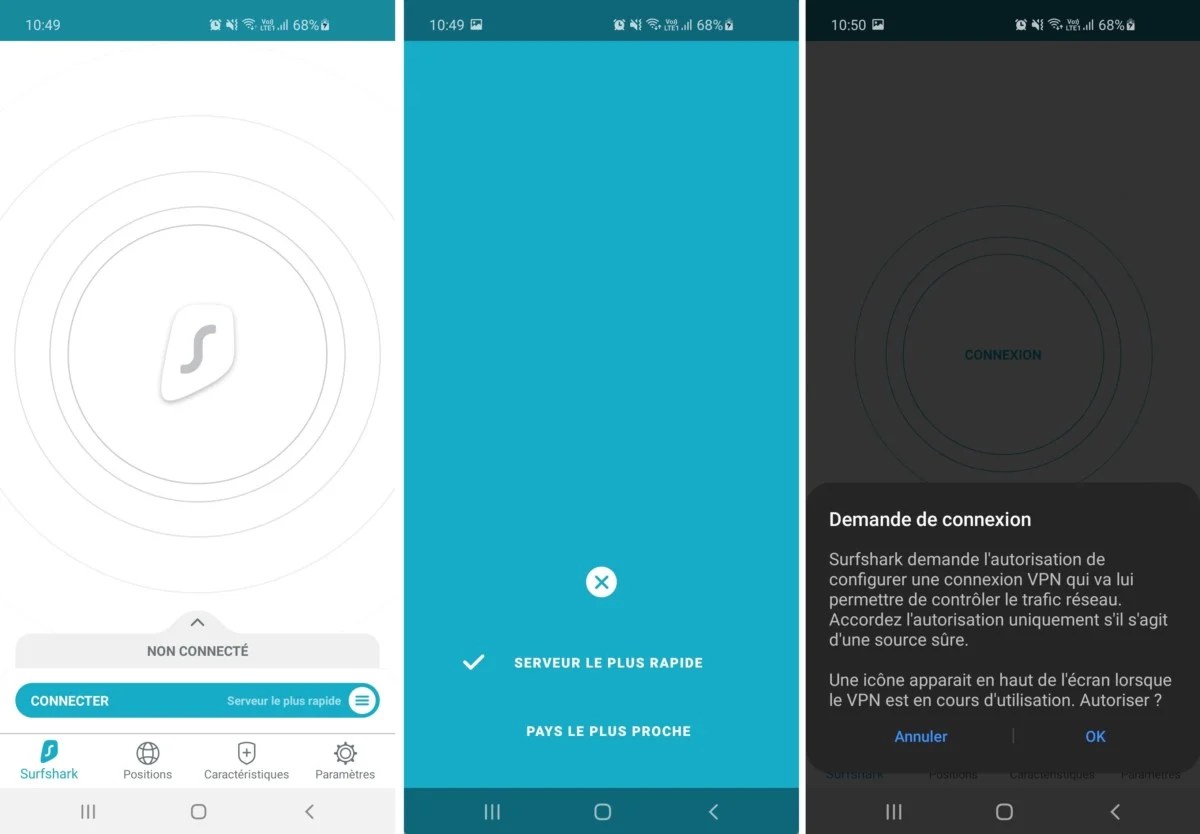 However, this method does not allow you to choose the server — and therefore the country — to connect to. To do this, go to your VPN's search engine, usually a list of countries and cities. This list varies depending on the chosen VPN.
For experienced or privacy-conscious users, some VPNs also allow you to connect to servers that have static IPs (which don't change each time you connect to the server). Other VPNs also offer the so-called multihopWhere multiple serversallowing you to connect via routing to two remote servers and thus double your confidentiality, to the detriment of throughput.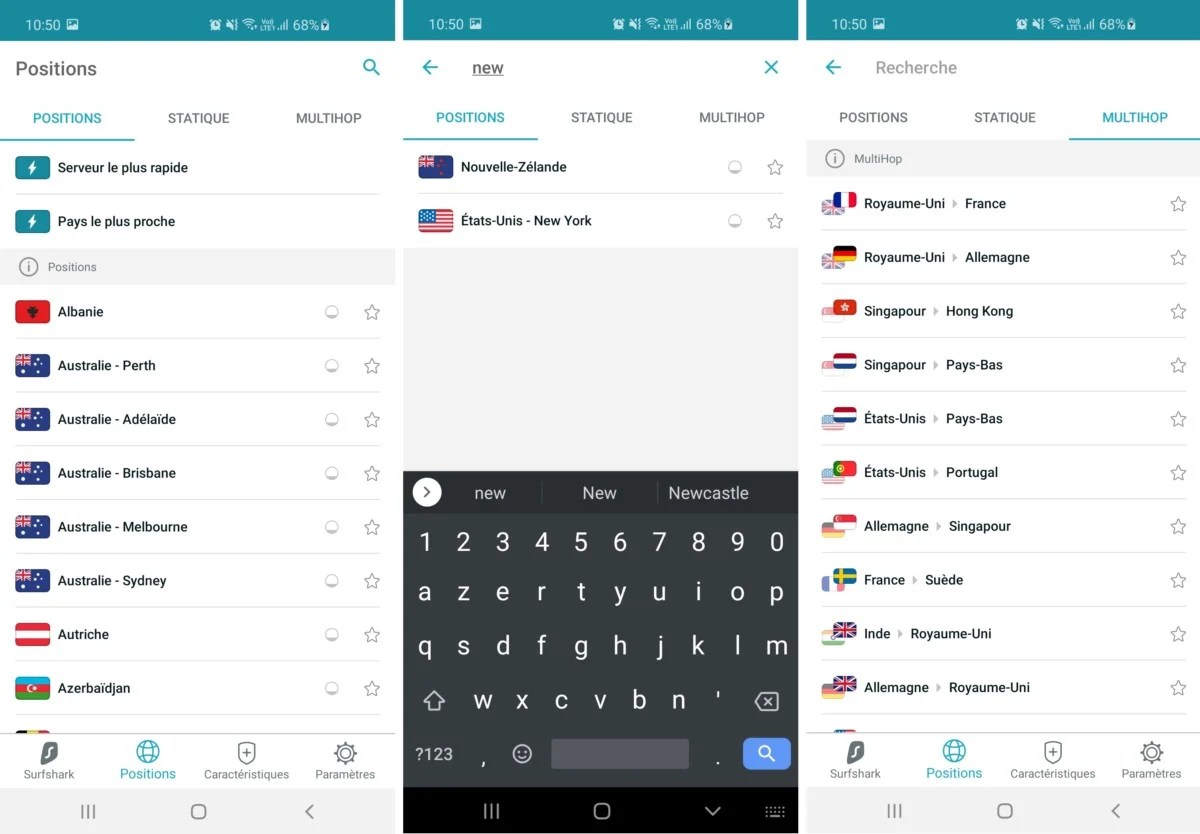 What are the options to know?
Most VPN apps have advanced options with lots of handy features. Here are some of the most important:
Split tunneling
often named Whitelister Where Whitelistthemplit-tunneling allows you to automatically exclude or include certain applications from the VPN connection. For example, you can make the Netflix app the only one to pass through the VPN — to bypass geoblocking and access the American catalog — while all the other apps will have the faster Wi-Fi or 4G connection. .
The Kill Switch
This Kill Switch option allows you to cut the connection to the Internet if ever access to the VPN server is suddenly cut. This is to guarantee the confidentiality of data that could leak during the connection switch between the VPN and your local Wi-Fi or 4G network. We also strongly advise you to activate it systematically.
Override GPS location
This is one of the peculiarities of mobile VPN applications, the possibility of matching the GPS position of your phone to the position of the VPN. A good way to prepare your vacation a few days in advance or to make another application believe that you are in another locality from where you are. Yes, we are thinking of you Pokémon Go players. Be careful however, only certain VPNs offer this feature such as Surfshark, Express VPN or NordVPN, for example.
What are the best VPNs to use on Android?
NordVPN
It's by far the biggest name in the VPN world, and to say the least, it lives up to the hype. NordVPN offers, first of all, excellent performance with a huge network of servers around the world.
But what really impresses is NordVPN's focus on security. With 2048-bit double encryption, web browsing is as safe as possible. You can even have direct access to a function called Onion over VPN which uses the Tor encrypted network for the more adventurous. Multihop and a few servers for accessing the web in authoritarian regimes like China and the United Arab Emirates are also on the agenda.
The Android application itself is extremely simple and intuitive, but unfortunately does not have the GPS position replacement function.
At the moment, NordVPN offers a 2-year subscription with 4 months free for 80.73 euros, or 2.88 euros per month.
Surfshark
Surfshark is a relatively new VPN compared to the competition, but has some serious strengths that put it in the big leagues.
Surfshark's Android app is one of the only VPN apps on the market capable of both routing your connection through encrypted servers as well as overriding your GPS location.
Even without this feature, Surfshark is still a safe choice. With over 1700 servers in over 63 countries each with a private DNS. It is also an excellent VPN for accessing foreign catalogs of streaming platforms, such as with Netflix.
Right now, Surfshark offers a 24-month subscription for 59.76 euros, or 2.49 euros per month, making it one of the cheapest paid VPNs on the market.
ExpressVPN
ExpressVPN is a powerful and above all extremely easy-to-use VPN, especially on Android. Want to stream Netflix from the US, France, Japan, or just about anywhere else? Express allows you this under the best conditions. Too bad the GPS replacement function is not included.
The VPN has private DNS on each server, a wide choice of protocols, a kill switch mode, a split_tunneling mode and an interface that will appeal to beginners and experts alike, all accompanied by speeds top notch on almost every server.
If we had to find a flaw, it would be the fact that Express only offers five simultaneous connections – but you can still install the app on as many devices as you want and simply log in and out to get around this problem.
ExpressVPN is currently offering a one-year plan at 8.60 euros per month, i.e. 102.10 euros over 12 months.
---
---
To follow us, we invite you to download our Android and iOS application. You can read our articles, files, and watch our latest YouTube videos.