Much has been said about artificial intelligence in recent weeks, especially regarding ChatGPT, which is now integrated into Bing, the Microsoft search engine. But it's not the only one, Google also announced Bard, another AI that aims to improve interaction in Internet searches.
After the popularity of AIs, we can now find them in various places and use them for many things, for example, the images of Lensa, or in this case, the memes of dinosaurs with professions that are flooding social networks. Therefore, today we are going to teach you how to create your dino profession with the help of artificial intelligence totally free.
Where do dino professions come from?
It all started with a couple of posts on Instagram that showed images of dinosaurs created by artificial intelligence, the account "the_ai_dreams" was in charge of not only making them but also sharing them.
View this post on Instagram
Such has been the popularity of these memes that personalized images began to circulate on social networks. To do this, an artificial intelligence called Midjourney must be used, which is completely free and anyone can access it very easily.
How to access Midjourney
To start using this AI and make your own dino profession, the first thing we have to do is access the official Midjourney site and click on the "Join the Beta" option, then you will have to log in with a Discord account , or create an account if you don't have one.
Once you have accessed your Discord account, you will have to accept the invitation to access the Midjourney AI server, then we proceed to search on that same server: "newsbies". Any channel within the server with that name will help us create our dinosaur memes.
How to make your dino profession on Discord
As you'll notice, Midjourney's Discord server is full of AI-created images, not just of dinosaurs, but anything users can think of. To make your own meme, we must write the following in the message bar: "/imagine (prompt)".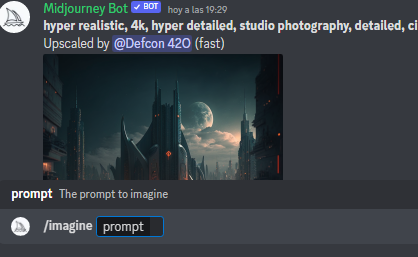 Now you must write in English what you want the AI ​​to do in the form of an image, here it will depend on your creativity, for example, we write: realistic, dino, cute, tiny, gamer. The following image was the result.
But you can be more creative and tell him to also do actions like holding a glass of beer, wearing glasses or clothing, etc. Another example was this image:
Another thing you can do is scale the image you select, as you can see it is divided into four parts, here you can choose the one you like best by pressing the buttons below the image, you can also make it make variations of each proposal. When you are satisfied with the result, just click on the image, then you can download it.
And that's it, it's that simple to make your own dino profession, as we mentioned before, this depends on your creativity. Now you can make and share your own dinosaur (or anything) meme and show it off on social media.