Have you talked to your crush and suddenly you see that he writes to you like this? And you don't know what to do to keep up with it. Do not worry, here we explain how to put bold in whatsapp, as well as other types of rich text such as strikethrough, italics, and monospace. Finally, you will make your conversations unique.
This application has four types of different text formats that allow you to customize your messages according to your preferences. So, if you want to highlight, you can do it without any problem.
How to put bold in WhatsApp?
In this article, we will show you the two main methods to achieve this recommended by the application itself. Not just so you know how to put bold in whatsappbut all the text formats that the application allows.
First of all, we can use special symbols like "*", "~", "_" or "«`" to do this. The other way may be easier, in case you can't find these symbols on your keyboard. Simply select the text and choose the desired format through a dropdown menu.
bold on whatsapp
Here we tell you how to put bold in whatsapp to make your text always highlight. The command you have to use is the asterisk, place one before and one after the text: *text*
In this way, you can easily turn your simple text into one that stands out above the rest.
Italic on WhatsApp
To turn any message or text into Cursive letter, you only need to place an underscore before and after the text. Just like this: _text_
Strikethrough on WhatsApp
To strikethrough a text and hide part of the text with a big line in the middle, you just need to place a tilde before and after the text: ~text~
monospaced
Now this may be the most difficult of the four WhatsApp format types because its symbol is not as easy to find as the rest. To give it a special, monospace style, place three backticks before and after the text: "`text«`
As additional information, now that you know how to put bold in whatsapp, strikethrough, monospace and italics, you can combine them. That's right, you can combine italics with bold or strikethrough with italics, or even combine the 4 types of formatting at the same time.
Learn how to put bold in WhatsApp with keyboard shortcuts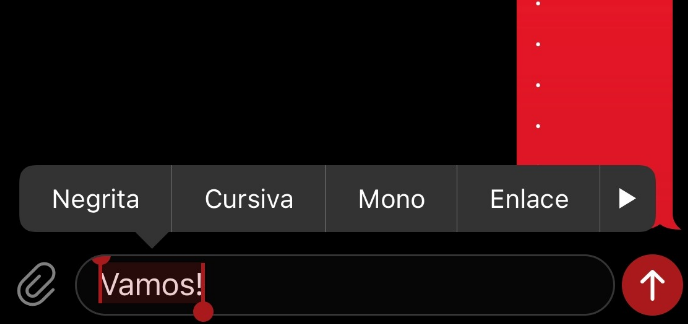 Now, if using these symbols is not the option for you, you can use the keyboard shortcuts with which you can put bold in whatsapp. To do this, keep your finger pressed on the word in question and the device will select it automatically. A drop-down window will appear with different options, such as Copy and Paste, and next to them, a three-dot icon to access more actions.
It's important to note that once you've selected a word, two markers will appear on either side of it. These markers allow you to expand the selection, allowing you to select an entire sentence or multiple words before pressing the button to access more actions in addition to put bold in whatsapp.
Once you have made the selection, simply click on the icon of the three points and a menu will be displayed with various actions that you can perform on the selected text. Among these actions are the four available formats: bold, italic, strikethrough, and monospace.
In the case of an iPhone, the dropdown menu will give you the B_I_U options to put bold on whatsapp, italicized, strikethrough, or monospaced. Finally, it is worth mentioning that, as with the aforementioned use of symbols, you can apply different formats in the same sentence without any problem.