Is your Gmail account associated with Google, for both you will need the password with which you registered. Don't you remember her? Well, you can recover it by following the following steps: this way you will have your Gmail active again.
To access Gmail email from your phone, you need to know your Google account details, both username and password. And of course, it is enough that we want to access a rarely used account, or that We want to log in on another device, so that we do not remember what the password was; with the problem of not being able to consult the trays. Luckily it is not difficult to recover access to Gmail, even from your mobile phone itself. Both from Android and from Gmail.
have you forgotten your password? Gmail helps you
In case you have an Android device Your Gmail will be accessible through the account with which you registered the phone. If you want to manage a new Gmail account from your mobile, you must add said account from the Android settings: the option is located within 'Users and accounts' (the name varies depending on the manufacturer). Place the username in the corresponding box and click 'Next': Google will allow you to log in if you forget your password. Click on 'have you forgotten your password?'.
To access Gmail from an iPhone or iPad you have to open its application and click on the avatar, top right. Then go to 'Add another account' and follow the same process as on Android: enter the Google username, click next and go to the forgotten password option.
Google is not going to send you the password for your Gmail account: it will only give you access if you prove that it belongs to you. You will then have the option to change the password
Google offers several ways to recover your Gmail password, which is the same password as your Google account itself. Depending on the information you have registered in said account you will have more or less ways to recover access information. It is best to go from menu to menu until you find the option that best suits your needs.
Write the last password that you remember
It is the process that starts by default: Google asks you to enter a 'password' that you remember. In itself it does not offer any solution since, unless you write the current password (and that in theory you don't remember), won't let you pass.
Click on 'Try another way' and choose another option to recover the account.
Regain access with another device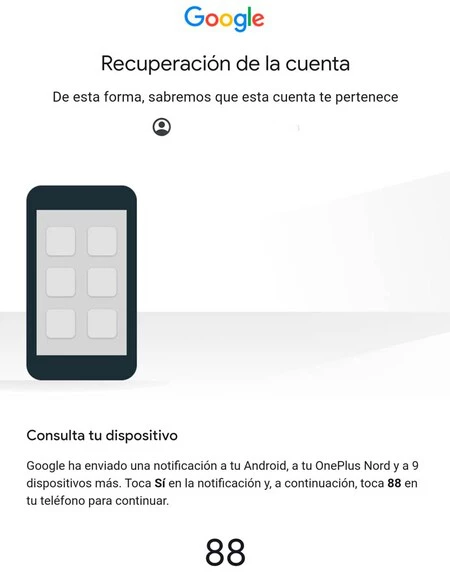 If you registered your Gmail account on another mobile phone, tablet or computer A Google notification will have appeared on your screen. Type the characters that appear on the phone screen where you are trying to recover the password and Google will let you pass. Otherwise you will have to use another method.
Let Google call you and/or send you an SMS
As we said before, depending on the information you have registered in your Google account, you will have more or fewer ways to recover the password. In case you have filled out the telephone field Google will send you an SMS to that number, it can also call you. Enter the code sent on the mobile where you are recovering access and you will be able to pass.
If you cannot access with your mobile phone you will have to click on 'I don't have my phone'. Google will offer you another way to access your account.
Answer the security question
In the event that you register a security question along with the answer, you have the opportunity to demonstrate to Google that it is you who is trying to access it. Answer the question and you can complete the process. Otherwise you only have to 'Try another way'.
Sending a code to the recovery account
It is recommended complete the Google information with a 'Recovery Email', an alternative account that allows you to act as proof of identity. If you filled out this account, Google will send you a code to enter on the mobile phone you use to recover the password. If everything is correct you will have access to the next step.
As before, click on 'Try another way' if you do not have access to the recovery email.
Enter an email address where Google can write to you
This step does not guarantee that Google will send you a way to recover your Gmail account since You have to assess that this account really belongs to you. The process can take a long time, you may even never receive access. Given the security that an email account must offer, if there is even the slightest doubt that the second account does not inspire trust, it will be impossible for you to regain access to the main one.
In the event that none of the previous steps have solved the problem, there is little else you can do other than go to the Google community and post a topic in their help forum. Google does not provide a means of direct contact, neither by email nor by phone..
When you have access change the password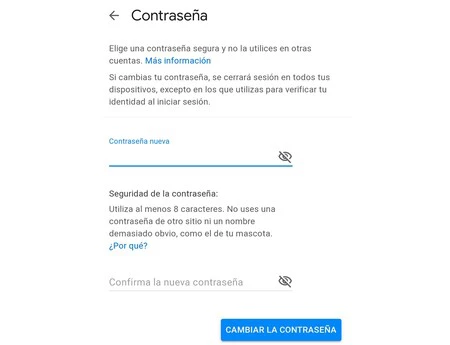 When you have managed to access your Gmail account, you will probably have to change the password: enter a new one and that's it. The most advisable thing is that you choose one that is easy for you to remember and that is not easy to guess. Use upper and lower case, enter numbers and also punctuation marks. Once changed, our recommendation is that you save the new password in a good password manager. And if you need to manually access the password change, you can access it by clicking on this link.
So that you don't have too many problems if you forget the password again, it is best to Complete the Google profile with the information that makes it easier for you to regain access. Enter an alternative email address, your mobile number, a security question… Any precaution is too little.
In Xataka Android | With this Gmail settings trick you can save space on your phone