We're talking about Kodi again. A few days ago we saw how the application launched a new version of the app for all the operating systems in which it is present and now it's time to see another tutorial for further exploit the features of this multimedia center.
If we have already seen the possibilities of Kodi when using it to access HBO Max, Disney+, DAZN, Netflix, Pluto TV, SkyShowtime and even to watch DTT, record programs, to play by installing an emulator or use it to access Plex, now it comes a new installment in which we are going to see how it can be take advantage of Kodi to watch Orange TV.
Kodi and Orange TV all in one
To begin with, the first thing to do is prepare the necessary accessories. You can find them if you access the GitHub website where they develop the project and download the script first and then the video plugin.
With these plugins installed, the process returns to normal. It's about doing the first "Settings" of Kodi, by clicking on the gear icon that appears on the main screen.
Then you must look for direct access to the "Add-ons" within the "Settings" in "System". It is the second box that we will see between "File Browser" and "System information".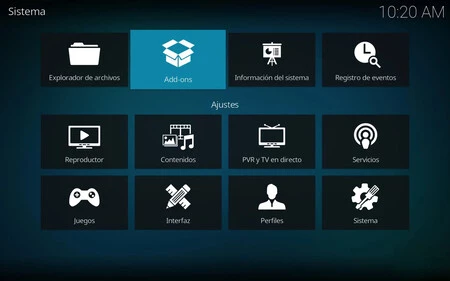 At that point you have to click on "Install from a ZIP file" and choose the script file you downloaded.
Then you must repeat the process and again, you must go to the "Add-ons" screen, click on "Install from a ZIP file" and choose the second plugin you have downloaded.
With these steps taken, you can now go to "Video add-ons" and you will see how it appears "Orange TV Spain".
At that point, all you have to do is set username and password from your Orange TV account.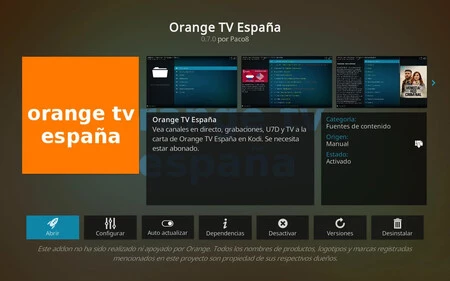 In this way, you only have to return to the initial screen and You can now watch Orange TV from Kodi as if it were a normal channel.
Improvements for using Kodi
However, in addition to having everything in a single application, you can also access a series of improvements within the "Settings" section in the Orange TV add-on.

You can ask the app that only shows the content included in the subscription so that you will not see the content that you do not have available and that you cannot play, making the search easier, above all.
You can also ask that shows the program currently broadcast that is broadcast on each channel.
Access extra information of the series or movie with details of the actors, director, year…
If your TV or device does not support HD, there is an option to make it play in HD.
Modify subtitles to make them more readable…
In Xataka SmartHome | This is the hidden option that Kodi hides that will make you watch your favorite series and movies even better