It is no longer rare to see foldable smartphones in nature. The trick has been taken in this market, but this is not yet the case in the laptop sector. HP is trying its luck with the Specter Fold.
Attempts at PCs with folding screens haven't been entirely successful. Not yet, at least: the technology is not yet completely ready, but that doesn't stop manufacturers from launching into this niche, hoping that it will eventually catch on with users.
MacBook Air 15″ M2 256 GB at the best price Base price: €1,599
See more offers
It will fold your wallet
After the X1 Fold (Lenovo) and the Zenbook 17 (Asus), HP offers its own vision of what a foldable laptop should be. The Specter Fold is first of all a 17-inch OLED screen which makes it a (very large) Windows tablet.
The tablet has a kickstand on the back that allows it to rest on a table and serve as a display for the included Bluetooth keyboard. By folding it in half, and placing the keyboard on the lower part, the Specter Fold becomes a "classic" laptop with a 12.3-inch screen. Moreover, you can close the PC on itself with the keyboard inside.
HP offers several operating modes depending on the position of the keyboard: by pulling it a little towards you, you release part of the lower screen, which can then display additional information. From a technical point of view, the Specter Fold integrates an LG panel with a 3:4 ratio of 1920 x 2560 (brightness of 500 nits), a Core i7-1250U, 16 GB of RAM, 1 TB of storage, a webcam of 5 mpx, all in an 8.5 mm chassis and a weight of 1.3 kg. HP promises battery life of around twelve hours.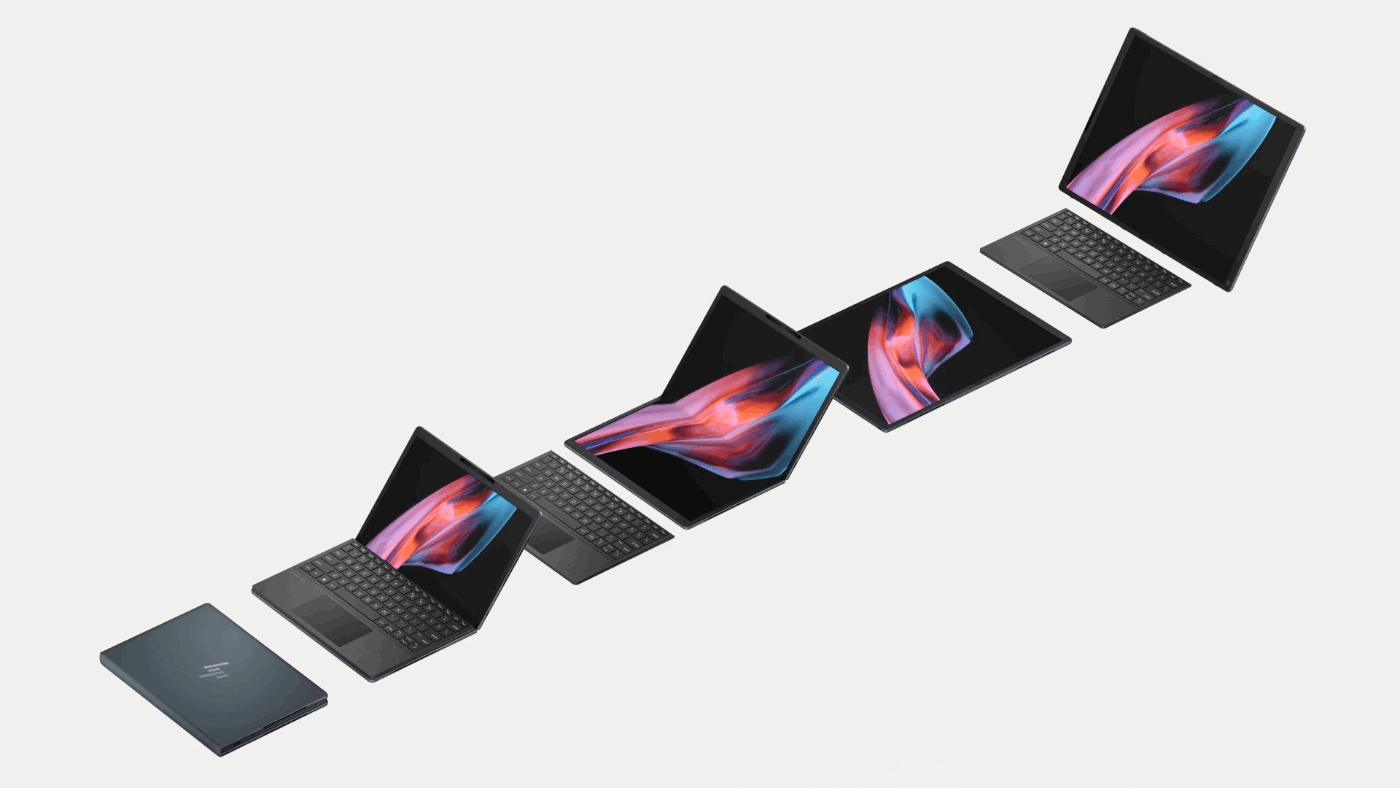 The only big problem with the Specter Fold is ultimately… its price! It is in fact offered at $4,999, which will not facilitate the democratization of this type of format…