If you have a connected home and use different Alexa-enabled devices in it, The most normal thing is that you have them grouped by rooms. In fact, it is usual when configuring them for the first time.
And far from seeming like a trivial question, it has its justification, since in this way, grouping them all under the same room, you can execute some routines in a more optimal way. So if you decide to change a room device, apart from physically moving it, its location within the application is also interesting and in this article, I am going to explain how you can do it.
Improve use and organization
And it is not just about taking a speaker, a plug, a power strip or any other device connected from one room to another. It is interesting to have them grouped based on the room you are in.
It is a process that is normally carried out when it is configured for the first time, but if at a certain moment you want to change the location of an element, you will not have to start the process from scratch or reset the device.
The Alexa application allows you to change the location in a simple way. Just by carrying out the steps that we are now going to see.
The first thing you should do is open the Alexa application on the mobile and at the bottom of the screen select and click on "Devices". You will then see a section with the title "groups" in which you must press.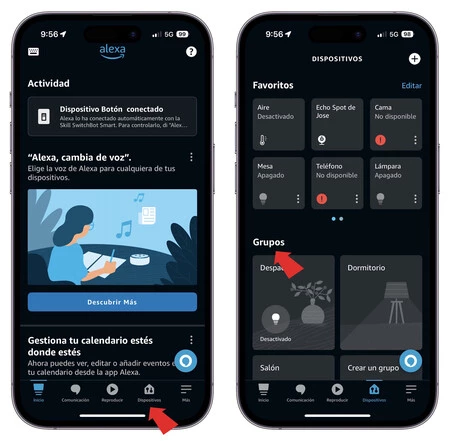 Now select the Group/Room of the Alexa device that you would like to change. If you look closely, the word "Edit" appears at the top right of the screen. Click on it and you will see all the devices in that room. Uncheck the Alexa device of that group/room that you want to change and then tap on "Keep".
With these steps taken, now you must go back and choose again the new Room/Group where you want to move your device and again select Edit (located in the upper right corner). Scroll down and check the device you want to move to this location, and select "Keep".
With these steps you will have moved the device to a different room. Note that this way, for example, you could say "Turn on the lights in the living room" and all the lights you have in the room in question will turn on. Is about Facilitate comprehensive control and management of all devices that you have in the same room.