Surprise at ExpressVPN, the service unveils Aircove, its first Wi-Fi 6 compatible router with built-in VPN protection. This is the first time that the company has launched a hardware product.
After more than 20 years of existence, ExpressVPN had to step up a gear. The service is indeed launching its first hardware product: a Wi-Fi 6 router with directly integrated home VPN protection. For the moment, only the American market is concerned.
VPN protection right out of the box
While most VPNs on the market directly integrate router support to protect their home or professional network at the source, this requires a few manipulations that neophytes would do without. ExpressVPN has understood this and has taken the lead with Aircove, which therefore becomes the first Wi-Fi 6 router delivered with an integrated VPN by default.
In terms of characteristics, Aircove has a Wi-Fi 6 chip (600 Mb / s in 2.4 GHz and 1,200 Mb / s in 5 GHz), capable of covering a home up to 150 square meters. It also has 5 gigabit network ports (10/100/1,000 Mb/s). All in all classic specificities, but everything is delivered with a very complete soft environment and designed by the same teams who worked on the VPN in order to gain in efficiency. Everything is controllable via the official app of ExpressVPN.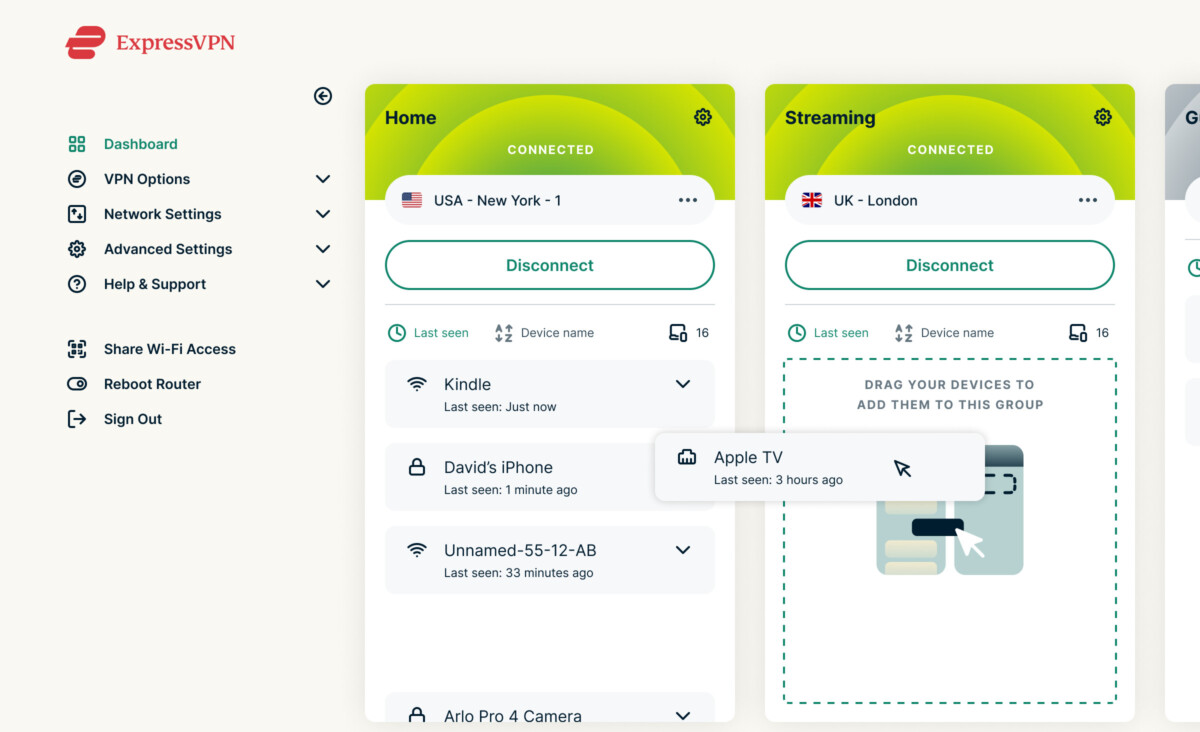 Aircove also includes a feature very popular with users: Device Groups. Concretely, this allows devices connected to the router to be dragged and dropped into various groups (out of a maximum of five groups) each with its own VPN location. A good way to control the security and especially the routing of its devices by ensuring that its connected television is connected from an American server and has direct access to VOD services and catalogs only available in this region.
Safety validated by an independent body
ExpressVPN also wants to highlight the security of its hardware as much as its VPN. For this, the service has once again called on the independent auditing organization Cure53 to validate its Aircove.
Overall, the organization and quality of the code garnered a positive impression, indicating that security was a high priority during development and a substantial aspect of the software life cycle.
Aircove is currently only available on Amazon US at the introductory discounted price of $169 and for a limited time before returning to the regular price of $189.90. Note, however, that the ExpressVPN subscription is not included and must be purchased separately.
---
To follow us, we invite you to download our Android and iOS application. You can read our articles, files, and watch our latest YouTube videos.