Computers don't need an introduction as they're probably the most important part of our day-to-day life. But buying a computer or PC today won't be that easy either. Since there are a slew of options available from top brands, you couldn't determine which will best suit your needs.
Essentially, we want a computer that complements our daily demands without heating up and slowing down.
Luckily, if you're thinking about buying a new PC, you've lots of good options -probably for every price range.
However, you just need to be a little bit more attentive before finalizing any option. The market is flooded with PC brands, some are available at lower prices while some at a bit higher. Don't be surprised if you could buy a PC loaded with the best things at a lower price! That's also possible today.
After reviewing tons of PCs and laptops, we feel like what most people are interested in is buying a PC that gives them value for money. That's all!
In the same context, we're going to review GEEKOM MiniAir 11 – 11th Gen Intel Celeron Mini PC! It's probably the best budget PC available online.
This mini PC offers excellent value for money, with a generous selection of ports, productivity, and overall performance. In a nutshell, it provides a satisfactory response to basic professional tasks.
Since you've been looking for more information about this PC, we'll give you a quick hands-on review so you don't have any doubts. So, let's get this ball rolling:
GEEKOM MiniAir 11 Specifications
11th Gen Intel® quad-core Celeron N5095. Powers through a wide variety of daily tasks
Intel® UHD Graphics 605. 4K UHD display support.
Up to 32GB. Dual-channel DDR4 RAM. Multi-tasking.
Up to 1TB of M.2 2280 PCIe NVMe SSD. Launches applications in a flash.
Measures: 117 x 112 x 34.2 mm. Pocket-sized design, lightweight, weighs only 500g.
GEEKOM MiniAir 11 Performance
Considering all of the specifications, you might already have a good idea of what this mini PC can deliver in terms of performance. With so many good specifications, it's surely going to offer excellent performance. For example, it's equipped with a solid SATA M.2 drive, 8GB DDR4 RAM, and 11th Gen Celeron CPU. All these are tremendous features to get from a mini PC at such a low price.
In essence, it's going to complement your day-to-day office work, especially web browsing quite perfectly.
GEEKOM MiniAir 11 Size & Design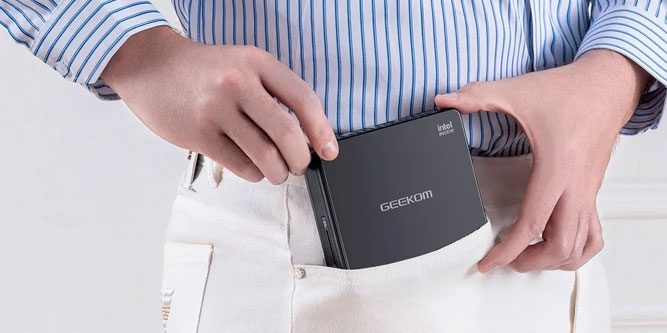 GEEKOM's mini PC is expected to be visually stunning. Of course, the MiniAir 11 PC is no exception. In fact, this GEEKOM mini PC is more stylish than ever. The mini PC has a phenomenal, ultra-thin, compact design (117 x 112 x 34.2 mm, 4.6 x 4.4 x 1.4).
That's absolutely amazing, isn't it? It's because this mini PC can fit into laptop bags and pockets. This PC's ultra-slim design makes it easy to carry and extremely portable. On a scale of 1 to 10, this mini PC deserves at least an 8 or 9, owing to its compact yet stylish design.
GEEKOM MiniAir 11 Connectivity Options
This GEEKOM MiniAir 11 PC has a multitude of connectivity options. Users can connect peripherals to the device via its USB-C and USB-A ports.
The mini PC has one mini Display Port, one HDMI port, two USB C and three USB A ports for connecting it to other devices. For instance, you can easily connect this mini PC to your headsets, cameras, mouse, keyboard, TV, and so on.
GEEKOM MiniAir 11 Storage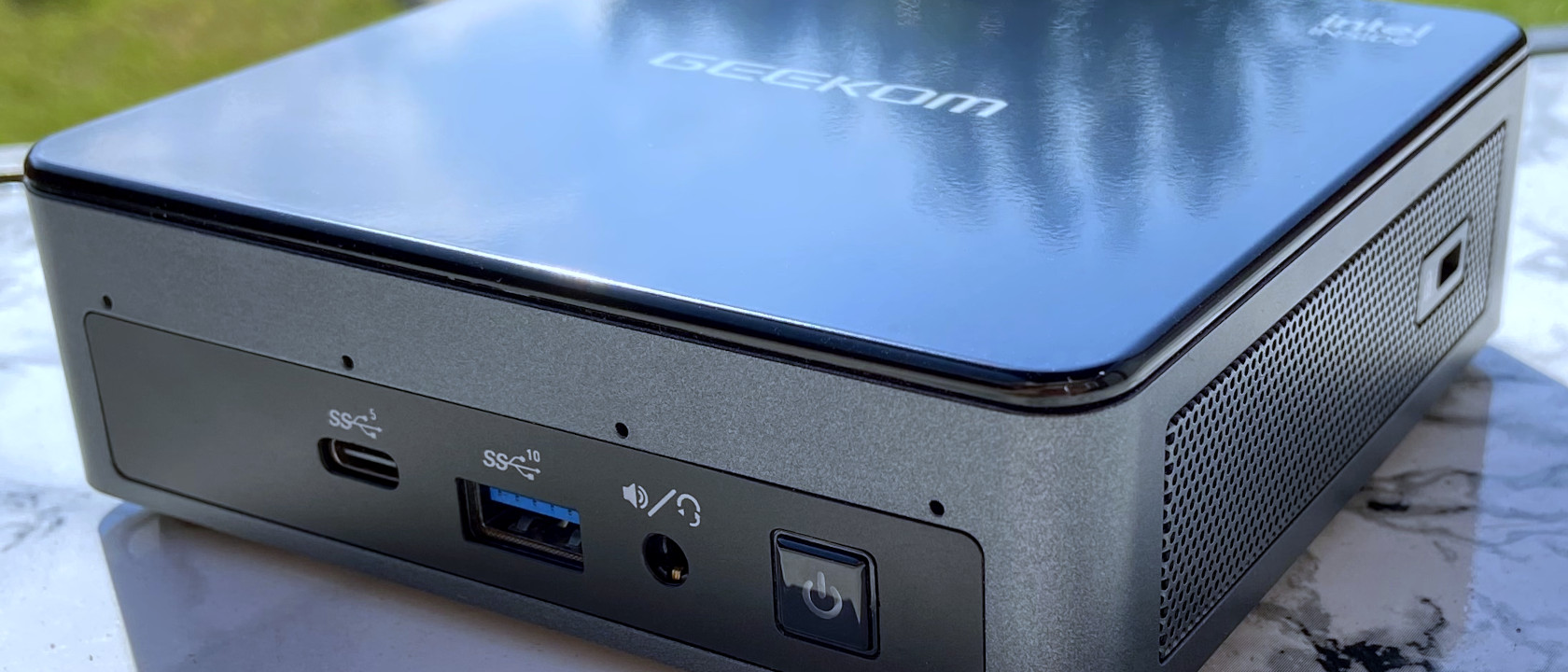 PC storage capacity is an unavoidable consideration, especially when purchasing a low-cost PC. Fortunately, you don't have to be concerned with this GEEKOM PC.
The M.2 2280 SSD (with 256GB pre-installed) in the mini PC is expandable up to 1TB. It also has dual-channel DDR4 SODIMM slots for up to 32GB of RAM and comes pre-loaded with 8GB of RAM.
https://img.geekom.co.uk/geekomuk/2022/11/GEEKOM-MiniAir-11-Including-Bluetooth-and-Wifi-1.webp
This GEEKOM MiniAir 11 – 11th Gen Intel Celeron Mini PC has DDR4 high-frequency memory, which allows users to multitask with ease. Returning to the M.2 high-speed SSD, this mini PC also includes one for improved data read and write performance.
The GEEKOM MiniAir 11 PC is also available with exclusive gift accessories, which are sure to make you feel wow about your choice. Not only this exclusive offer provides you the PC packed in a quality packaging, but also, you get a super chic upper cover.
In addition, you're going to get your hands on an ergonomic mouse pad, mascot figurine, etc. Above all, there's a specially inspired GIFT that you're going to love for sure.
All that you need to grab the offer is using the discount code 'XMAIR11A' while checking out the order.
MiniAir 11
RSP: $229
Deal Price: $179 with $50 Off Code: XMAIR11A
Product Link: https://bit.ly/GEEKOMMiniAir11Official
Expire Date of Code: 30th Dec
GEEKOM MiniAir 11 Pros
Pre-installed Windows 11 Pro.
A high number of ports for seamless connectivity.
SD card slots -upgradable up to 32GB.
Affordable.
Compact yet stylish.
Final Verdict
In a nutshell, this mini PC from GEEKOM seems to be a perfect fit for users who need a budget PC for day-to-day office work. If you're looking for a mini PC that gives you total value for money, then this GEEKOM PC can be a perfect option!!