Samsung truly dominates the foldable smartphone market, if we are to believe the often quite precise figures from the Canalys institute. In total, Samsung would hold more than 80% market share worldwide.
A new report from the Financial Times has just unveiled a study by Canalys, which announces that it has sold nearly 14.2 million foldable smartphones worldwide in 2022. In comparison, shipments of such devices had barely passed the 10 million unit mark in 2021.
That year, Samsung largely dominated the market with almost 10 million units sold, and the trend has still not reversed in 2022. According to figures from Canalys, Samsung shipped just under 12 million units last year, and would therefore still retain more than 80% market share in this sector.
Chinese manufacturers are trying to break into the folding market
Canalys reveals that despite Huawei's efforts, the Chinese giant has not succeeded in ship just under 2 million units in 2022. The situation is even worse for other Android smartphone manufacturers such as Oppo, Xiaomi, Honor and Vivo, which each have less than a million devices sold.
Many of them are newcomers to the Android smartphone market, it will therefore be necessary to wait some time before their product catalog is large enough to hope to find a place in this market.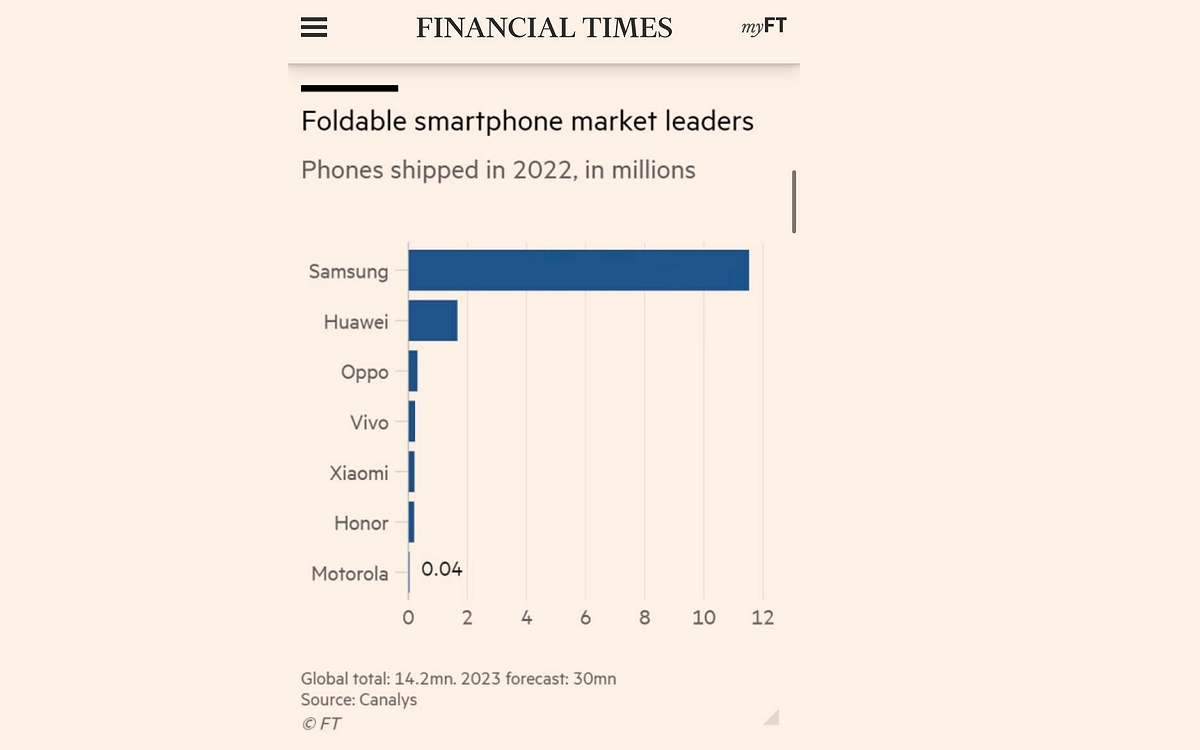 For its part, Motorola, which has been offering foldable smartphones for several years now, probably only managed to sell 40,000 copies of its Razr in 2022. We are therefore very far from the 12 million smartphones sold by Samsung.
While foldable smartphone shipments are increasing slightly each year, 2023 could well be a turning point, since many manufacturers have entered this market. The Financial Times estimates that foldable smartphone shipments will double in 2023 and reach 30 million units. All eyes are therefore on the next Galaxy Z Fold 5 and Galaxy Z Flip 5, which should this time use an external screen occupying the entire rear face. As in previous years, they are expected to make up the majority of foldable phone shipments.