Windows 11 is Microsoft's latest operating system. What's new in the OS, design, system requirements, installation, here's everything you need to know about Windows 11.
Windows 11 is the operating system launched by Microsoft on October 5, 2021. It is the latest version of Windows for PC.

Should I install Windows 11? Our test
We tried Windows 11 for several weeks. Our complete Windows 11 review helps you understand what the new system can bring to your PC.
New in Windows 11
Windows 11 marks a real generational change for Windows and many changes are planned for the system. We have gathered here the most important and significant novelties.
Windows 11 offers a new interface based on the design language Fluent Design. The system experience has been completely overhauled. Animations are smoother, system sounds have changed to be smoother, and window corners are rounded. Windows is eliminating many interface elements dating back to Windows 8 and Windows 10.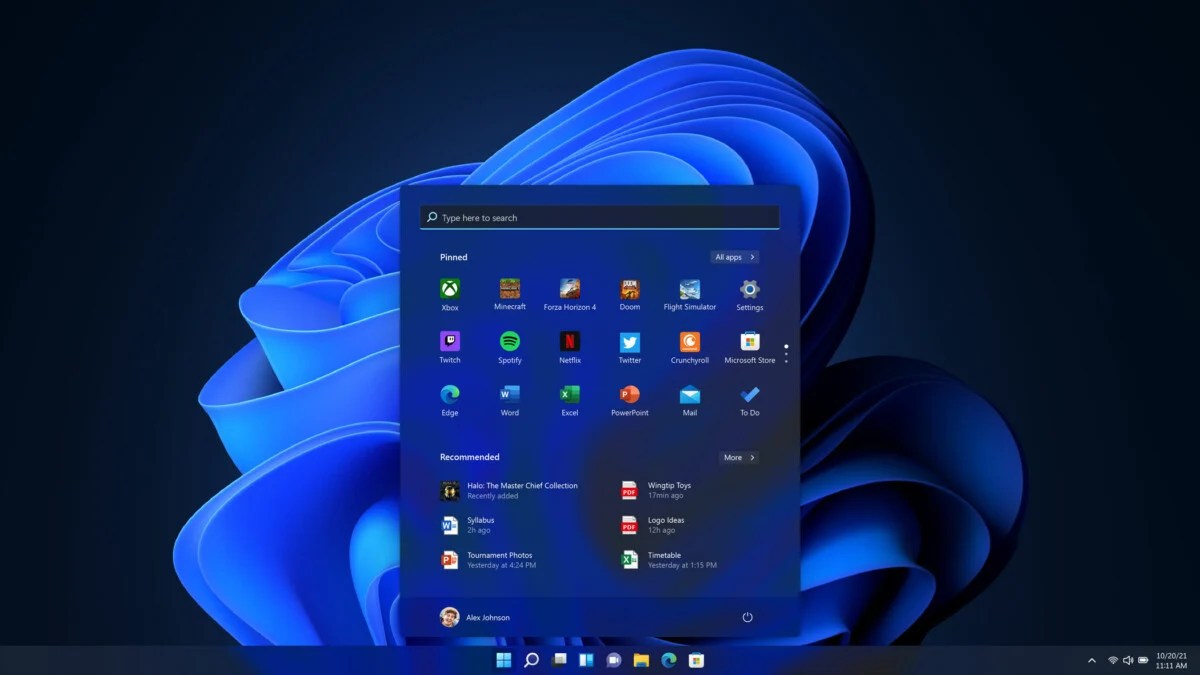 At the center of this change is the new Start menu that says goodbye to live tiles and sits… in the center of the taskbar. It is still possible in the options to put the menu back at the bottom left, the position it had known since its inception.
The new file explorer
Windows 11 applications such as Notepad, Photos, Paint or File Explorer have also been updated to better harmonize with the rest of the system.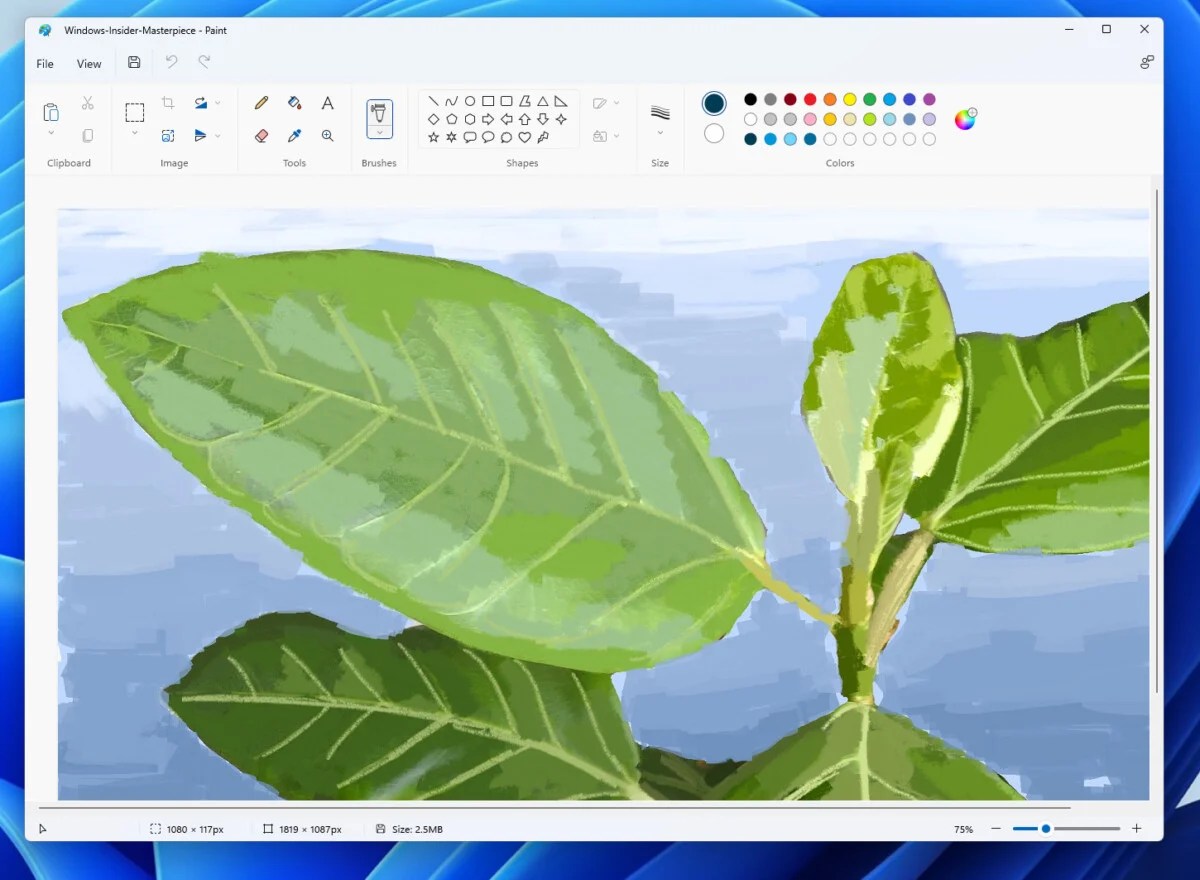 Fortunately, if you don't like the new Start menu, you can install Stardock's Start11 software as an alternative.
New very ambitious Microsoft Store
After many attempts, Microsoft has never succeeded in convincing developers to adopt its application store on Windows 8 and then Windows 10. With Windows 11, the publisher is opening the floodgates: now any developer can offer the software he wants from the Microsoft Store, even regular win32 apps without any particular package. They will also be able, under certain conditions, to receive 100% of the revenue from the application. Several developers have since started to add their programs: VLC, WinZip or OBS Studio.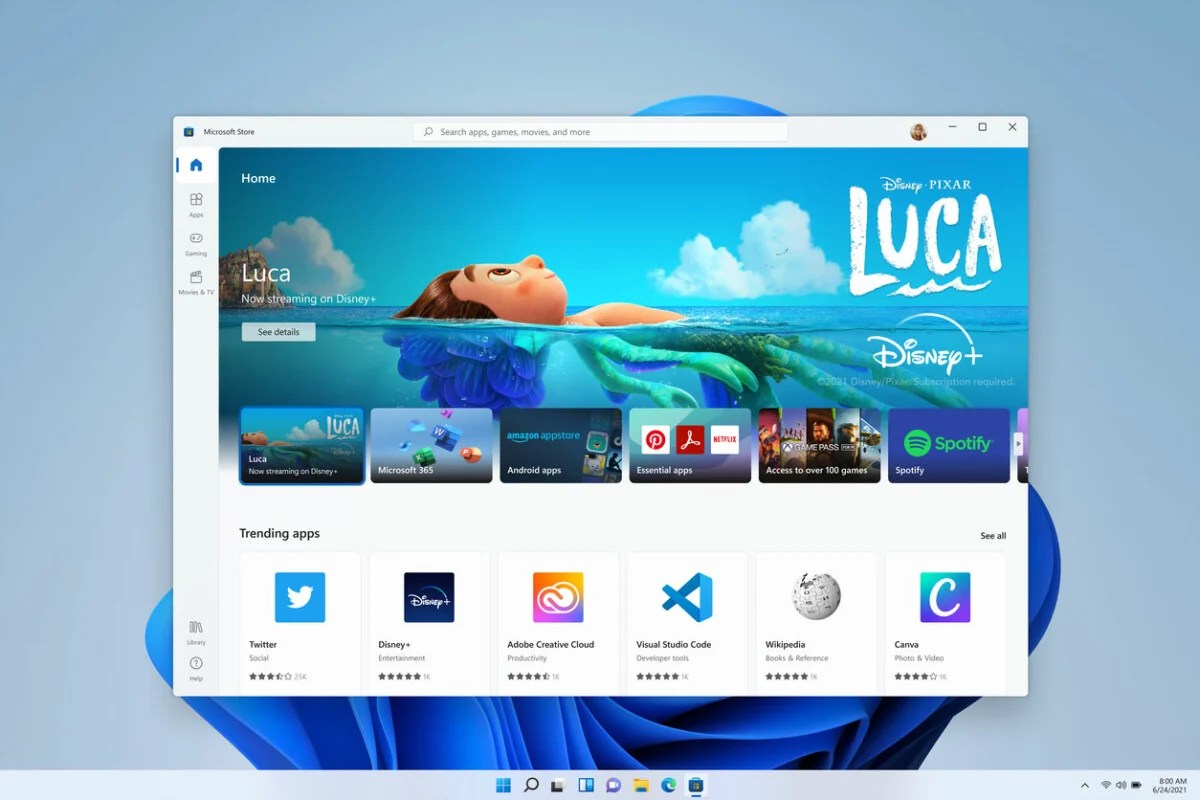 This policy change is also accompanied by a complete rewrite of the Microsoft Store application which promises to finally allow downloading and installing applications without bugs or performance problems.
The new Microsoft Store will also be the showcase for the Amazon AppStore and the arrival of Android applications officially on Windows 11. It will thus be possible to download TikTok and all the applications offered by Amazon directly on your PC. What improve the experience of products with touch screen. This novelty has been postponed. Initially planned at the same time as the system, it will finally begin its Preview version in February 2022, but only in the United States.
Widgets
The dynamic tiles have disappeared, but Microsoft offers widgets instead, like macOS or Android. In the pane dedicated to Windows 11 widgets, accessible in one click from the taskbar, you can find your calendar, the weather or the latest news.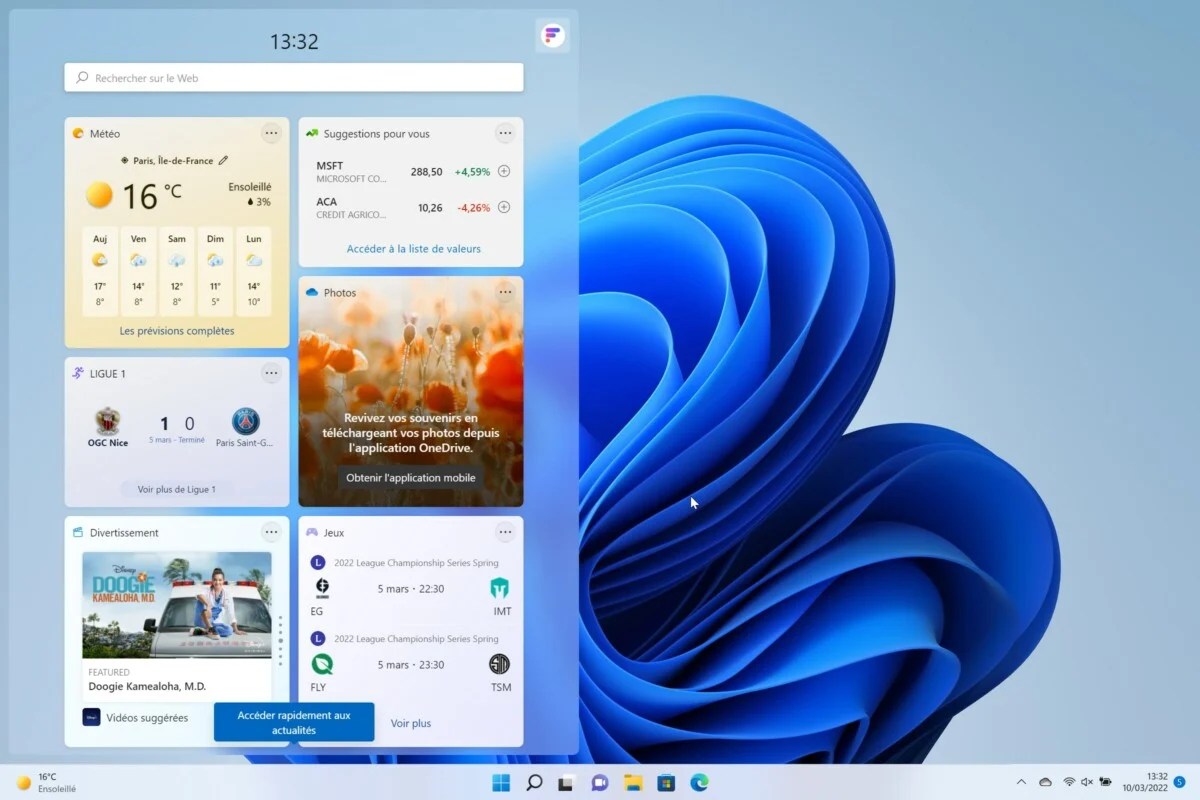 For the moment, only Microsoft seems to be able to add widgets for its applications, but we imagine that the firm should eventually allow developers to add widgets to their applications.
Microsoft Teams integration
The gestation of Windows 11 took place during the pandemic and the developers were clearly inspired by the explosion of teleworking to change a few elements of Windows. First, the Microsoft Teams software will now be directly integrated into the taskbar.
Teams is accessible from the Windows 11 taskbar
Microsoft Teams on Windows 11
All Windows 11 users will therefore be able to use text chat or make video calls with just a few clicks.
PC Game Pass and cloud gaming
Video games have taken on a lot of importance at Microsoft in just a few years. The Xbox Game Pass subscription is at the center of this new strategy and Windows 11 offers players to subscribe to the PC Game Pass service, the bouquet of games for PCs. The Xbox app will be installed on the system by default.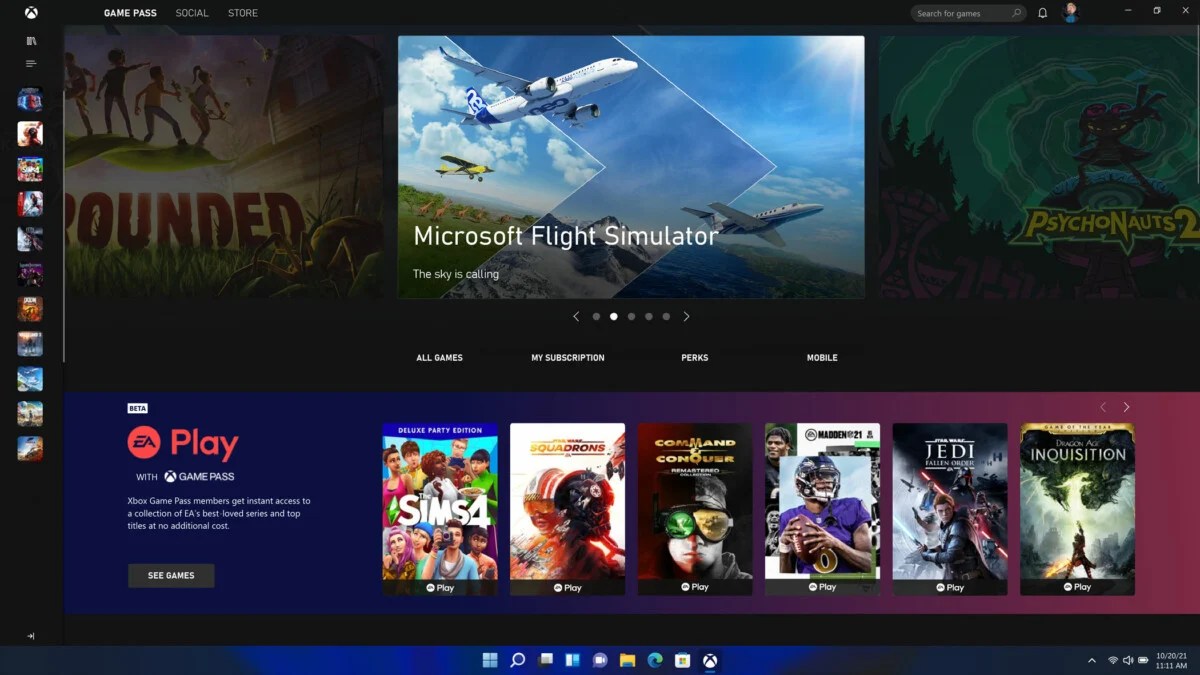 This application will also allow you to play games from any streaming PC thanks to cloud gaming. No more downloading dozens of gigabytes or using a war machine to play.
The rest
There are plenty of other new features to be found in Windows 11. Here is a list of them.
Concentration sessions with Spotify
Auto HDR for video games
Improved Bluetooth and AAC codec support
ARM64EC management
x64 emulation on ARM
Improved user experience with a touchscreen
Better window management with "Snap layouts"
Virtual desktops can have different names and backgrounds
The emoji keyboard now includes a GIFs engine
A brand new set of emojis
Battery status in settings
Estimated times for updates in Windows Update
New Segoe UI Font
New First Boot Experience (OOBE)
What are the system requirements for Windows 11?
Here is the minimum configuration requested very precisely by Windows 11 to be on a version fully supported by Microsoft.
A 64-bit processor or SoC present on the list of compatible chips (1 GHz, at least 2 cores)
4 GB of RAM
64 GB of storage
UEFI support
TPM 2.0 support
DirectX 12 compatible graphics card with WDDM 2.0
Screen at least 9 inches and 720p
Check that the processor is compatible
Microsoft provides a list of processors officially compatible with Windows 11. The PC's processor must be on the list to be eligible for the installation of the new system.
At the moment it's basically Intel 8th Gen or newer processors and AMD Ryzen 2000 or newer processors. However, Microsoft has changed its position to integrate certain 7th generation Intel processors depending on the device. To justify this fairly limited list, Microsoft puts forward arguments of reliability and security.
What is TPM 2.0?
The TPM is a security component used in particular to encrypt storage data. Since 2016, new machines under Windows 10 are mandatory TPM 2.0 compatible, but the function is not necessarily activated. You have to go through the UEFI options to ensure that the TPM 2.0 is activated when possible. Problem: The option has a different name depending on the brand of processor and the manufacturer of the motherboard. We have published a complete file on the subject to guide you regarding the TPM.
Install Windows 11 without the required configuration
It is possible to install Windows 11 on a PC that does not follow Microsoft's recommendations. However, at this stage, the firm does not guarantee the availability of future feature and security updates. In this context, the minimum configuration to install Windows 11 is as follows:
dual-core CPU
64 GB of storage space
4 GB of RAM
TPM 1.2
Here's how to install Windows 11 on an incompatible PC using Microsoft's method.
Is Windows 11 free or paid? What is the price of Windows 11?
Windows has always been a paid operating system. A paid license is indeed required to use the system, although it is often included in the price of a commercially purchased PC. For Windows 10, Microsoft had offered a free update system from Windows 7 and 8. Officially, Microsoft will repeat the experience and offer free upgrades from Windows 10 to Windows 11 for one year on compatible machines.
In the absence of a free update, it is possible to purchase a license for Windows 11.
Windows 11 Home: 159.90 euros
Windows 11 Professional: 209.96 euros
When will Windows 11 be paid?
Microsoft promises to offer a free update of Windows 11 for 1 year, that is to say until October 2022. The firm could extend this period.
How to download and install Windows 11?
Windows 11 is available for download as an update from Windows 10, or through a tool to download the system ISO.
If your computer is not compatible, it is still possible to force the installation with this guide.
If you want to do a clean install of Windows, we also have a dedicated guide for that.
All the tips to master Windows 11
A new operating system with a new design could well make you lose your bearings and your little habits, but don't panic, we are here to help you! To make it easier to get started with Windows 11, we have a series of tutorials to help you become an OS expert!

What is the release date of Windows 11?
Windows 11 was released on October 5, 2021. The deployment on compatible machines will be gradual and will last, according to Microsoft, until mid-2022.
The firm is working with its manufacturing partners to validate the reliability of the drivers and thus progress the deployment of the update to Windows 11.
---
To follow us, we invite you to download our Android and iOS application. You can read our articles, files, and watch our latest YouTube videos.