Carrefour offers the opportunity to equip yourself at a lower cost with its wireless headphones from Sony. The WF-C500 which we rated 8/10 now only costs 39 euros instead of 100 euros at launch.
Sony unveiled its WF-1000XM5, the company's most high-end wireless headphones, a few months ago, but you have to pay a price. For those whose budget is quite tight or who simply wish not to spend more than 300 euros on headphones, there are some at a reasonable price that benefit from the brand's know-how. We find the WF-C500, an entry-level reference, which certainly lacks active noise reduction, but delivers good sound quality, all for less than 40 euros thanks to this offer.
What we like about the Sony WF-C500
Comfortable and lightweight headphones
Excellent audio quality
Battery life of more than 10 hours
Initially launched at 100 euros, and now sold for around 59 euros, the Sony WF-C500s are on sale for just 39.99 euros on the Carrefour website.
---
If, subsequently, the offer mentioned in this article is no longer available, please take a look below to find other promotions concerning the Sony WF-C500. The table updates automatically.
Where to buy

Sony WF-C500 at the best price?
Comfortable, light and durable headphones
The Sony WF-C500 are rounded and compact wireless headphones that fit inside the ear. With only 5.4 g on the scale for each earphone, you can use them for several hours without feeling the slightest discomfort. They take the in-ear format, in order to adapt perfectly to your ears for optimal comfort and good support. They are comfortable to wear, and are even IPX4 certified to resist water, splashes and sweat. In fact, you can use them for your sports sessions.
Sony wanted to offer compact wireless headphones, as did the case that houses the earbuds. The latter is cylindrical in shape, weighing no more than 35 g, it is easily transportable whether in a pocket or a bag. The real strong point of the WF-C500s is the battery life: they are capable of lasting more than 10 hours, while the charging case offers an additional 10 hours. And if you need to top up in an emergency, a 10-minute quick charge gives you up to 60 minutes of battery life.
Good sound reproduction, but without ANC
The WF-C500s lack active noise reduction. It's quite a shame when we know that some competitors offer this technology for the same price range. A lack of function that prevents us from giving Sony headphones a 9/10. However, they offer good passive isolation and a particularly pleasant sound with very flattering processing. The bass is well highlighted as well as the low mids.
Through the Sony application, it is possible to use an equalizer to personalize the sound according to your preferences. As for the codecs, they do not benefit from the LDAC codec or multipoint Bluetooth, and only support the most classic codecs on the market, AAC and SBC.
More information in our review of the Sony WF-C500.
8 /10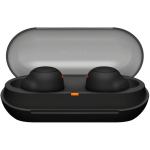 If you want to discover other references than the Sony WF-C500 with an equally accessible price, we invite you now to consult our guide to the best inexpensive wireless headphones in 2023.
---
Some links in this article are affiliated. We'll explaine everything here.

---