Realme designs the Buds Air 3, accessible wireless headphones to suit all budgets. They offer good noise reduction and do not cost more than 50 euros thanks to the sales, instead of 80 euros usually.
After a very good pair of headphones, Realme is back with the Buds Air 3. These are inspired by the Buds Air 2, and have many qualities to highlight, such as the presence of noise reduction. They have the advantage of being affordable and today take advantage of the end of the sales to lose 30 euros of their price.
Why Choose Realme Buds Air 3?
For quality noise reduction
The comfort of use
Audio quality and multipoint Bluetooth
Instead of a crossed out price of 79.99 euros, Realme's Buds Air 3 are trading for less than 50 euros on Amazon, almost 40% off.
---
If the offer mentioned in this article is no longer available afterwards, please take a look below to find other promotions for the Realme Buds Air 3. The table is automatically updated .
Where to buy the

Realme Buds Air 3 at the best price?
Headphones providing good comfort
For this third generation, Realme is not reinventing the design of its affordable headphones. The Buds Air 3 are inspired by its predecessor and take its design almost identically. We thus find in-ear headphones that focus on comfort thanks to their lightness – 4.2 g per earphone. They offer good support and are IPX5 certified to resist rain, splashes or perspiration.
During your listening sessions, the Buds Air 3 can last up to 5.5 hours with active noise reduction and up to 7 hours without, which is about average. By adding the case, you can last up to 22 hours with ANC, and up to 30 hours without. For recharging, it is completely done in just over 40 minutes for the headphones.
Great benefits for the price
With their in-ear format, the Realme Buds Air 3 offer good isolation coupled with active noise reduction. According to the brand, its true-wireless are capable of reducing exterior sound volume by up to 42 dB. The latter is obviously not up to the big names on the market, but the one offered by Realme defends itself very well and reaches the level of headphones which are offered at a higher price.
For the audio part, the Buds Air 3 relies on 10 mm diameter transducers. Regarding the rendering, the bass is present and offers a warm rendering, even if a little more treble would have been appreciable. The real highlight of these headphones is that they are compatible with multipoint Bluetooth. It is therefore possible to switch from music on your computer to a voice call, without having to disconnect and reconnect the headphones by multiplying the manipulations.
To find out more, do not hesitate to read our test on the Realme Buds Air 3.
8 /10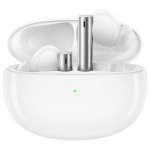 Winter sales: the best offers selected by Frandroid's editorial staff
The Winter Sales officially started on Wednesday January 11, 2023 at 8 a.m. in France and will end on Tuesday February 7 at midnight. As of now, several merchants have already drawn their best offers. Here are the best offers from the sales in our live.
Our selections by product categories
Our selections by merchants
Our selections by brands
To make sure you don't miss out on any good plan for this event, here are some reflexes to adopt now so as not to miss any of the offers that we recommend:
Follow us on our twitter account @FrandroidPromos only dedicated to good deals (remember to activate the bell to receive notifications in real time)
Download our Frandroid application (available on iOS and Android) to activate notifications from the "Good Deals" category and thus receive new items related to the 2023 Winter Sales in real time
Subscribe to our Good Deals newsletter to be sure to receive the offers in preview (no more than one email per day, unsubscribe in 1 click, no distribution to third parties):
---
To follow us, we invite you to download our Android and iOS app. You can read our articles, files, and watch our latest YouTube videos.