Want to get into podcasting or streaming? Investing in a good microphone can be the right solution. Check out our pick of the best mics available.
Before embarking on the adventure of podcasting or streaming, it is essential to have good equipment to ensure that your audience has impeccable listening quality. In order to start with confidence, the acquisition of a good quality microphone is the basis in this field.
The microphone is an essential element to get your podcast off to a good start. However, it is necessary to take into account several factors beforehand, in particular concerning the budget as well as the specific needs. What kind of equipment do you plan to invest in? What will your recording format be? What type of microphone suits you best?
On the market, there are two types of connectors for microphones: USB or XLR. If you are thinking of setting up a setup streaming, investing in an efficient microphone is definitely the right solution. To ensure good sound quality, we advise you to invest in good headphones, unearthed in our dedicated guide.
Blue Yeti X: our recommendation
It is one of the leading products in its field. The great strength of the Blue Yeti X is certainly its versatility, but also its reliability. The mic first offers a nice build with a very sturdy design. You will even find a screw thread to fix the microphone. It also includes a micro-USB socket and a headphone socket.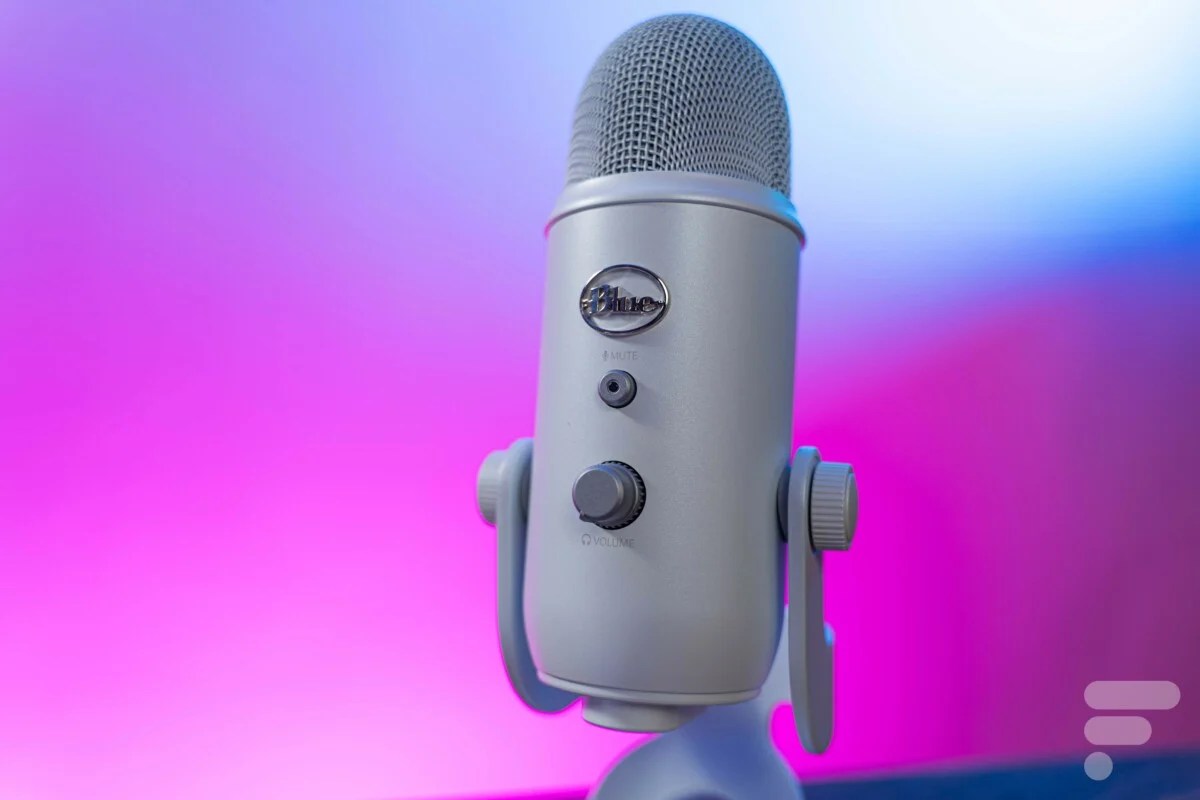 Regarding the grip, the microphone has two buttons. The first allows you to select the recording mode set up. In total, there are four distinct modes, whether you are alone, in a duo or several around the table. The second serves as information for voice gain. If the sound saturates, the LEDs turn red and all you have to do is turn the wheel.
If you wish, it is also possible to invest in several brand accessories – still quite expensive, so it is completely optional. Generally speaking, the audio quality delivered by the Blue Yeti X is good enough for podcasting or streaming.
Shure SM7B: the best microphone available
If you're looking for the best mic on the market, look no further. The Shure SM7B is undoubtedly the reference whether for podcasting, streaming or studio recording. Be careful however, it is a product not to be put in all hands and for good reason: its price is 459 euros.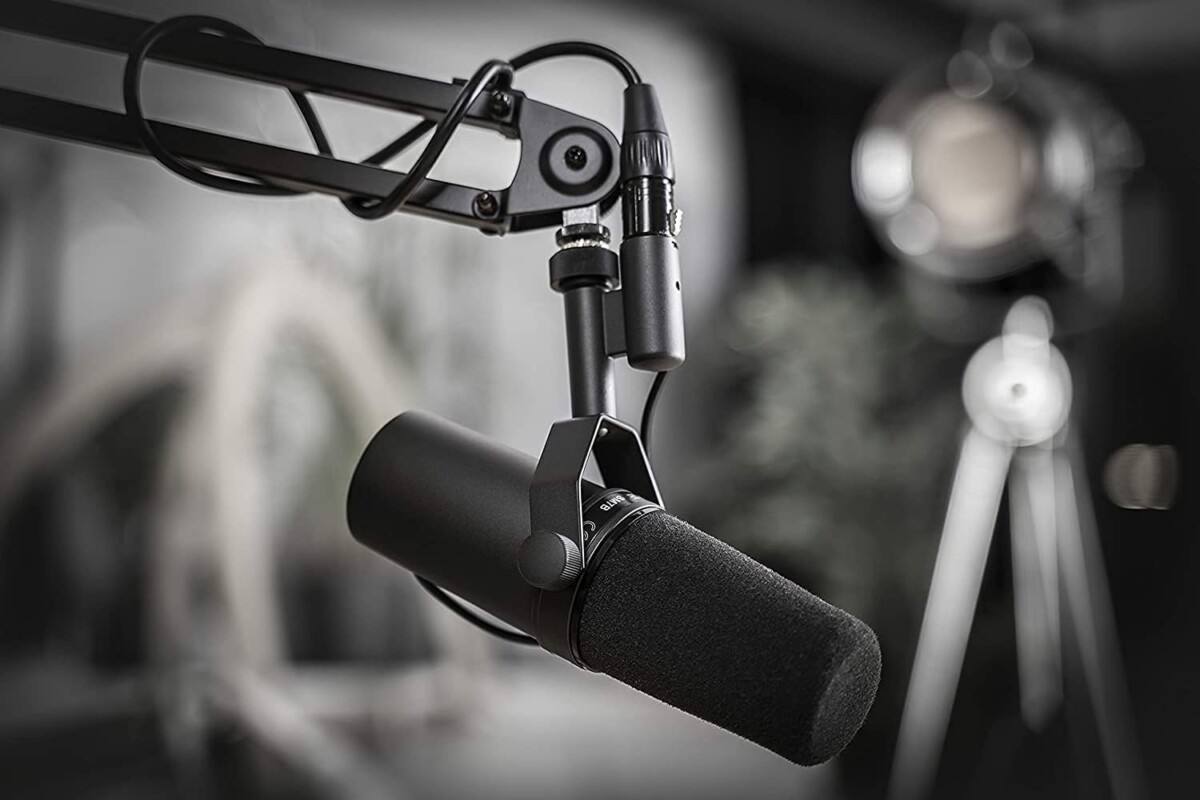 It is a dynamic microphone offering first of all a design that we will qualify as iconic. The SM7B is THE reference product for streamers on Twitch, but also radio presenters. The body of the product is adorned with a beautiful black and the finishes are good enough to give an impression of rather impressive robustness, while maintaining a minimalist design.
The XLR cable is also integrated into the construction of the microphone. It will therefore be essential to invest in a good sound card, but also an amplifier for high-level sound gain. A necessary investment if you are picky about your sound management. Shure has undoubtedly produced a quality job on sound management. It even helps to identify voices better.
As you will have understood, this microphone is the investment of a lifetime if you are already well launched in your content on the internet. The Shure SM7B is an ideal microphone — provided you pay the price.
Roccat Torch: perfect for getting started on Twitch
To embark on the great adventure of streaming, it is necessary to have quality equipment. But it's even better without breaking the bank! The Roccat Torch is a product designed with this in mind, marketed below 100 euros. It adapts to both streaming and multiplayer.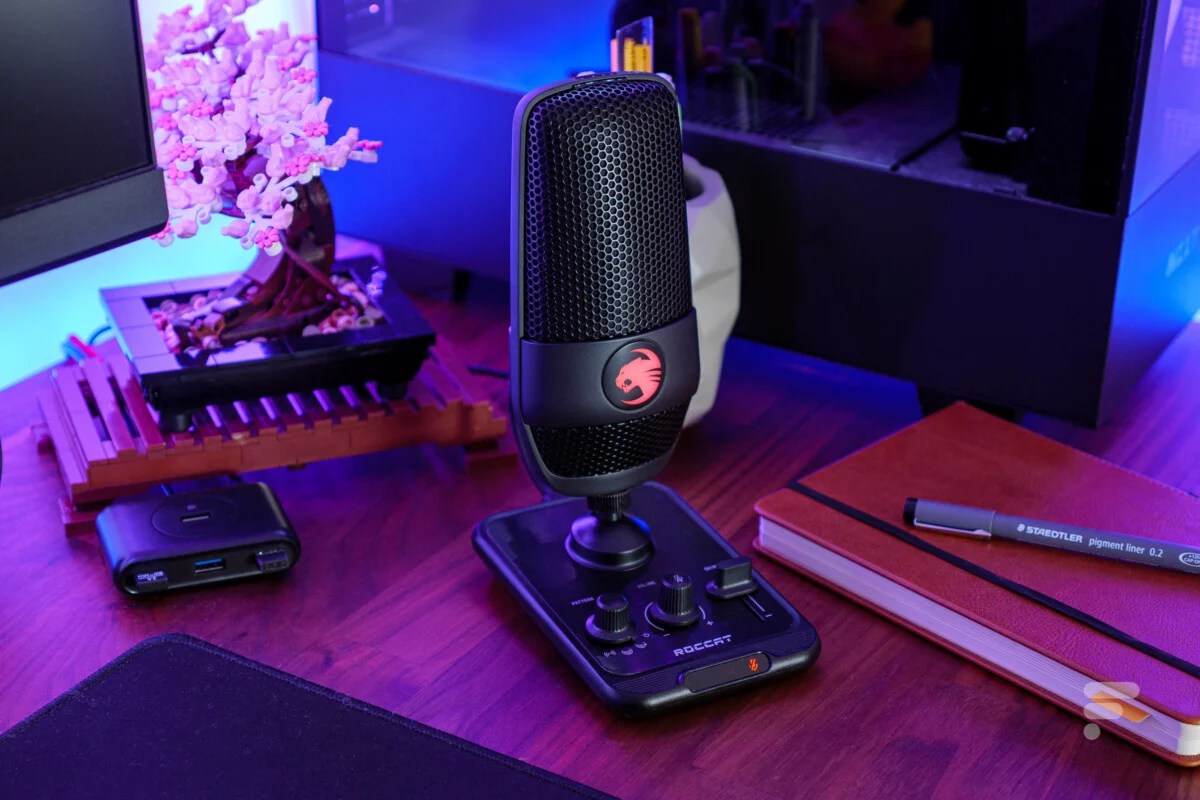 Right out of the box, the microphone is distinguished by a very imposing foot which may surprise. This serves as much of a support as a mixer. A screw thread is also provided to install it on a pole. The USB-C cable provided in the box connects the microphone to the base. The second is designed to plug into the computer. Ergonomics and construction are solid enough to make it the ideal companion for your gaming sessions.
Like any good mic that works over a USB connection, you don't need the help of driver software. Thanks to the mixer mentioned above, you first have access to three recording modes: cardioid, stereo or whisper. The central button is intended to manage the volume of the audio feedback and the last button takes care of the gain.
In terms of accessories, the Roccat would still benefit from having a telescopic arm so dear to streamers, for greater freedom of movement. However, it is possible to do without it.
If you plan to invest in this microphone, we recommend that you first read our Roccat Torch test.
Shure MV7: compatible with several recording solutions
Are you looking for a versatile product? The Shure brand has several models in its catalog. The MV7 is characterized by its versatility: it has a USB socket, but also an XLR. If you ever use the latter, make sure you have a sound card with the correct input.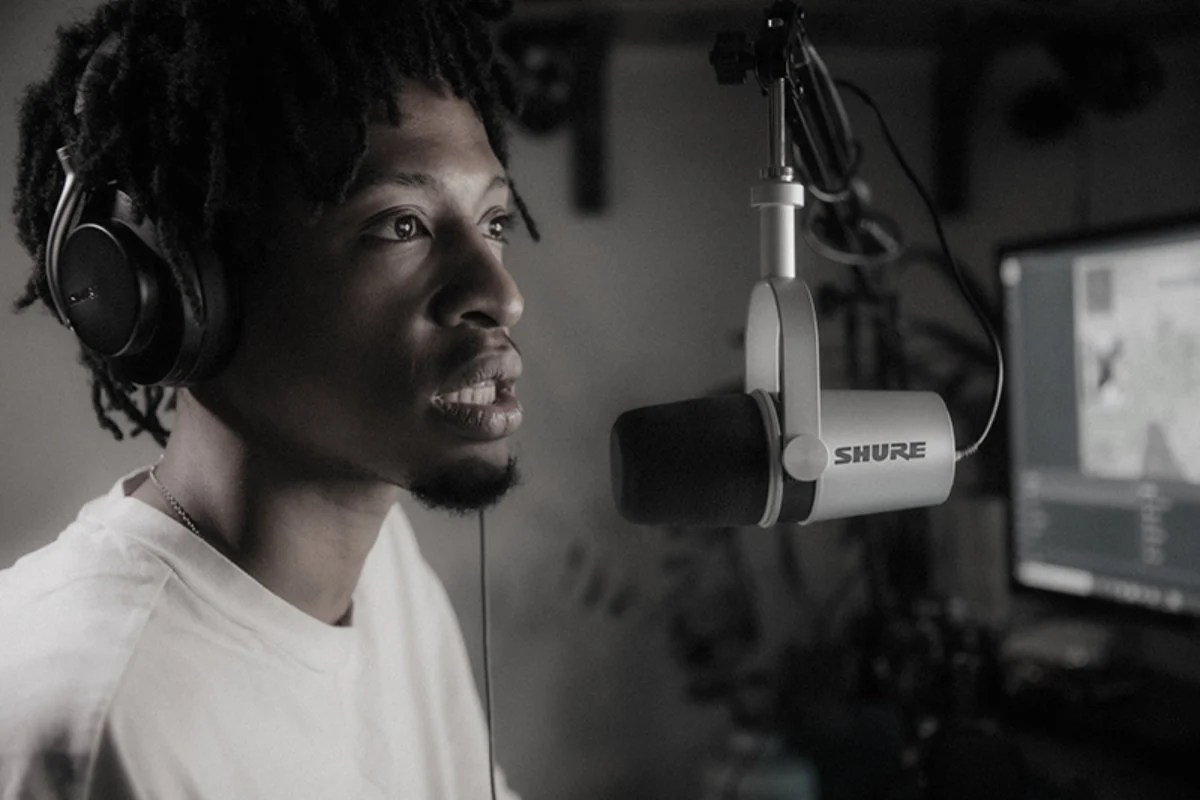 Regarding the construction, the Shure MV7 is sold without a stand and works to its full potential with a telescopic stand. Unfortunately, the accessory does not come with the microphone. Connectivity is provided by a USB port, an audio jack port and an XLR socket. This also implies that the MV7 works with a dedicated PC client and a smartphone application.
The audio quality of the microphone is naturally good, but it won't prevent you from making minor adjustments. The most professional will regret the absence of recording software and will have to turn to third-party solutions. In short, the Shure is certainly excellent, but it is covered with additional elements to buy in addition.
At the price of 219 euros, the addition ends up being salty. We still recommend it to those looking for quality equipment and who do not count their euros.
Rode PodMic: the most professional of microphones
Who says professional microphone, says high-end equipment. In this case, the Rode PodMic is the only one of our selection to have a single XLR socket. You have the choice when ordering between a standard stand or a pole. This will depend on your installation, but above all on your budget.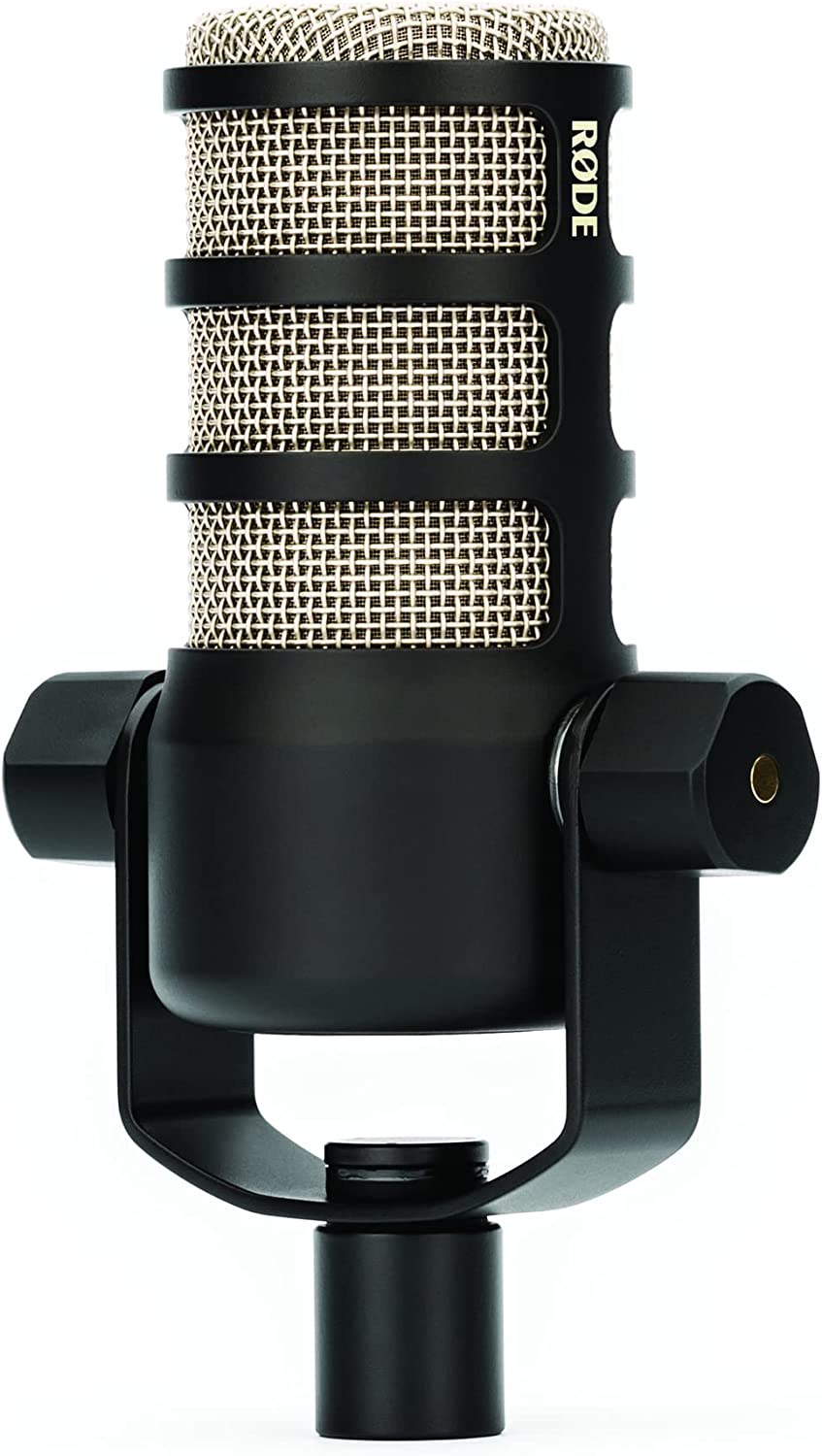 Be careful however, this is a product not to be put in all hands. Because of its XLR connection, it is also necessary to invest in a good sound card. If you intend this microphone for musical use, we recommend that you invest in the Rode Caster Pro mixer. For the installation, you may experience some difficulties around the XLR wire which gets twisted.
The great strength of this Rode PodMic is its audio quality. This dynamic microphone offers great performance, especially for recording vocals. Its omnidirectional recording is also ideal for a podcast with several people. The software is certainly quite difficult to learn, but allows you to manage each element of the sound well.
In its construction, the microphone also incorporates an anti-pop filter, which deserves to be underlined since it is quite rare on the market. In terms of prices, the Rode PodMic is offered alone at a price of 99 euros. If you want to add an accessory to the bill, count 121 euros for an additional microphone stand, or 174 euros for a pole.
MSI Immerse GV60: the alternative to the Blue Yeti X
In the hardware and gaming sector, the manufacturer MSI has made a name for itself. In this case, the Immerse GV60 is a microphone that is very clearly inspired by the Blue Yéti X. It is an imposing product made entirely of metal. The whole construction is both solid and qualitative.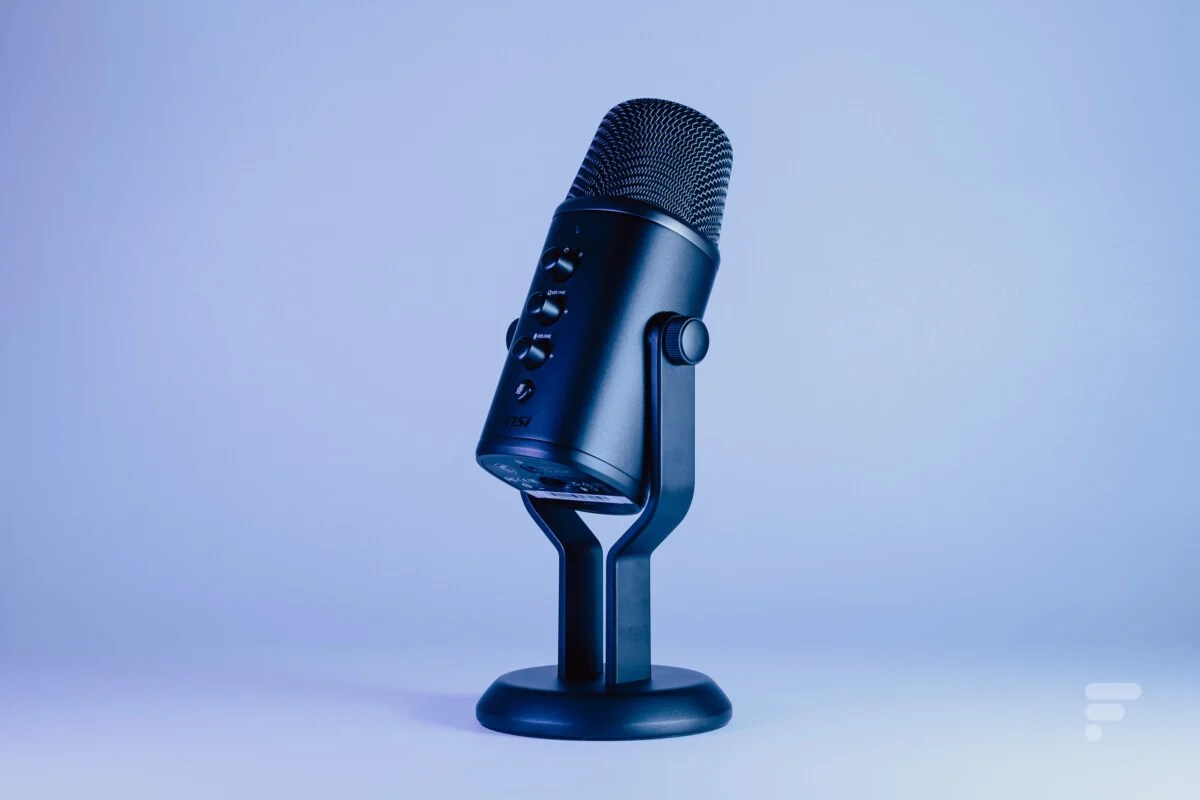 The connection is excellent on this microphone. You are thus entitled to a USB-C port and a 3.5 mm jack output, both placed under the product near the screw thread. A surprising bias that will force you to pay attention to the support you buy. Also note that the MSI Immerse GV60 comes with a weighted foot and two screws.
This product is aimed at gamers, but especially at people wishing to get started on Twitch. For recording, the MSI Immerse GV60 offers several modes. You have right and left bidirectional, forward/backward, an omnidirectional and cardioid. The recorded sound is particularly clear and precise, suitable for voice recording.
As a reminder, because of its connection only designed for USB, the MSI microphone is not designed to work with PC software. The Immerse GV60 has been tested on Frandroid and we advise you to read it to learn more.
Which accessories to choose with your microphone?
You will have grasped it by reading our selection, most of the microphones selected work well independently. However, the addition of accessories is recommended to improve your use. Regarding the supports, you have the choice between a microphone stand and a boom. The Blue perch can do a good job.

It is also possible to improve the sound quality. To do this, you can add a series of elements to the head of the microphone, such as an anti-pop filter. This will prevent mouth noises, but also prevent saliva from coming into contact with the microphone.
Finally, the devices in our selection with an XLR connection also require a sound card. However, this is a real additional investment and it is good to think twice before embarking on the acquisition of such equipment. For example for the Rode microphone, an external sound card will make it easier for you to get started.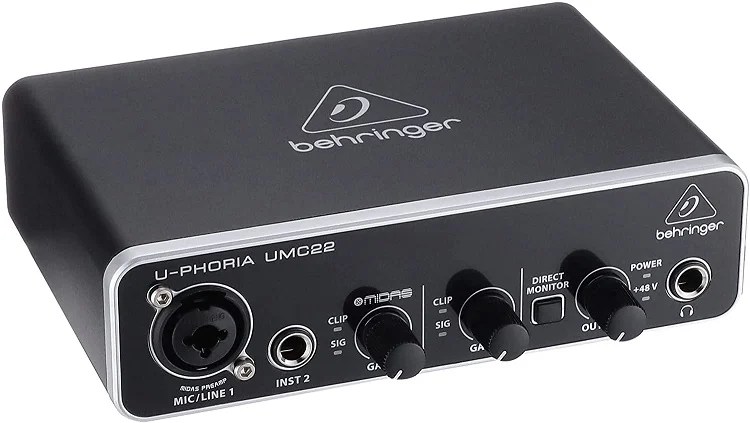 How to choose a good microphone?
What are the differences between cardioid and omnidirectional?
The directivity of a microphone is undoubtedly the most important characteristic to define your purchase. In this case, for podcasting and streaming, cardioid is recommended. This one is able to pick up the sound coming from the front. It is easier to isolate your voice from outside noise with the addition of accessories. It is an ideal product for streamers.
For its part, the omnidirectional is able to pick up sound coming from all sides, but with some constraints. Microphones of this type are thus very sensitive to the ambience of the recording room. It is also impossible to isolate a part of the microphone to block a sound around. However, on a round table, the microphone will record the voices in the same way. Perfect for a podcast.
Should you choose a dynamic or static microphone?
If the two types of microphones can be suitable for recording podcasts, or for streaming, it is still necessary to detail the differences in order to help you make a good choice.
Condenser microphones require a power supply and cannot function without it. He is hypersensitive, like a gamer discovering that it is possible to play a woman in his favorite video game. This means above all that such a type of microphone records the slightest parasitic sound. If you want to invest in this kind of products, make sure you have a suitable environment.
Largely represented in our selection, dynamic microphones do not really need a power supply to function. It is able to record in a noisy environment without suffering from parasitic sounds. They are more accessible in terms of price, but also easy to handle. On the other hand, the sound quality is much worse than a condenser microphone.
---
To follow us, we invite you to download our Android and iOS application. You can read our articles, files, and watch our latest YouTube videos.