6 hours ago
Mac Apps
Alban Martin

1
Apple provides a comprehensive set of security features to ensure macOS users keep their Macs safe from harm, but sometimes users have no idea how to check if all of these tools are enabled. It is with this in mind that the software publisher Niteo (founded in 2006) created "Pareto Security", an application that checks your Mac's security settings, one by one.
A Mac application to better configure your computer
Far from being a Mac application reserved for security experts, Pareto Security aims to guide ordinary users through all the options available to make their Mac more secure against malware, viruses and the like.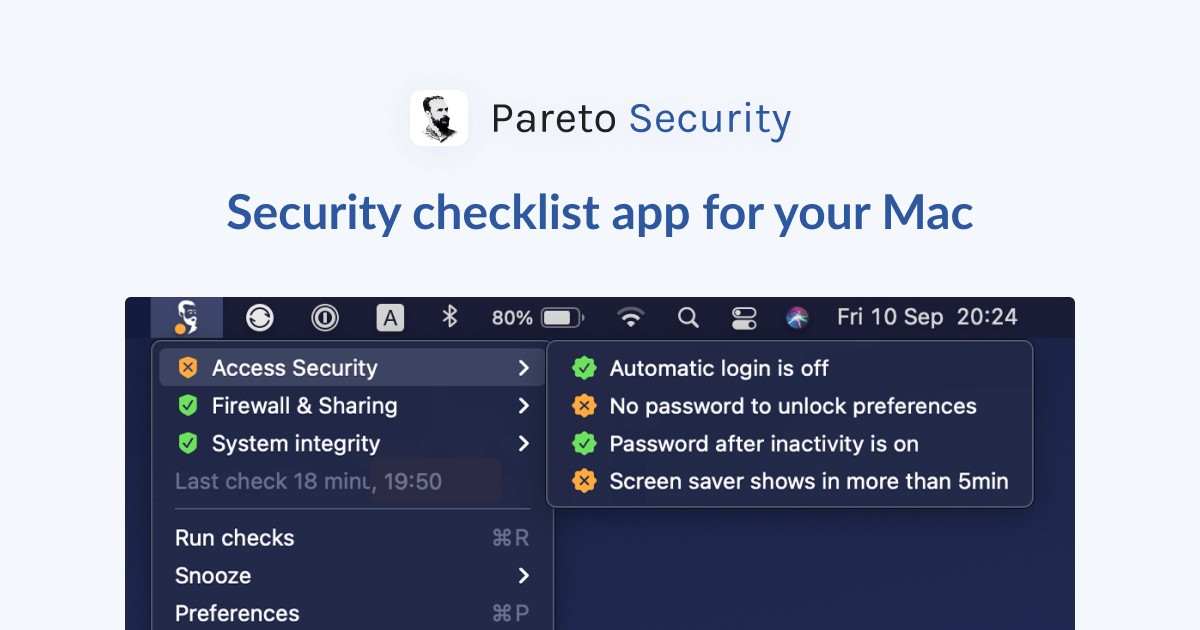 After installing it, you can run a check to get a report on your security settings. Pareto Security scans 36 macOS options to tell users what can be done to prevent viruses or other types of attacks. The security report is divided into four different categories: Access Security, Firewalls and Sharing, Software Updates, and System Health.
After performing a check, the app detects if auto-login is disabled, if the firewall is enabled, if your Mac has FileVault enabled, and much more like GateKeeper which scans third-party apps not from the App Store . As another example, it displays alerts for users whose option requiring an administrator password to change system preferences is not enabled, or even for those who keep network file sharing enabled.
Also, Pareto Security tells you if there are any updates for apps installed on your Mac, because updating apps is a great way to avoid security vulnerabilities. But it is already offered natively by MacOS. The app works in the background and has a team option that allows the admin to see the security report of multiple Macs, which is very useful for businesses.
Where the bottom hurts is at the new price since Pareto Security is sold for $15 (individual lifetime license). But if you have a SetApp subscription, you will have it at no additional cost,