⏰ 1 hour ago
Alban Martin

React
If Apple customers have tasted Wi-Fi 6 since the iPhone 11 and the iPhone SE of 2020, they are waiting for the superior evolution, WiFi 6E supposed to arrive with the iPhone 14 (and the Mac M2s). But the next major step is already pointing the tip of its nose, namely WiFi 7. With presentations by MediaTek, this time it is Qualcomm who is making an announcement concerning wireless technology.
This is Wi-Fi 7 according to Qualcomm


The American manufacturer, which currently supplies 5G modems for the iPhone 12, iPhone 13 and iPhone SE 2022, has just presented the third generation of the Qualcomm Networking Pro Series range which, according to the company, a new era of Wi-Fi at 10 Gbits/ s for enterprise access points, Wi-Fi mesh networks, gateways and high-end home routers.
Qualcomm Technologies, Inc. today announced its line of Qualcomm Networking Pro Series Gen 3 platforms compatible with Wi-Fi 7. Now sampled and available to global development partners, the Qualcomm Networking Pro Series Gen3 line is the platform world's highest performing commercially available Wi-Fi 7 network infrastructure. Building on the legacy of multiple generations of Qualcomm Networking Pro Series platforms, the products combine Wi-Fi 7 capabilities with Qualcomm Technologies' intelligent multi-channel management technologies to improve speeds, reduce latency and improve performance. improve network utilization for users of Wi-Fi 6/6E devices, while delivering breakthrough throughput and incredibly low latency for the next generation of Wi-Fi 7 client devices.
Nick Kucharewski, senior vice president and general manager of Qualcomm Technologies' Wireless Infrastructure and Networking Division, explained that by combining support for the latest Wi-Fi 7 innovations with the manufacturer's product architecture, the platform enables solutions ranging from whole-home mesh to connectivity networks for large public venues.
Neil Shah, Research Vice President, Counterpoint Research, said:
Building on the momentum and leadership of the Wi-Fi 6/6E standard, Qualcomm Technologies' third-generation Wi-Fi 7-enabled Networking Pro series platform delivers record-breaking wireless capacity and throughput performance , taking home and business Wi-Fi infrastructure to the next level. By introducing Wi-Fi 7 innovations such as simultaneous multilink operations, 4K QAM, quad-band configurations in a highly scalable, modular and optimized architecture, Qualcomm Technologies is once again upping the ante and bringing the industry into the the 10Gbps+ era. This innovative platform thus makes it possible to offer immersive and content-rich wireless experiences, even in constrained environments, which was not possible before.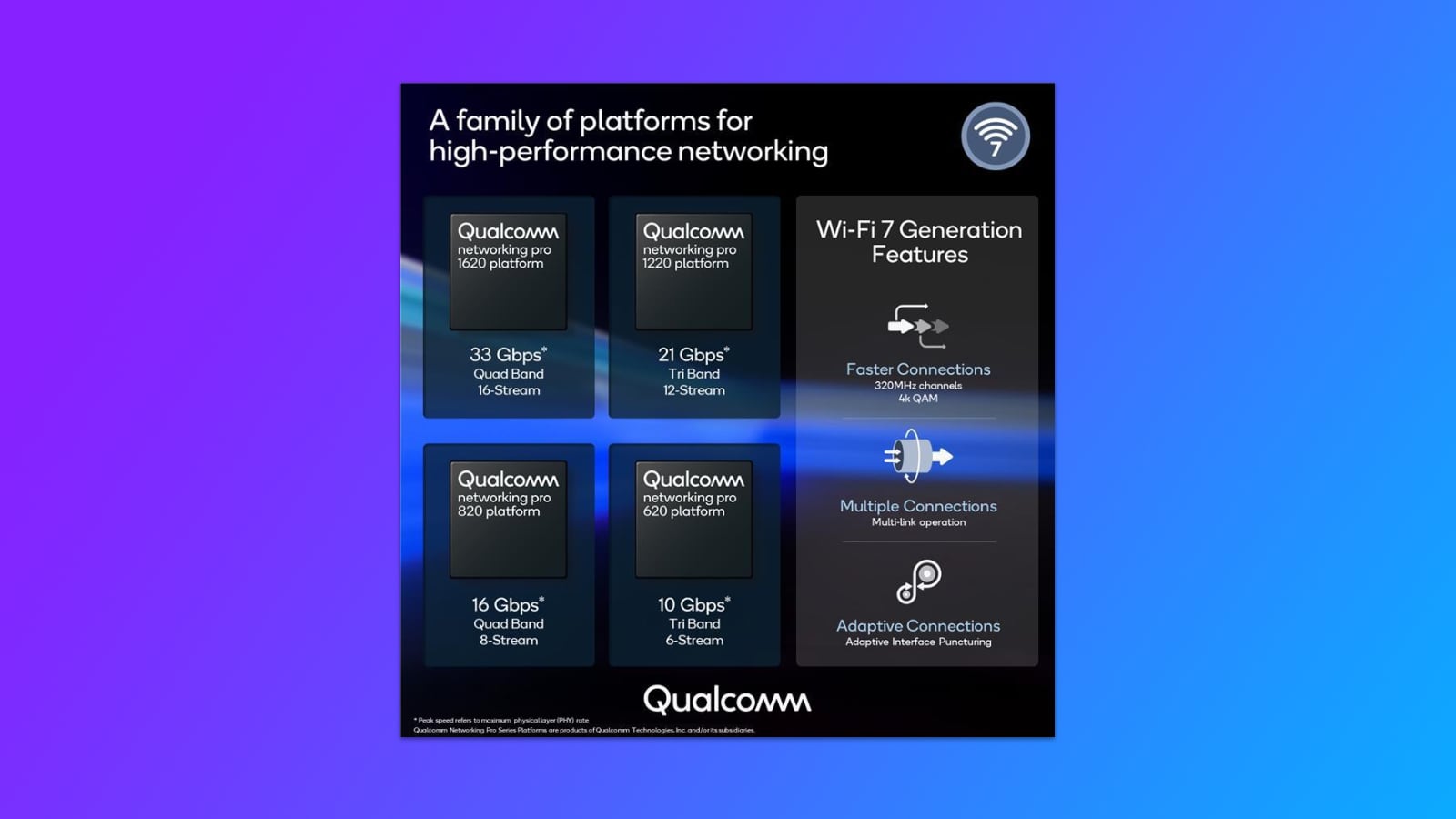 Concretely, what uses for WiFi 7?
If the point-to-point connection is 10 Gbps (like Wifi 6), this third generation of the Qualcomm Networking Pro Series line allows systems to have an overall wireless capacity of 33 Gbps. With advanced interference detection and multilink operation, the Wi-Fi 7 Network Pro Series enables deterministic low latency in harsh shared wireless environments, delivering spectrum-rivaling application performance private. The products can support high-speed, low-latency wireless backhaul for home Wi-Fi networks and enterprise infrastructure with reliable performance, even in the presence of neighboring interference.
When combined with high-performance Internet access, such as 5G fixed wireless access or 10G fiber PON, customers can enjoy immersive connected experiences including high-resolution video conferencing, AR/VR and cloud gaming high performance. A great idea for Apple's mixed reality headset.
Available in tri-band and quad-band configurations, the Qualcomm Networking Pro Series enables Wi-Fi connectivity across the 2.4 GHz, 5 GHz and 6 GHz spectrum. Qualcomm Networking Pro Series Wi-Fi 7 platforms achieve unparalleled performance through the expert implementation of key features, including:
Support for 320MHz Wi-Fi 7 channels (providing twice the throughput of Wi-Fi 6) delivers maximum throughput and ultra-low latency for the most demanding applications of real-time gaming, streaming , video sharing and XR.

Multi-Link technology allows client traffic to dynamically aggregate or alternate bands to avoid wireless interference and provide deterministic, predictable low latency in crowded environments. When paired with leading Wi-Fi 7 client systems, such as the Qualcomm® FastConnect™ 7800, Qualcomm Networking Pro Series, Gen 3 platforms can support High Band Simultaneous (HBS) Multi-Link technology. HBS Multi-Link leverages the high performance 5 and 6 GHz bands to deliver the best Multi-Link throughput and latency performance.

To optimize the operation of the 6 GHz band, including long range and outdoors, Qualcomm's AFC service is a turnkey solution for hardware and software. The Qualcomm AFC solution is available today for integrating customer devices on the Qualcomm Networking Pro Series and Qualcomm® Immersive Home platforms. The Qualcomm® AFC solution is available today for onboarding customer devices. Once regulatory clearances have been granted, the Qualcomm AFC solution will be commercially available for use by the public.
This is therefore promising, first in businesses and public places, then at home in a few years. WiFi should begin to become more popular in 2024, or even 2025.