---
Daniel Arsham even if you don't know, its crystallized Pokémon statues You must have seen it before. Xiaomi and the American artist, reflecting the iconic air of "fictional archaeology" consisting essentially of bronze crystals encased in a eroded green layer. Xiaomi 12T Pro Daniel Arsham Edition introduced.
Although there is no real crystal placed on the phone, the imprinted stones and some parts of the coating appear to be adorned with crystals, shining very realistically when you move the device slowly. There is also a live wallpaper that changes slightly according to the movement of the device to create a 3D illusion on the phone screen.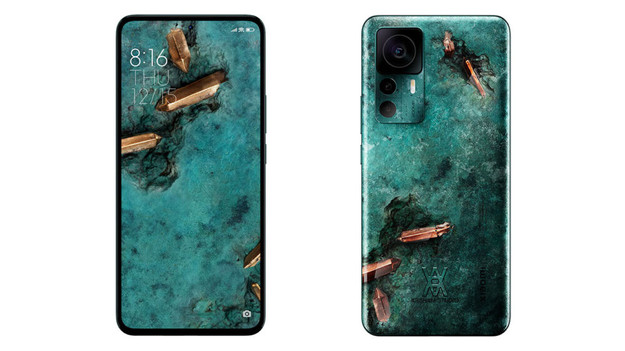 Xiaomi 12T Pro Daniel Arsham Edition, It is powered by Qualcomm's Snapdragon 8+ Gen 1 processor and is maxed out with 12GB of RAM plus 256GB of storage. Compared to the original model, the performance of the 200-megapixel main camera is remarkable. As before, it can fully charge its 5,000mAh battery in just 19 minutes, while the 120W charger for this phone is dark green in line with the new design. Xiaomi 12T Pro Daniel Arsham Edition 930 dollars and just 2,000 units aspect from December 16It will only be available in Europe from now on.