This week's Samsung Unpacked has been the first of numerous appointments that await us this year to learn about the new flagships of 2023. Of the new Galaxy S23, it is the Galaxy S23 Ultra that attracts all eyes and no wonder: the The Korean firm's continuist bet may have been little known to certain people. With everything, the Ultra brings some news that we should not lose sight of because they will probably set the trend among the high-end phones of 2023.
Qualcomm "custom" chips
Samsung's high-end range has said goodbye to its Exynos and has done it through the front door: integrating Qualcomm's most advanced and powerful processor to date, the Snapdragon 8 Gen 2. But it has not limited itself to integrating the beast, but has vitaminized with the Snapdragon 8 Gen 2 for Galaxy, turning it into a kind of Snapdragon 8+ Gen 2.
samsung wanted leave your mark giving a twist to this chip increasing its clock speed up to 3.36 GHz (compared to 3.2 GHz for the regular version) and adding improvements to the GPU. As a result, improvements in overall performance, graphics performance for gaming and other graphics-intensive tasks, and battery management are expected.
With this strategic move, Qualcomm continues to gain weight in the industry, but that does not mean that two terminals with the same chip are "the same dog with a different collar" (other specifications aside), but rather that this customization of consolidated hardware not only It is possible, if not that it stands as an optimal adaptation option compared to the great work involved in designing and creating your own processor: Will we see more Snapdragon for XXX (insert brand here) or will it be a one-off?
Goodbye to the curves
Although it costs, in this S23 Ultra there have been slight but important aesthetic changes such as the reduction of curves in its chassis. Curves may be aesthetically pleasing, but the reality is that in hand what prevails is functionality.
Thus, although the panel of the S23 Ultra is still slightly curved, the philosophy is reduced to a minimum edge from Samsung to a small 2.5D effect, which a priori will prevent ghost keystrokes. This year aims to be the beginning of the end of the fashion of curved screens.
With Gorilla Glass Victus 2 glass
On the screen of the Samsung Galaxy S23 Ultra there are hardly any new features compared to the previous generation, but even those give clues. This is a minor improvement, but If you drop your phone on the ground, you will surely appreciate it: the panels of the S23 are covered with coated by Gorilla Glass Victus 2.
According to Corning, this new coverage is capable of withstand drops of up to one meter in height on a concrete surface and resist falls on asphalt from two meters high.
Brightness "cast off" at 1,750 nits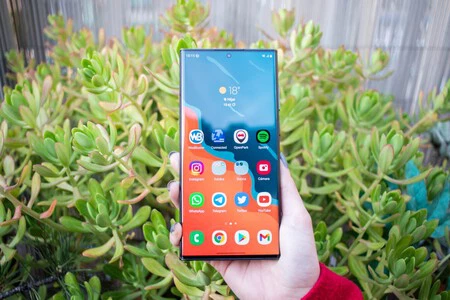 The panel that you see on these lines does not have a Gorilla Glass Victus 2 coating, but it does 1,750 nit brightness. It is that of the Samsung Galaxy S22 Ultra and yes, the Korean firm has repeated maximum brightness on a screen that already feels outstanding in the previous generation.
…the problem is that a few months ago the iPhone 14 Pro was released with a brightness of 2,000 nits, marking a new milestone that Samsung has not surpassed with the S23, despite the fact that a little more ambition was expected on the screen of a terminal that points to the phone of the year and has its bill. Will the Korean firm be left behind in this competition to continue adding nits? Probably not, considering that Samsung is the main supplier of panels for the rest of its rivals. But it's a matter of time before someone ups Apple's bet.
A "sensible" fast charge
The Samsung Galaxy S23 Ultra repeats the battery characteristics of the S22 Ultra and that is not necessarily a bad thing, since 5,000mAh and 45W These are figures that, despite the ambition of this terminal, seem sufficient without falling into further enlarging a device that is already large and heavy per se. In any case, and as the Korean firm explains, autonomy will also benefit from the change to the best Qualcomm processor.
Where I wanted to focus is on its 45W fast charge. At a time when there are manufacturers that are committed to continuing to increase watts to the maximum allowed by technology, Samsung seems to have planted itself in the 45W and that seems like good news to me.
There doesn't have to be a debate between taking care of battery health and still making fast charging faster because you can take the middle path and offer the best of both worlds as Samsung has done. Thus, we hope that brands like Apple or Google will increase the power of fast charging (27W and 23W respectively for their most premium models) a little more and a standard range will be established: it is not necessary to reach 150W, but it is not necessary to stay at 25W either.
200MP sensors
Along with the change from Exynos to Qualcomm, the great novelty of the Samsung Galaxy S23 Ultra is its new gigantic 200 megapixel ISOCELL HP2precisely designed to work in conjunction with the Snapdragon 8 Gen 2 and its image signal processor.
Despite changing a single sensor, Samsung wants to set a chair for this course by allowing those who opt for its most premium model shoot in auto mode at 200MP.
The 200-megapixel Isocell HP2 sensor combines 0.6 μm photodiodes and is 1/1.3″ in size (like the S22 Ultra) although the icing on the cake is Tetra2Pixel technology, capable of grouping the photoreceptors in such a way dynamics with two different strategies: four by four to recreate 1.2 μm photodiodes or in sets of sixteen photoreceptors to emulate 2.4 μm pixels. The results remain to be seen, but expectations for its versatility are high, especially for low light scenarios.
It is not the first time that we have seen a 200 MP lens, but with a firm as reputable as Samsung making this commitment, it is not unreasonable that become "the norm" for Android phones of this course.
Price increase
So far we have talked about things that could be considered good, but this early presentation serves as an antecedent of what is to come and that we should also expect: the Samsung Galaxy S23 have risen 100 euros for the simplest model and 150 euros for the S23 + and S23 Ultra, a notable increase considering both the price they already had and the improvements implemented. In a bullish price situation where literally everything goes up, phones are no exception.
Taking into account that Apple already updated its prices in the last Keynote, it is to be expected that what is seen in Samsung Unpacked 2023 will be extended to the rest of the high-end launches that we will see this year and that changing phones this 2023 will be more expensive than ever.