Have a Netflix account and shared your password with third parties to save them a subscription? If it was wanted at one time, it is perhaps no longer the case today. Netflix recently offers complete visibility of the devices that connect with the date and time of last use, the profile that has been used and the location of the user.
Objective: to allow the user to do the cleaning himself
Netflix no longer hides it, the streaming service wants at all costs that the users of its streaming service carry out the subscription of their own subscription and stop to take advantage of the account of a family member or friend.
For Netflix, account sharing is losing hundreds of millions of dollars every quarter and billions when watching over a full year!
Recently, Netflix has been offering its subscribers a better visibility to manage account sharing themselves.
A new tool is now available on the Netflix website, to access it you just have to follow this path:
Go to the Netflix website

Go to your profile

Click on your profile picture in the top right

Click on "Account"

Click on "Manage access and devices"
And here's what you'll see…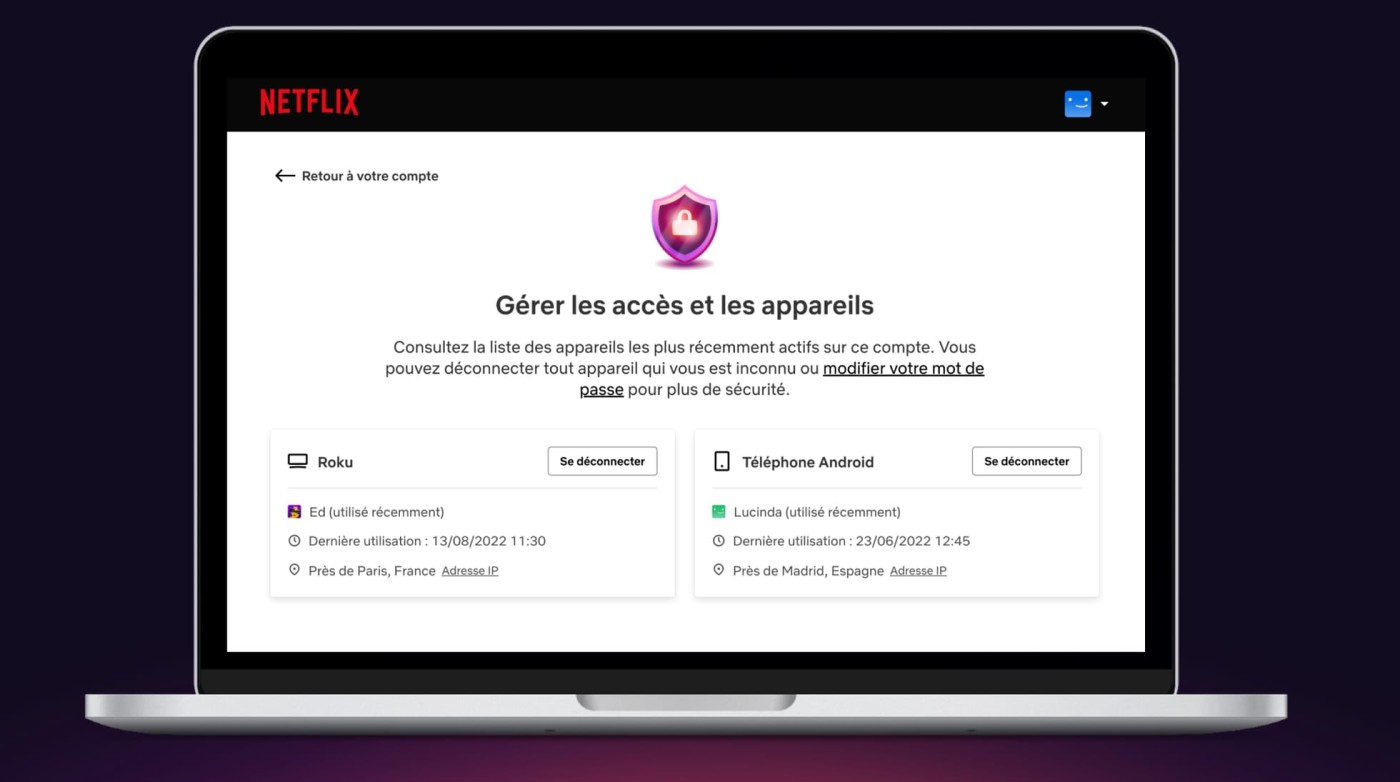 As you can notice above, Netflix is ​​going to list a connection historyyou will be able to identify the user thanks to the profile he used during his session.
The streaming service adds several interesting information such as the date and time of last use, the IP address that connected to your account, the device that was used (Apple TV, iPhone, Mac from Safari. ..) as well as the location of this person.
At any time you can disconnect the person, which will instantly bring up the login page when they try to take advantage of your account again.
Of course, the person will be able to reconnect, but you will notified by email in the second that follows, you are free to change the password of your account!
On a blog article, Netflix explains that it is rolling out this new feature for the holiday season:

With the holidays approaching, many of our subscribers are getting ready to join family and friends and watch Netflix on the go. Logging into your account from a new place is easy and intuitive, but sometimes you forget to log out.




Today we're launching Manage Access and Devices, a feature available in your account settings that makes it easy to view the devices you've recently used to watch Netflix from your account and disconnect devices with a single click.
In the near future, Netflix will to invoice account sharing, the company wants to limit this trend which has become a scourge for its turnover. Several countries such as Argentina or Honduras must pay $3 extra per person who enjoys the Netflix account. With this novelty, the subscription cost can quickly skyrocket, prompting the account owner to become more demanding on the people who access his account.