A few months ago I already explained how Alexa and an Echo brand speaker could be used as an alarm clock, a configuration that we could carry out from the mobile phone with the Alexa application or by activating the alarm with voice control. And now I am going to explain cHow can you use a HomePod or HomePod mini speaker in the same way?.
It is about using one of Apple's speakers to work as an alarm clock. In this case, I am going to explain how you can configure the speaker so that when the alarm goes off, do it to the rhythm of a song that I like or a relaxing sound.
Sound of our choice
You can use a HomePod mini or a HomePod to wake you up with an alarm, but also can be configured to play your favorite music. For that matter, I am going to explain how you can set a musical alarm or make it so that when you want to wake up you do it with a relaxing sound.
To activate the musical alarm clock you have to open the application "Home" or "Casa" on your iPhone or iPad and choose the HomePod speaker (or HomePod mini) you want to use as your alarm clock. You must press and hold the icon of that speaker for a few seconds until a drop-down menu opens with different options and of all of them you must click on "Accessory details".
You will see several options but just under the image of an artist or song you can read "alarms" and under it "New" , a section in which you must click. The next screen shows different options, such as the time you want to set the alarm, the days you want the alarm to repeat, and the name you want to give it. You must configure each of these sections according to what you are looking for.
Once the customization is complete with the days and times you want the alarm to sound, you must look at the bottom where the sections appear "Play content" and "Play Tone".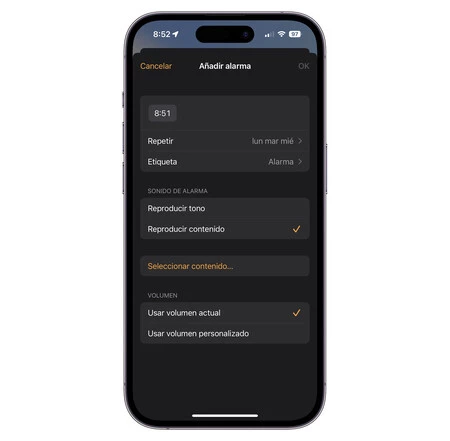 If you want to set an alarm with musical content, you must click on "play content" and there choose if you use music from "Apple Music" either "Environmental sounds".
To use Apple Music, check this option and the music application screen opens so that you can choose the song that you want to play when the alarm is activated. You can choose music from the lists created as well as search for any song on the platform.
Besides, you can determine the volume at which you want it to soundand use the volume you currently have on the phone or customize the sound level with a different volume.
Also, if you decide to use ambient sound, you must choose "Ambient Sounds" instead of Apple Music. You will then see seven options:
Chimney
Evening
Forest
Ocean
Rain
Stream
White noise
You can choose between any of them to sound as an alarm and how in the previous case, choose the volume level you want your alarm to have.
The other option you have is use the traditional tones that the phone has. You just have to choose "Play tone" to sound the alarm in the traditional way.
Images | midjourney