One of the aspects that worries us the most when using the mobile is to be able to preserve the health of the battery for as long as possible. This component is one of the most degraded over time, so it is important that let us always keep in mind that we will have to take care of it if we do not want to change it sooner than it should initially.
To achieve this, it is key that we control the charging process at all times, since heating during it can cause it to deteriorate more easily. For this reason, in this post we show you how you can know when the battery is fully charged with a warning that your phone will issue automatically so that the charger is not connected for longer than it should.
How to establish a warning so that your Xiaomi mobile notifies you when the battery is fully charged
as we tell you, the phone charging process is one of the actions that degrades the battery the most, and if we keep the charger connected for longer than necessary, this generated heating could become a problem in the future. For this reason, the application that we are going to show you next will achieve that the smartphone notifies you when the battery is 100% and, immediately afterwards, you can disconnect the charger.
In this case, we are going to use the Electron application, an app with dozens of interesting functions for our Android mobile and that you will be able to enjoy completely free of charge. In fact, we recommend installing it if you want to have all the information on your battery, from knowing if the charger you use is in good condition or even the speed at which you are charging the equipment in real time.
In addition to these functions that we have mentioned, it also has the possibility of set an alarm that notifies us when the device is charged to the percentage that we establishand thus we will always be able to control the battery that we have available at all times so that it is kept in the best possible state.
The way to configure this is extremely simple, since You will only have to do the following: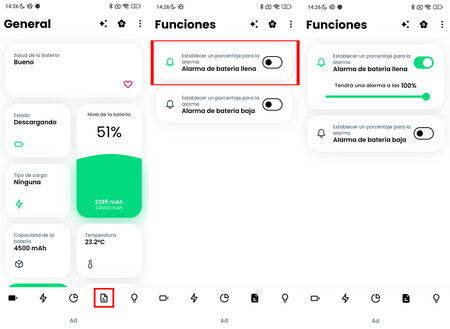 Once the Electron app is installed on your Xiaomi phone, open it
Now, in the lower menu, click on the icon of the sheet of paper and, immediately afterwards, activate the "Full battery alarm" section
Simply set the battery percentage at which you want your device to alert you to be able to disconnect the charger