All Xiaomi, Redmi and POCO mobiles are equipped a customization layer created by the company itself. Until now, it was about MIUI 13, but with the arrival of Android 13 Xiaomi launched MIUI 14 just a few days ago, which brought few design changes, but many improvements internally.
Despite the company's efforts to minimize the impact of bloatware, the device's pre-installed applications, the truth is that there is something in the way of the daily user experience: personalized recommendations, a space reserved at the bottom for offer to download other applications.
Get rid of custom apps
One of the advantages that both MIUI 13 and MIUI 14 have is customization. The possibilities within the system are practically endless, and if you want to get rid of those custom apps appearing in some folders of apps within your Xiaomi mobile, you are in the right place.
It is important that you know that these applications are not installed on your device, but are offered to you by default based on your tastes. The setting that enables or disables these app proposals is something hiddenand they may not even go away on their own.
To deactivate personalized app suggestions, take your Xiaomi, Redmi or POCO mobile and do the following:
Go to the apps folder that shows those apps
Give a quick tap on the folder name (without holding down)
You will see that the option 'Today's Recommendations' it's activated. Tap to turn it off.
Once this is done, those apps should no longer appear at the bottom of your app folders.
Remove personalized ads from your Xiaomi mobile
Now that we have removed these apps that appear without warning, you may you also want to get rid of advertising. Although the number of ads in MIUI 14 has been greatly reduced compared to MIUI 13, what you want is to stop seeing the ads that appear on many occasions during application installationyou must do the following:
go to Settings > Applications and click on the options of each application that you will find in the upper right corner.
Now go to'Disable ad recommendations'. Once this is done, the application will no longer show us ads.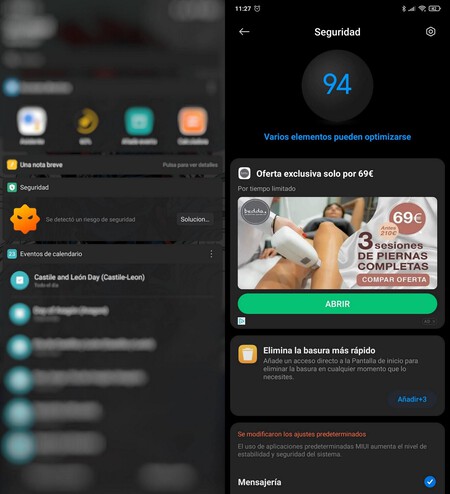 If we want to prevent MIUI from analyzing each application that we install and showing us advertising, we will only have to access the 'Security analysis' options and uncheck the 'Scan before install' setting.