Sony is very faithful to its customs. So much so that exactly one year ago we knew about the Sony Xperia 10 IV and today we know about its successor. The Sony Xperia 10 V, pronounced "ten mark five", is the new mid-range mobile from the Japanese company.
Having the main innovations in the highest range, we find that this it's really a slight evolution what we already had. Of course, there has been a slight increase in the size of its screen and despite this, its weight has not increased, but has gone down.
Data sheet of the Sony Xperia 10 V
Sony Xperia 10V

DIMENSIONS AND WEIGHT

155 x 68 x 8.3mm

159 grams

SCREEN

6.1-inch OLED

Aspect Ratio 21:9

Corning Gorilla Glass Victory

PROCESSOR

Qualcomm Snapdragon 695 5G

RAM

6GB

STORAGE

128GB

Up to 1TB with microSD card

FRONT CAMERA

8MP

REAR CAMERAS

Major: 48MP f/1.8

wide angle: 8MP f/2.2

telephoto: 12MP f/1.8

BATTERY

5,000mAh

SOFTWARE

Android 13

CONNECTIVITY

Wi-Fi AC

5G

Bluetooth

3.5mm headphone jack

USB-C

OTHERS

IP65/68 certification

Dual front speaker

360 audio

PRICE

Determined
Who said notch for a Sony mobile?
If the design of Sony mobiles has been characterized by something, it is for not adopting trends that are followed in other competing terminals. And this even applies to mid-range terminals like this Xperia 10 V. Thus, it offers pronounced frames on the front in which its 6.1-inch OLED panelwhich is 0.1 inches larger than its predecessor.
Precisely in the comparison with that previous model, Sony says that the screen has 1.5 times higher brightness. In the absence of knowing how it behaves in person and without losing sight of the fact that in the end it is a mid-range mobile, the truth is that improving on this point is always something to highlight.
Despite its compact size, the Xperia 10 V has a high-flying battery like other 'giant' mobiles
It offers straight edges and dimensions that allow you to continue to be a light mobile with 159 grams of weight. And despite this, he does not give up on setting up one large 5,000 mAh battery inside, something to be thankful for if we take into account how unusual it is to find such a capacity in compact mobiles.
The brain is already an old acquaintance, the snapdragon 695, the same Qualcomm chip that already mounted the Xperia 10 IV. A chip oriented to the mid-range and that provides the device with 5G connectivity.
It has other incentives like a double speaker on the front to improve the stereo sensation and add virtues in its ability to surround soundin addition to not losing the increasingly rare 3.5-millimeter audio jack.
As for cameras, and at least for now, they aim to be very similar to those seen in the last generation. 8 megapixels on the front and a triple camera on the back, highlighting the presence of optical image stabilization in the main camera for photos and video, having a resolution of 48 megapixels, 12 megapixels for telephoto and finally a wide angle of 8 megapixels.
It also continues to have the exclusive double certification IP65 and IP68. This means that it is not only a terminal submersible, but also withstands exposure to direct water pressure with elements such as a shower jet, for example
Versions and prices of the Sony Xperia 10 V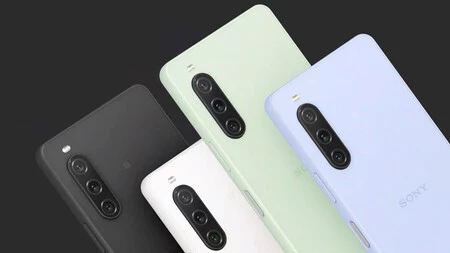 At the time of writing these lines, the availability and price of this terminal has not yet been confirmed, so we do not know if it will arrive in Spain. It is known that it will have different models in black, white, green and blue color. Similarly, it is known that it will have a single memory configuration.
Sony Xperia 10V 6/128GB: price to be determined
As soon as we get more data in this regard, we will update the article adding that information.
More information | sony
In Xataka Android | Best mid-range Android phones