If you have wanted to buy a portable video game console, but the most affordable ones on the market may not allow you to play the latest generation titles like Starfield or Cyberpunk 2077. Therefore, here we give you a comparison of two powerful machines the Steam Deck vs Lenovo Legion Go.
The first of them was developed by Valve, to take your Steam library everywhere, however it is also possible to install other launchers such as Epic Games Store or GOG Galaxy, plus its Linux-based operating system gives you a little more freedom to install other programs.
On the other hand, the console developed by Lenovo will be released in November and we already know all its details. It is more focused on cloud gaming, but by running Windows 11, it also allows you to play video games that would otherwise be impossible. However, it is worth comparing them one by one to make a purchasing decision.
Steam Deck vs Lenovo Legion Go
| | | |
| --- | --- | --- |
| | Steam Deck | Lenovo Legion Go |
| Price in dollars | $399 | $699 |
| Screen | 17.54 cm with resolution of 1280 x 800 IPS, 60Hz | 22.35 cm. with 2560 x 1600 resolution, 144Hz |
| Storage | Up to 512 GB (expandable) | Up to 1TB (expandable) |
| Performance | Most powerful GPU in terms of graphics | It has a higher resolution screen and refresh rate |
| Battery | It is optimized for longer life | It has a greater amount of storage, without optimization |
| OS | Steam OS | Windows 11 |
Looking at the specs, it's clear that there are notable differences between the laptops, especially in terms of storage and display. The Legion Go's display features a significantly higher resolution and higher refresh rate, promising more visually fluid gaming experiences compared to the Steam Deck.
Additionally, Lenovo's console offers a superior storage option, with its 1TB configuration, which is almost double what you can find on Valve's. Importantly, both devices support storage expandability, so you're not limited to just the built-in storage capacity.
Of course, It's important to note that none of these portable devices will offer the optimal experience you'd get from a high-end PC, but they're not designed for that purpose either. The Legion Go will deliver better performance when used at higher powers, although this comes with a reduction in battery life, another important factor to consider.
How good is the Lenovo Legion?
When comparing the Lenovo Legion Go with the Steam Deck, we see that the performance does have big differences. The Legion Go's processor outperforms AMD's custom processor in the Steam Deck, which is based on the older Zen 2 architecture.
However, this processor advantage does not necessarily translate into greater overall performance, as the GPU integrated into the Steam Deck's processor handles graphics more efficiently due to its higher number of cores. Additionally, many games are specially optimized to run excellently on these laptops.
For example, the newly released Starfield shows impressive performance on Valve's console thanks to specific optimization to run on low-end components.
How much does a Steam Deck cost in Mexico?
The price in Mexico of the Steam Deck compared to the Lenovo Legion Pro is lower, it is less 9,000 Mexican pesos in some digital stores. This price competes directly with the Xbox Series S and the PlayStation without a disc reader.
Taking this into account that the approximate price of the Lenovo console would be around 15,000 pesos, it is an important difference. Now we can ask ourselves, which one should I buy if I have the monetary capacity for either one?
The Lenovo Legion Go will launch in November 2023, while the Steam Deck is available now. If you're looking to buy one right away, Valve's is the obvious choice. However, if you don't mind waiting a little longer, the Lenovo one is a great option, although it has a slightly higher price.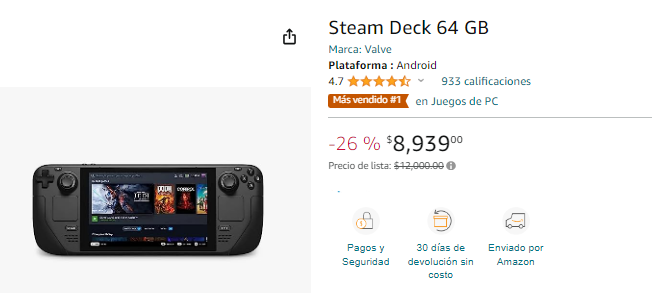 In short, the Legion Go is probably the stronger choice between these two laptops due to its more powerful processor, full support for Windows 11, and a larger, faster screen. However, the Steam Deck offers almost everything you could want in a portable gaming PC at an attractive price and without any extra complications.
While a more powerful option would be desirable, at the end of the day, loading the Steam Deck and starting to play is as simple as pressing a few buttons. Plus, if you don't want to, you don't have to worry about Windows 11 issues that could interfere with your gaming experience. So, if you are looking for something that works without complications, choose the Steam Deck.
Remember to subscribe to our Newsletter to be aware of more news relevant to you like this.