Already recognized for its very good value for money, the subscription to Surfshark is even cheaper for the French Days. Enough to protect your connection and access Netflix's foreign catalogs at a lower price.
If the French Days are a good opportunity to acquire equipment at a good price, it's also a good time to find cheaper subscriptions, such as a VPN. If you are looking for something to connect from abroad and secure your internet connection, Surfshark has a promotional offer not to be missed.
The one-year subscription to Surfshark One goes down to the price of 2.49 euros per month, or barely 30 euros for the period. A very good price for one of the best VPNs on the market.
What are the main advantages of a VPN like Surfshark?
A VPN is a cybersecurity tool that seeks to secure your connection to the Internet. For this to work, your connection must then pass through the VPN provider's own servers. In Surfshark's case, there are over 3,200 spread across 65 countries. This allows two things:
To encrypt its connection to the Internet and make it impenetrable through secure servers;
to be able to relocate its connection abroad, and therefore access geoblocked content such as the American catalog of Netflix.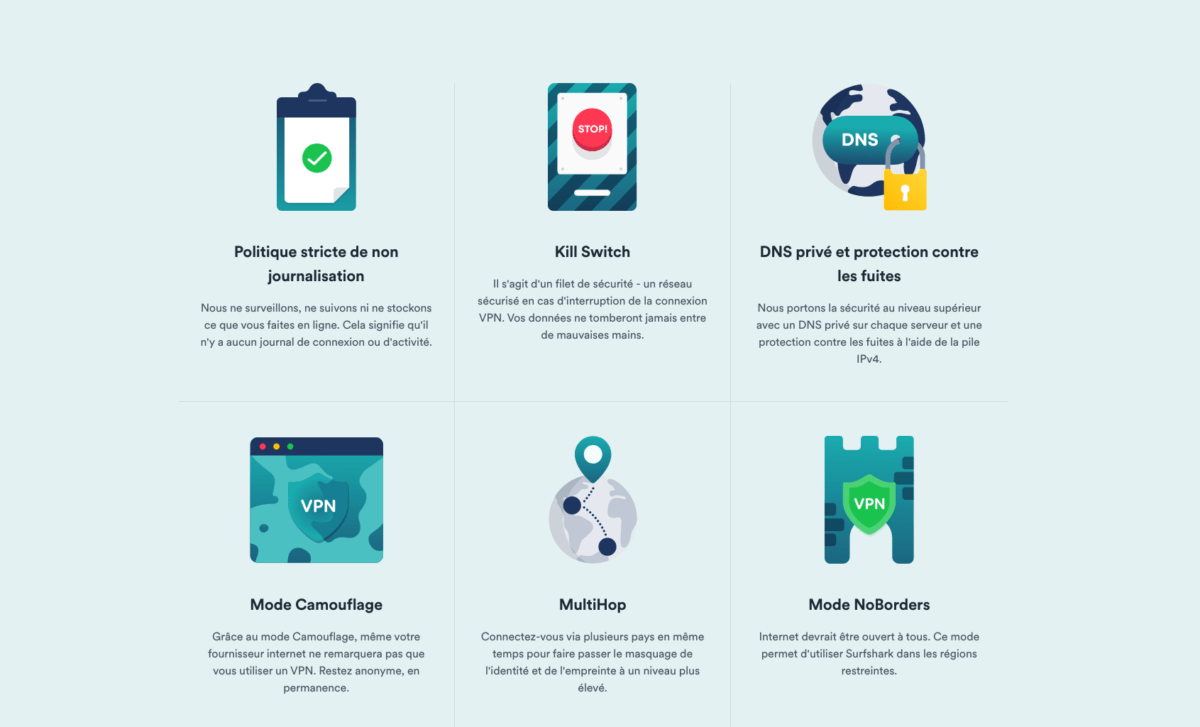 A VPN also comes in handy when connecting to public Wi-Fi networks, which may be compromised or insecure. By activating Surfshark before connecting to this type of network, you avoid any risk of having your personal information siphoned off.
Surfshark: the all-in-one solution for cybersecurity
In addition to access to a VPN, Surfshark also offers several tools to master cybersecurity, included in the promotional subscription at 2.49 euros per month. We find :
An antivirus, which protects your devices from viruses and harmful files;
a Surfshark search engine without ads and without tracking;
Alert, a tool that warns you when your details appear in data leaks.
All of these tools, in addition to the VPN, provide complete protection for your devices on the Internet. Your connection is encrypted, but your downloads or your personal data are monitored to avoid any threats.
One app for all your devices
All these tools are accessible from the Surfshark application, available on macOS, Android and Windows. The iOS version currently only offers the VPN, the other tools will arrive later in the year.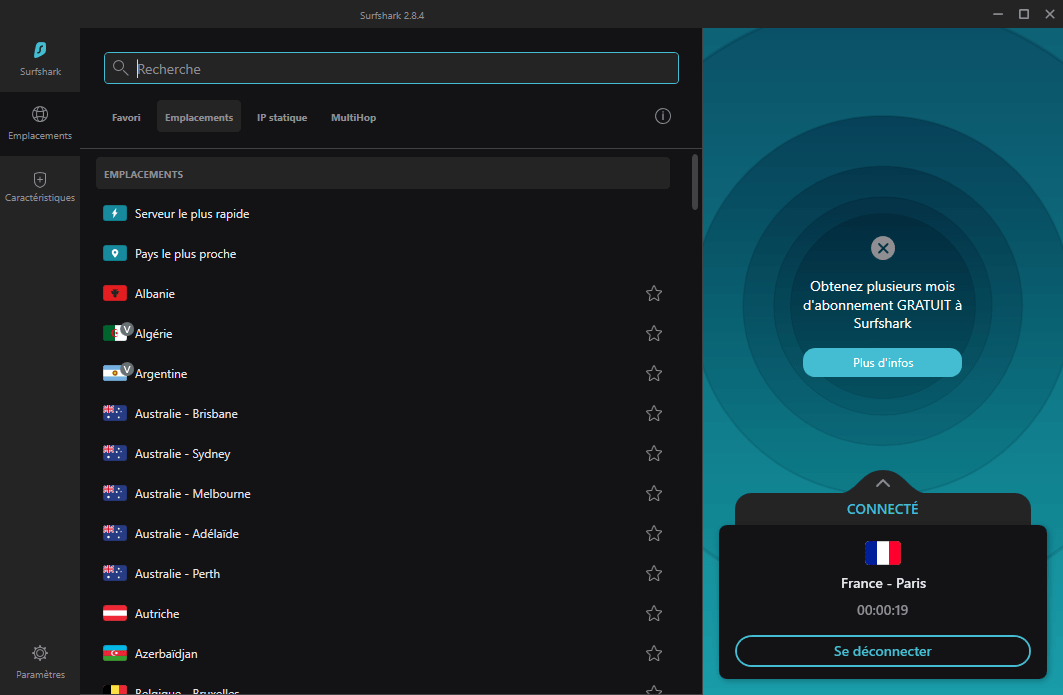 The application is very easy to use. You have a button to secure your connection quickly, but also a list of countries to choose from which server you want to connect. There are also more advanced options in the application settings. For example, it is possible to choose the connection protocol, activate the split-tunneling or even the kill switch. Terms that will speak to connoisseurs.
Surfshark: a French Days offer not to be missed
Already offered at a very good value for money, the subscription to Surfshark is even more interesting for the French Days. The current offer, which includes all the tools of the VPN provider, drops to 2.49 euros per month. Rarely, the subscription here only lasts one year. You don't need to commit to a long period of 3 years.
Finally, Surfshark is one of the few VPNs that does not impose device limits on its subscription. You can then use your VPN from your smartphone, PC or tablet, and even lend it to your friends when they need it.