Last August
Google
released
Android
13, but it has not been until the end of this year when most manufacturers have begun to update many of their devices to this new version of the operating system, and more devices will update in the coming weeks.
Android 13
It is a version that comes full of important new features that comes to improve the great change brought about by the arrival of Android 12 with Material You, new features that we recommend trying as soon as you update to check if the manufacturer of our device has implemented them.
Icons with theme
One of the novelties of Android 12 was the themed iconsa feature of the new interface Material You that allows us to adapt the icons of the applications to the style of our home screen. As well, in Android 13 the themed icons reach all devices and third-party applications. To activate these theme icons you will have to go to the options wallpaper and style of your device.

More color schemes
Following with Material Youin Android 13 we went from four color schemes to thirteen color schemesboth for the background colors as for the basic colors so that we can choose the color theme that best suits our wallpaper and tastes. Those colors will be applied to buttons, icons, and supported apps.

Direct access to wallpapers
With Android 13, Google wants us to be able to quickly switch between our wallpapers, so in its customization layer it shows the four latest wallpapers by simply making a long press on an empty area of ​​the home screen.

Permission for notifications
Android 13 releases the permission for notifications. When you first open an app, it will ask for your permission to send you notifications. So you can block their notifications before the app bothers you with unwanted notifications.

More granular permissions for media
Until Android 12, if an app wanted to access our images or videos, we had to agree to the app accessing all of our files and media. In Android 13, the permissions for multimedia files are more granular, so on the one hand we have to accept if an application wants to access our photos and videos, and on the other hand, to the audio files.

Change the language of an app
If you speak multiple languages ​​and prefer to have some apps in one language and some in another language with Android 13 now you can do it. In the "Application information" section you will find the new setting Idiomwith which you can change the application language.

improved clipboard
When you copy a text in Android 13, in addition to being deleted after a short time for security and privacy, the copied text will appear for a few seconds in a floating window as if it were a screenshot which you can Edit to change the copied text.

new media player
Google has improved the Media player on Android 13 to show full-screen album art and show a playbar that moves with the music. In addition, it has also redesigned the audio output sector.

View active apps
In Android 13 you will be able to know which applications are running in the background from the quick settings bar. There you will find the new "active applications" section, which allows you to see and stop those applications that are running in the background.

Customize lock screen clock
Now natively, for the purest Android versions, Google allows disable clock on two lines for those users who prefer to always see the time in small and at the top.

Integrated QR code reader
This novelty that many manufacturers had already implemented for years in their customization layers now officially arrives at Android 13: A QR code reader that you will find in the quick settings bar.

Hold Assistant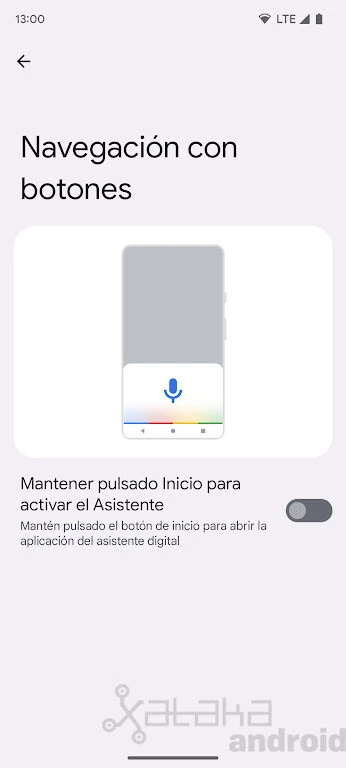 If you hate gesture navigation and use three-button navigation, now with Android 13 you will find a new option to disable or enable the gesture that activates the Google Assistant when you press and hold the Home button.

Easter egg
Finally, one of the curiosities that you have to try in Android 13 is his Easter egg. To do this go to Settings > About phone > Android version and press many times in a row on "Android version". A clock widget will appear. Adjust its hands to be 13 or 1. Make a long press on the new Android 13 widget to activate a new background with emojis each time. If you want it as wallpaper, all you have to do is take a screenshot and put that image as background.